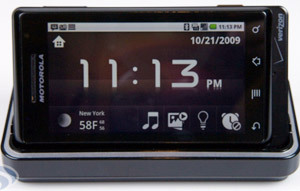 The bods at Boy Genius Report have managed to get their pawing mitts on a prototype of the hotly anticipated Motorola Droid handset.
They've posted up a comprehensive preview, where the love for the Android Moto device seems to flow freely, instantly banishing all memories of the disappointing Cliq handset.
Keyboard
It may look awkwardly flat, but the keyboard was apparently decent enough to be deemed superior to the G1's awkwardly angled affair, that required users to adopt a Vulcan grip to get at all the letters.
Conveniently, if the keyboard doesn't please, there's an onscreen option available, conventionally working in portrait and landscape modes.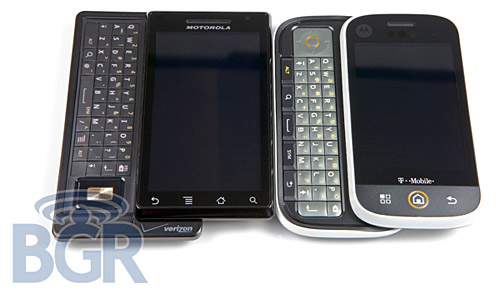 Hefty pixel-packed display
The large, lush and expansive 3.7 inch display throwing out a 854×480 pixels pleased as much as you might expect, with the Android 2.0 OS hurtling along at a fine fettle thanks to a 550MHz Texas Instruments OMAP3430 processor, separate PowerVR GPU and 256MB of RAM.
Sumptious specs. Oh yes.
While we're spitting out the specs, we can't help nodding our heads in an enthusiastic manner at this cavalcade of juicy smartphone features: four touch-sensitive navigation buttons, 5 megapixel autofocus camera with dual-LED flash, CDMA Rev A., Wi-Fi, GPS, a digital magnetometer, accelerometer, proximity sensors,  notification LED, a slide-out full QWERTY keyboard, 3.5mm headset jack and microUSB port.
If that feast of rampant techness wasn't enough, Moto have also included a neat magnetic sensor that detects an accessory dock, turning the handset into a desktop clock and weather station.
Short of a digital kitchen sink, that's a full house of mobile gadgetry if we're not mistaken, but there's an extra goodie in the form of the battery life which TBG describe as best they've had out of 'any Android device they've ever tested'.
The official rating for the handset is (6.5hrs of continuous usage (phone + web + email + anything else, continually) or around 270 hours of standby time and the battery is replaceable. Take that iPhone!
We have to say, we're loving the Moto's glorious feature set and the big battery life is something we've been craving in a smartphone since our Treo 650 bit the dust – but it's going to be a tough call to tempt us away from the multi-tasking magnificence of the Palm Pre and the all-round glory of the iPhone and its ten zillion apps….