Previously only available as a Photoshop plug-in for Mac and Windows – and as a spiffing iPhone app – Athentech's award-winning Perfectly Clear imaging software is now available for the Apple iPad.
Sparkly
We reviewed the iPhone app earlier this year and were pretty much blown away by the results, with the app doing a superb job of adding sparkle to dull photos and introducing some much-needed zip to so-so snaps.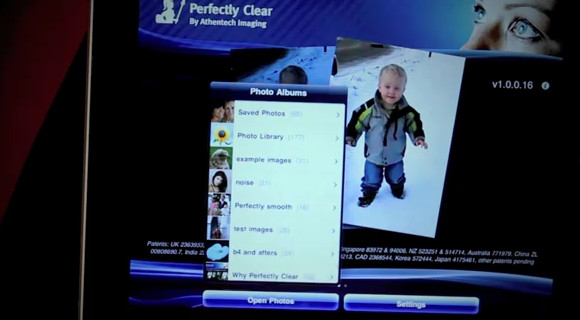 The iPad app offers the same photo supercharging tools as the iPhone version with eight automatic, independent corrections, including Skin Tone Correction controls.
Perfectly Clear iPad is now available as an online download via the Apple iTunes App Store for US$5.99 and would be an essential purchase if only Apple had thought to include a built in camera or a built in SD card reader.
Oh well, roll on iPad 2.
Here's the press stuff:
New Perfectly Clear iPad App Now Available

Advanced, One-Touch Image and Color Correction Technology
Available for Photoshop, and as iPhone and iPad

CALGARY, Alberta, Canada (November 9, 2010) –– Athentech Imaging has announced that its award-winning Perfectly Clear software for one-touch color correction is now available as an iPad application. Previously available as a Photoshop plug-in for Mac and Windows, as well as an iPhone app, the new iPad app features eight independent corrections, all operating automatically with one touch. One new correction is the unique Perfectly Smooth to render flawless skin tones. In addition, Perfectly Clear's iPad app includes Skin Tone Correction to ensure proper skin tones and six presets, including the ability to create an unlimited number of custom default settings based on specific shooting environments and personal preferences.

Photographers and consumers attending the recent PhotoPlus Expo show in NY saw first hand the power and ease-of-use the new app extended to less-than-ideal exposures and color renderings. "Perfectly Clear® is all about creating the best-looking image possible – automatically – to perfectly preserve the photographer's memory of the event," said Athentech Imaging President Brad Malcolm. "We've been thrilled by the large number of people who are using Perfectly Clear® to turn their ordinary digital camera and camera phone images into extraordinary keepsakes that they want to save and share with others."

Perfectly Clear® iPad has completed the review process by Apple Inc. and is now available as an online download via the Apple iTunes App Store for US$5.99