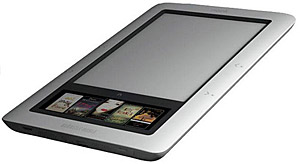 The rumours had certainly been circulating long enough, and today US bookseller Barnes & Noble announced the 'nook,' which they're describing as the world's "most advanced e-book reader."
Entering a competitive marketplace rapidly filling up with wannabe contenders,  B&N are hoping that the nook's full feature set and twin screen arrangement will give it an edge over rival readers, like the Kindle and Sony models.
The Android-powered device certainly looks a lot slicker than your average Kindle, sporting a large, main e-ink display with a smaller (3.5″) colour touchscreen below, which offers a nifty scrollable interface for selecting books and choosing functions.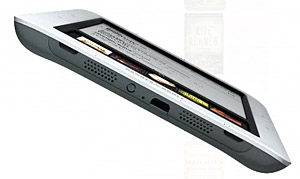 Bookmarking is supporting and users can make notes and highlight passages.
Lend us a book
An interesting  'LendMe' feature let users 'lend' e- books for up to a fortnight to their  pals using devices running Barnes & Noble eReader software (currently the iPhone, iPod touch, select BlackBerry and Motorola smartphones, PC or Mac PCs).
The same software lets readers pick up where they left off (with markings and highlights intact) on any compatible device.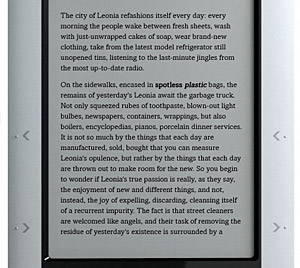 Measuring up
The device measures up at 7.7- x 4.9- x 0.5-inches and weighs 11.2 ounces, and comes with built-in WiFi (802.11b/g) and AT&T 3G for buying and downloading newspapers, books and magazine articles.
Barnes & Noble claim that ol-Nookie will keep you reading for up to ten days (so long as you stay away from the wireless button), with the battery taking 3.5 hours to charge up from empty.
The device also comes with 2GB of internal storage, a microSD expansion slot, MP3 player, twin speakers, 3.5mm headphone jack and a micro USB port.
Books can be sampled before purchasing, and there's also free Wi-Fi if you happen to be e-Booking around a Barnes & Noble store.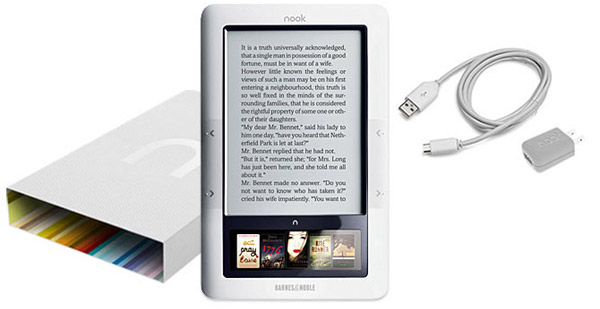 The nook is available on pre-order for $259, and is expected to be ready to slither into your welcoming arms at the end of November.
But will we get this baby in the UK? I guess that's pretty doubtful seeing as us Brits simply don't 'do' Barnes & Noble, and that's rather a shame as we'd be interested in taking a closer look at this intriguing e-reader.
Meanwhile, here's giggly Kate to tell you how, like, cool and totally awesome the nook is.