Barnes & Noble have just taken the wraps off their new Nook Simple Touch Reader reading device at a NYC launch event, unveiling a rather stripped down, pint sized device.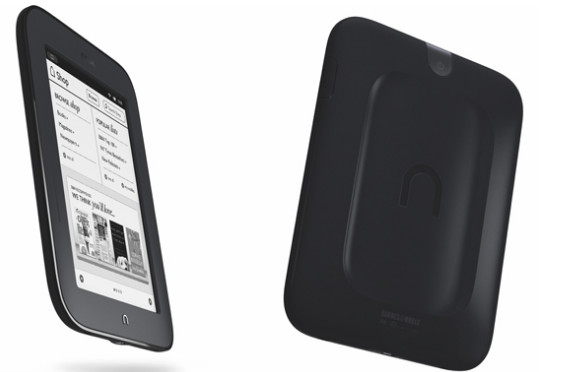 Titchy device
The new Nook eBook reader packs a 6-inch Pearl E Ink screen, and it's a wee little fella alright, measuring up at just 5 x 6.5-inches and weighing 7.5 ounces and running Android 2.1.
The touchscreen enabled device is said to pack a huge two month battery life – twice that of the rival Kindle device – and have '80% smoother page turns and minimized flashing.'
It's priced competitively too, with the Wi-Fi model available on pre-order for $139, with the 3G model costing $169.
The Wi-Fi model is scheduled for shipping on June 10th, but like all Barnes & Noble eReaders, it's USA only, so dream on Brits!
Here's some stand out features from Barnes & Noble's site:
Easy to Use 6" Touchscreen
Just tap to shop for the best books, magazines and newspapers right on your NOOK. Turn pages, look up words, highlight passages, adjust the font size and style—all with just a touch of your finger.

Clear, Crisp Reading
The most advanced E Ink® Pearl technology on the high-contrast 6" touchscreen displays text as crisp and clear as a printed page, so you can read easily—even in bright sun. 50% more contrast than NOOK 1st Edition.

Ultra-Light, Ultra-Portable
Under 8 ounces, NOOK is lighter than a paperback and super thin, yet holds up to 1,000 books, magazines and newspapers—so it's easy to take your entire library with you anywhere.

Longest Battery Life
With the longest battery life of any eReader, you can read for up to two months on just one charge. That's enough time to start and finish a lot of great stories—or an entire series.

World's Largest Bookstore
Over 2 million titles including books, magazines & newspapers —just a touch away! Thousands are FREE, most others $9.99 or less. Pre-order books and subscribe to magazines so you'll get them the instant they're released.

Read Your Way
Make the text bigger or smaller. (See demo) Choose the font style you like. You can even add bookmarks and highlight passages while you read.

Immersive Reading Experience
NOOK has 80% smoother page turns and minimized flashing compared to other eReaders—so it's easy to lose yourself in your latest read. And with Fast Page™, you can scan easily through any book, magazine or newspaper. Just touch and hold the page turn buttons to get to where you want to read quickly.

NOOK Friends
Connect with NOOK Friends™ to share and find new titles. See your friends' favorites and what they're recommending. You can even swap books right from your NOOK with exclusive LendMe® technology.

Expert Recommendations
What to read next? Get recommendations from our expert Barnes & Noble booksellers. Browse top picks, bestseller lists and personalized suggestions based on the authors you love—right on your NOOK. In just a touch you can shop for the titles that you want—and start reading in seconds.

The Barnes & Noble PromiseTM: 40,000 booksellers ready to help
Whether it's setting up your NOOK or recommending a great book, our expert booksellers are always just around the corner and ready to help.

Get More in Store™ with Your NOOK
Stop by your neighborhood Barnes & Noble to take advantage of extras and special offers just for NOOK owners. Connect to our complimentary Wi-Fi®, read NOOK Books™ for free for up to an hour a day, enjoy exclusive content from top authors—even get deals on café treats.

Borrow Public Library Books
Over 2 million NOOK Books not enough? Use your NOOK to borrow and read eBooks from your local library! Unlike other eReaders that restrict your reading, NOOK lets you borrow books in the universally accepted ePub format—so you can read what you want from your local public library.

On-Screen Keyboard
NOOK's on-screen keyboard appears whenever you need it. Just touch and type to shop for a new read or find a title in your library.

Personalize Your NOOK
Choose one of our screensavers or upload your own pictures to make NOOK your own.