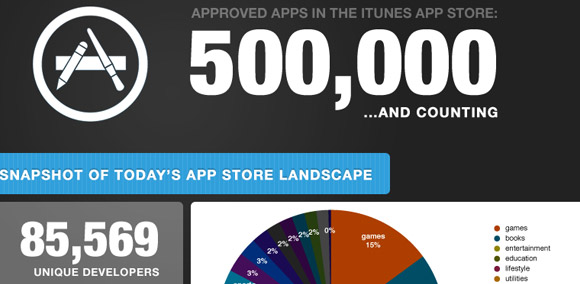 When it comes to runaway tech success stories, they don't get much bigger than Apple's phenomenally successful mobile iOSApp Store, which has now seen a cool half a million apps approved.

It's worth noting that the number of apps actually available to users today is a lot lower than this figure, with apps being withdrawn or rendered obsolete over time.
And, of course, there's all those apps pulled by Apple whenever Steve Jobs goes on one of his God Squad moralistic rampages.
Three companies who have made a name for themselves on the iOS app scene have come together to knock out a snazzy infographic serving up a selection of interesting facts about the iOS system.
Game-maker Chillingo, app search engine Chomp and app blog 148apps have busied themselves rummaging through a feast of facts, and concluded that there are 85,569 unique app developers, 37% of iOS apps are free, 29% cost only $0.99, and the most popular iOS app is the all-conquering Angry Birds.
The average price for an app is $3.64 with the most popular categories being games (15%), books (14%), entertainment (11%) and education (8%).
[Click here to see the full sized infographic and get ready to start scrolling (it's 5,800 pixels high!)]