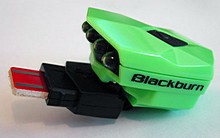 The Blackburn Fleabike bike lamp takes portability to a whole new level, coming in a package so small that it initially prompted suggestions that it may have fallen out of a Christmas cracker.
Charged via a magnetic USB attachment which sticks to base of light and then slots into a USB port 1.1 or 2.0, the light flashes brighter as it charges up, with a full charge taking just 25 minutes.
The Flea comes with four super-bright White Nichia LED's (40 lumen output) and offers three light modes: Flashing / Steady / Full on. Blackburn reckon the battery will last 3 hours of solid use or 5 hours in flash mode.
Not surprisingly, this tiny little fella doesn't exactly flood the street with light, so it's definitely not for off road tracks riding, but as a city commuter/back up light it should help cyclists feel a bit safer.
That said, we wouldn't recommend using it as your main light, but for around £20 it's a handy back up light that you could charge up via your work computer every day.
Pros
Small, easy to take off slip into pocket (remember to take it off else it'll be nicked!), bright, cheap, and it looks kinda cool if you worry about the kind of thing, Comes in a number of colours. Black, Red, Blue, Pink, White Green.
Cons
The light is attached to handlebars by a non-slip Velcro strap – unfortunately this won't fit all cycle helmets, which is wear many cyclists might want to use the lamp. The on/off button on top is also a bit fiddly if you're wearing gloves.
http://www.blackburndesign.com/lights.html
Stats
* Burn times
* Three hours Steady
* Five hours Flash
* Four super-bright White Nichia LED's
* weight 17 grams – supper light
* 40 lumen output
* Lifetime warranty
* Batteries Internal Lithium Ion Rechargeable