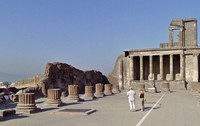 Thanks to Google's panoramic Street View feature, surfers can now amble around the streets of Pompeii, and check out the town's statues, temples, villas and theatres.
The search engine's free mapping application lets you pan, zoom and 'walk' around the World Heritage site and explore the city that was famously buried under volcanic ash  nearly 2,000 years ago.
Italy's Culture Ministry were well chuffed with Google's latest addition, with Mario Resca from the ministry's heritage promotion department, commenting
The possibility of to walk virtually between the wonders of Pompeii represents an extraordinary promotional vehicle for the Italian tourism.

I think that far from putting off potential tourists to come in person to visit it will actually encourage more to visit two archaeological centres.
Check out the Pompeii on [Google Street View]