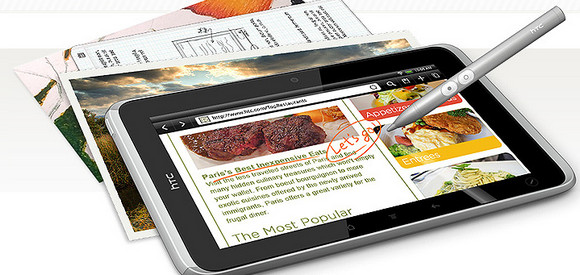 With its novel stylus input and smaller physical size, the HTC Flyer offers a real alternative to the all-conquering iPad, and yesterday we thought we'd show some friends what the tablet is capable of.
And what better place to let them try out the unit than on London's Oxford Street? It is, after all, Britain's busiest shopping street and home to a host of Carphone Warehouse stores stocking the Flyer.
High end product
The tablet's certainly not cheap at £599.99 (or £129.99 plus £25/month for two years), so we assumed that Carphone Warehouse will have pulled out the stops to show off the HTC Flyer in the best possible light to potential customers.
Sadly, the incompetence we encountered in their stores would surely send Messrs H, T and C in to a wild rage as we discovered that not one of the four stores had a fully working tablet.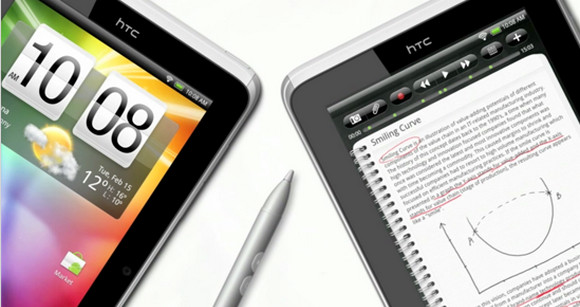 No stylus
The first Carphone Warehouse store we visited (by Oxford Circus) had a HTC tablet on display – but with no stylus attached or available.
So, at a stroke, the whole USP of the product was lost – with no sketching or  note taking, it was no different to playing with a bigger version of our regular Android handsets.
It wasn't even connected to the web either, so all we could do was click about on the paltry selection of default apps before giving up. A poor start.
No power
The next store looked more promising, as we quickly spotted a HTC Flyer and a stylus on display.
Unfortunately, the tablet wouldn't turn on. After calling over an assistant, he proceeded to pull the display box apart to discover that the power supply had apparently been nicked. Or was never there in the first place.
Quite how long the machine had been lying dormant there is anyone's guess, but we're thinking it had been some time, quietly repelling any potential customers.
As if to hammer home the point, our friends picked up a nearby iPad 2 while the assistant was busy deconstructing the Flyer's case. They were instantly enthralled by the tablet, enjoying a slew of web-connected apps, games and pre-installed apps.

Once, twice, three times a non-Flyer
Our friends were already losing interest in the tablet, but we thought the third store surely MUST have a working HTC Flyer on display?
Nope. Once again, there was a unit on display, but once again, no stylus. Which is the whole point of the thing.
We asked a pre-bored assistant who informed us that the stylus had gone 'missing'. When we asked if she could perhaps get another one, the answer was no. There was no other stylus.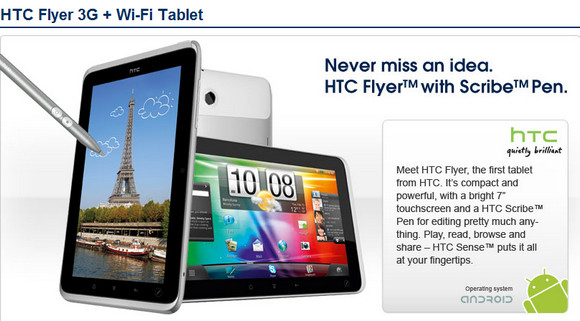 Ah, forget it.
The fourth and final store (on Tottenham Court Road) saw us locate another stylus-free HTC Flyer on display with no shop staff expressing any interest in finding a stylus for us.
By now, all our friends had long lost any interest in even talking about the HTC, but with several working iPads on display nearby, Apple's fine product ended up making a very good impression on them.
A disaster all round
As tech fans, we want to see healthy competition for the iPad, because strong rival products drive innovation, but if major outlets can't even get it together to put working models on display, the likes of HTC may as well give up now.
It's all about the first touch
First impressions are vitally important to customers, and if you're trying to persuade them to fork out for a lesser known brand than its vital to show off its best points and advantages.
Carphone Warehouse's performance in this area was beyond embarrassing, and we can only imagine how many potential customers HTC must have lost through their retail partner's incompetence.
We'll be sending a copy of this article to both HTC and Carphone Warehouse, and it'll be interesting to see what response we get (if any). We'll keep you posted.