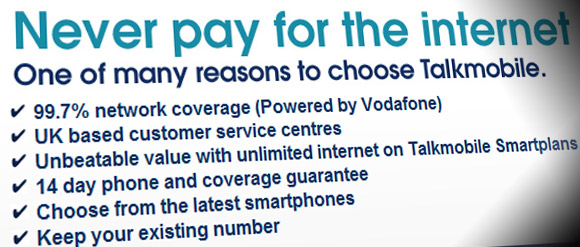 UK mobile retailer the Carphone Warehouse has served up an unlimited mobile internet package, with the cheapest tariff offering unlimited internet access a range of smartphones from just £12 a month.
Carphone Warehouse's Talkmobile virtual network runs on the Vodafone infrastructure, and the company are hoping that the sharp pricing of its 'never pay for the internet' plan will lure users in a-plenty.
Although many users have been stung in the past by mobile networks' unique interpretations on the word "unlimited," Carphone Warehouse insist that there really is no catch:
"There's no small print or fair-usage policy, so when we say 'unlimited internet' access we really mean it," says their press release.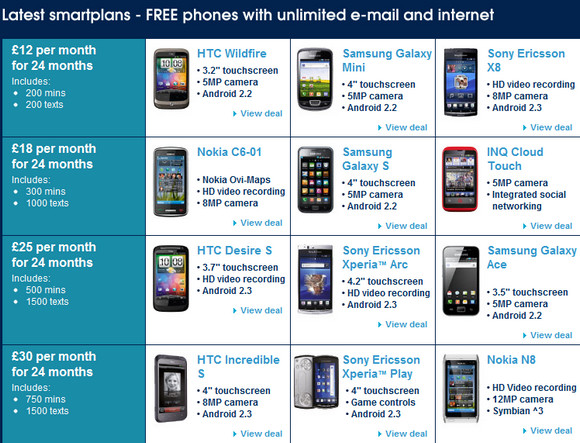 Initially offered for a month from 6 April to 4 May 2011, the contract invites users to choose from a variety of new mobiles:
Customers can take advantage of 30 of the latest handsets, which accounts for over 70% of The Carphone Warehouse's smartphone range including the HTC Wildfire on the £12 a month contract, the INQ Cloud Touch at £18 a month or the Sony Ericsson Xperia Play for £30 a month.
"We wanted to offer customers a catch-free data tariff and we're really looking forward to seeing the results of this trial," said Mark Eastham, UK trading director at Carphone Warehouse.
There is a teensy bit of a catch though, with Carphone Warehouse only offering the £12/month plan to users willing to sign up to lengthy 24-month contracts.