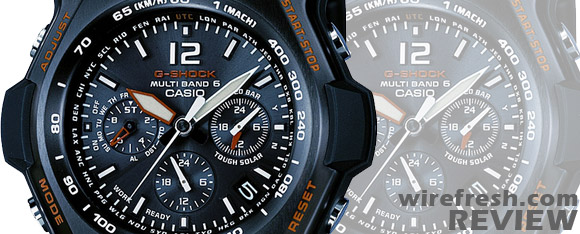 If you like your watches chunky, beefy, street-tough and stuffed to the brim with spinning dials and buttons, then Casio's GW-2000 Solar Atomic Aviation G-SHOCK range could be just the thing for you.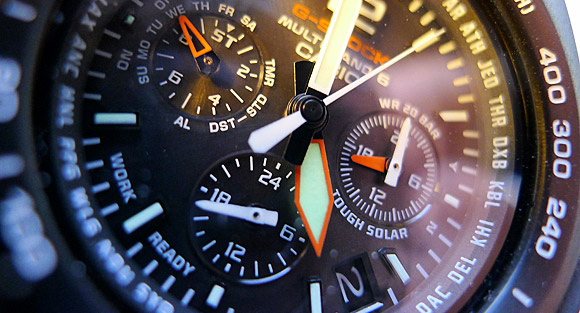 In terms of feature sets, the G Shock GW-200 has got just about everything you could possibly want, with the solar powered timepiece offering radio control accuracy, shock protection, mineral glass protection, 200m water resistance,  chronograph, alarm, auto day and date display and dual time zone support.
Different versions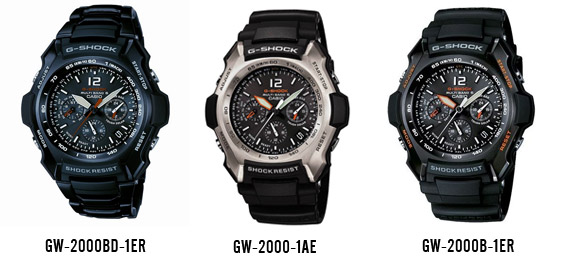 The basic watch is available in various cases and strap combos, although these are confusingly labelled with near-identical variants of the GW-2000-**** moniker.
The different versions all offer the same watch mechanism and functionality but come with a black or chrome metal surround, and rubber or metal straps.
We reviewed the Casio GW-2000B-1AER /Casio GW-2000B-1ER version.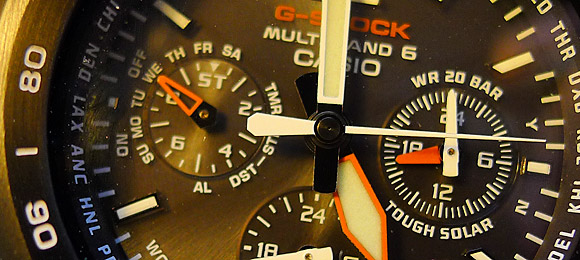 Features
Being a G-Shock watch, Casio say it can withstand all the everyday knocks you can throw at it – and vast G-forces too if ever you find yourself engaged in a jet-aircraft aerial dogfight – and it certainly looks a fairly tough fella.
The controls are activated by the four push-buttons around the watch, and we soon got the hang of switching between the various modes.
All the functions worked as expected but heavy sleepers will be unlikely to aroused from their slumbers by the rather feeble  – and rather brief – beeping noise made by the alarm.
We love the sun
After getting fed up having to shell out to have our watches resealed whenever we replaced the batteries, we've become big fans of  solar power, so it's a big plus for us that the Casio gets its juice from the Sun.
We also like the fact that it is controlled by time calibration signals so you can be sure your watch is telling you the right time.
Readability
Although we loved the hi-tech looks of the watch, its fascia was rather smaller than we expected and the display wasn't as bright or as instantly readable as we might have hoped.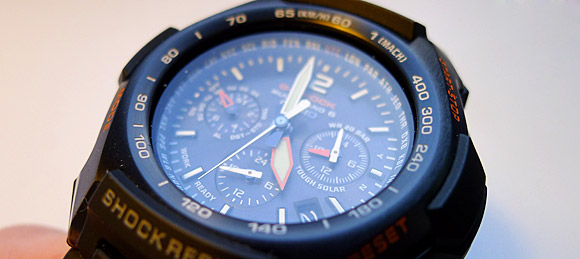 The problem was exacerbated by the raised bezel around the face combining with the recessed dial which meant that we had to turn the watch around more than we were used to when we wanted to glance at the time.
Night view
The Neobrite luminous coating on the hands and hour markings proved fairly bright at night, but to be fair, the far brighter markings on the Citizen E-Drive BL5250-53L watch we reviewed a few years back perhaps raised our expectations unfairly.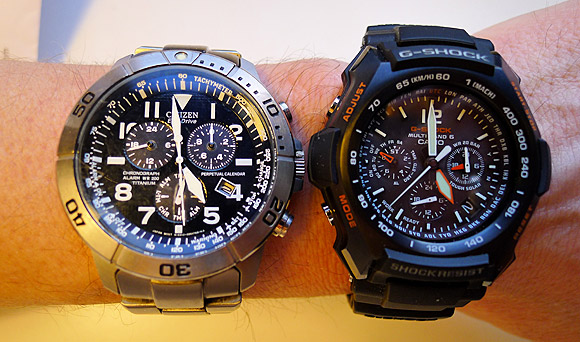 Although the watch faces look a similar size, the Citizen's larger markings and flatter profile made it far more readable in both daytime and low light – something to consider if legibility is a major issue.
Conclusion
With prices starting as low as £130, there's no denying that the Casio GW-2000 watches represent fantastic value for money, serving up a rich feature set in a well put together package.
We loved the aeronautic-style design and easy to grasp functionality, but felt a little disappointed by the relatively small dial size and raised bezel which impaired readability slightly.
That said, you're still getting a lot of bang for your buck, so we'd certainly recommend checking out the Casio GW-2000 range if you're looking for a tough and well featured watch.
Ratings

– Build


– Design


– Features


– Value for money


– Overall
Buy the Casio GW-2000BD-1AER G-SHOCK Watch on Amazon