When it comes to calendars for Android phones, we've tried just about every one we can think of – Touch Calendar, CalenGoo, Pure Grid and more.
Although we've yet to find anything to match the mighty combination of the Agendus Palm OS  app and its desktop companion, the nearest thing we've come across on the Android OS is the rather excellent Checkmark Calendar from Greenbeansoft.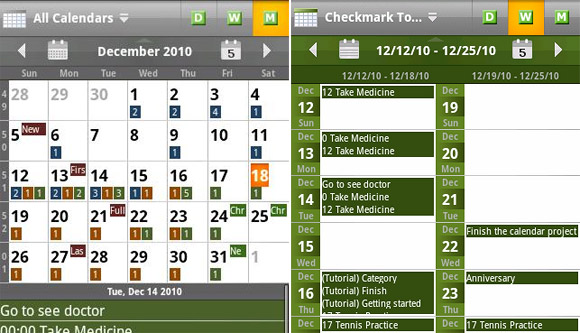 The app can access multiple (colour coded) Google Calendars and impresses with a particularly clean and attractive interface.
Calendars can be viewed individually or in combination with Day, Week and Month views – our favourite was the option to switch between two-week 5-day (work day) and 7-day (whole week) views.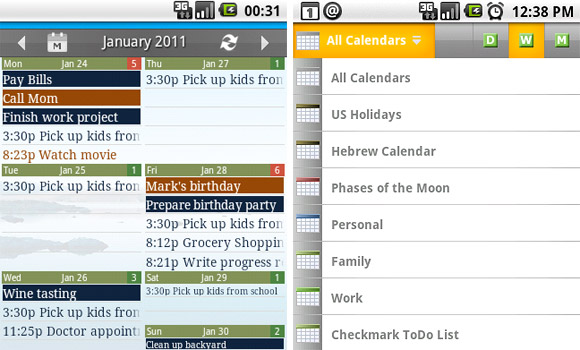 Navigation
Touch Calendar offers double-tap or pinch-zoom to zoom in, and tapping on an event displays its details, with a press of the 'Menu' button offering editing/deleting options.
New calendar entries can be entered by tapping and holding on a day, and there's also built in search.
Wrapping up the feature set is an excellent 4×1 week view and 4×4 month view widgets for displaying calendar info directly in the Android homescreen in the pro version (there's also the option to integrate the calendar with other Checkmark apps like their To Do List Manager app).
Conclusion
We've been using Checkmark for some time now and find it the easiest and most intuitive calendar app on the Android OS. The widget is particularly pleasant to use and the app is speedy in operation.
There's a feature limited version available for free, or £1.85 gets you the full fat pro version.
If you rely on your calendar a lot, it's an app we can thoroughly recommend.
Checkmark Calendar ratings

– Features


– Ease of use


– Interface


– Value for money


– Overall