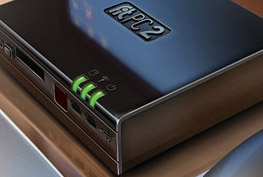 Making our current desktop PC look like Billy Bunter after a weekend's feasting with Fatty Arbuckle at the Donut Factory is CompuLab's super-bijou fit-PC2i desktop PC.
Weighing only 13 ounces and a mere slip of a thing at 4- x 4.5- x 1.05-inches, the impossibly small PC is powered by an Intel Atom Z5xx CPU (from 1.1GHz to 2GHz) and can happily purr along on a full version of Windows 7.
Irad Stavi, Director of Business Development at CompuLab, grabbed the mic:
fit-PC2 was a breakthrough in green computing …now fit-PC2i enables corporate IT unprecedented energy savings where it matters most – in servers and network computers that have to work 24/7
The pint-sized PC can accommodate up to up to 2GB of DDR2 RAM, wedge in a 2.5-inch HDD, and comes with audio in/out ports, onboard WiFi plus four USB 2.0 ports.
Hewn from a 100 percent aluminium die-cast body, this little puppy is an energy efficient as they come, pulling a mere 8 watts at full pelt.
It's expected to be hitting the market in January 2010, with pricing yet to be announced.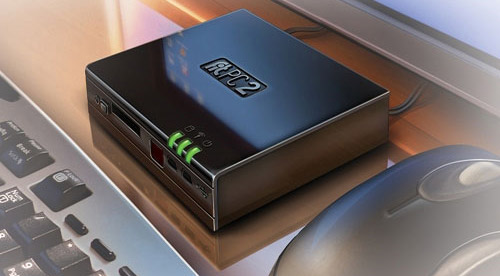 fit-PC2i specs
CPU: Intel Atom Z5xx 1.1 GHz to 2 GHz
Chipset: Intel US15W SCH
Memory: 1 GB DDR2-533 on-board (Optional 2 GB)
Storage: Internal bay for 2.5″ SATA HDD, miniSD socket, On-board 4 GB Flash (optional)
Display & Graphics: Intel GMA500, DVI Digital output up to 1920 x 1200
Audio: Line-out, line-in, mic, 5.1 Channels S/PDIF
Networking: 2x 1000 BaseT Ethernet, 802.11b/g WLAN
USB: 4 USB 2.0 High Speed ports
Serial: RS232 full UART
Operating Systems: Windows Server, Windows 7, Windows XP, Ubuntu Linux
Mechanical and Environmental
Case: 100% aluminum die-cast body
Dimensions: 101 x 115 x 27mm / 4″ x 4.5″ x 1.05″
Weight : 370 grams / 13 ounces – including hard disk
Operating Temperature: 0 – 45 deg C with hard disk, 0 – 70 deg C with SSD
Power: 12V single supply, 8-15V tolerant
Power Consumption: 6W at low CPU load, 8W at full CPU load, <1W at standby
Availability
fit-PC2i will be available in Jan. 2010