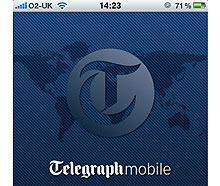 The Daily Torygraph Telegraph has whipped out a new and improved version of its news application for Apple iPhone users.
The freebie Telegraph app can be downloaded directly on to the device through the iTunes App Store, or copied across to the phone using a computer, and lets users share interesting stories or pictures via email, Twitter or Facebook , and access video reports and picture galleries.
iPhone users as journos
The app also lets users alert the the Telegraph to breaking news stories, with a "Report" button letting wannabe news sleuths upload a photo and give a brief eyewitness account of any scoop they stumble across.
"This new, improved app provides a really rich, multimedia news experience," smoothed Maani Safa, head of mobile at Telegraph Media Group. "We've made the software as easy to use as possible, and there are lots of features that readers will love."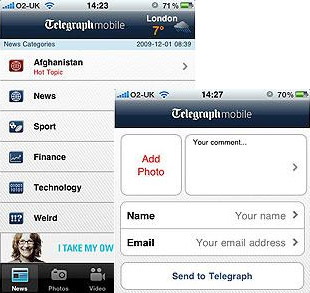 "We can provide you with up-to-the-minute weather forecasts based on your current location, or show you a list of the day's hottest news stories," continued Safa on full 'sell this product mode.
"And if you're catching a flight or taking the Tube, all of the stories and photos are still available, even if you don't have a mobile phone signal."
Download from here www.telegraph.co.uk/iphoneap