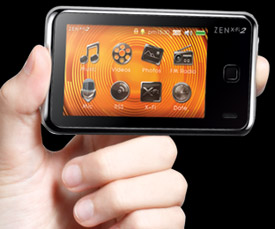 Currently bubbling up under the floorboards and about to make a bid for your wallet is Creative's first touchscreen media player, the ZEN X-Fi2.
The pocket-sized PMP certainly has the specs to get a wad of twenty pound notes a-fluttering, packing a 3-inch resistive touchscreen, support for WMV9, MPEG4-SP3, DivX3 4 and XviD video formats (with TV out), and audio served up in MP3, WMA, AAC, FLAC, and Audible flavours.
The player comes in three versions, with the top of the range 32GB number hitting you for a fruity £169.99, the 16GB knocking you back £129.99 and the wee bairn of the family, the 8GB m0del, tickling you for a penny under a ton.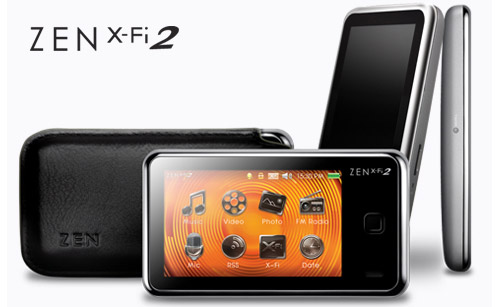 It's a nice looking thing too, sporting sleek curves, a familiar looking black and chrome finish slipped into a diminutive 102mm x 57mm x 11.6mm case weighing just 75g, with a microSD slot supporting up to 16GB of additional storage.
The X-Fi2 comes with Creative's X-Fi Sound technology, built-in speaker, FM Tuner with 32 presets, Voice Recorder, calendar, tasks and contacts organiser, Alarm and RSS reader, with the battery life rated at 25 hours for Audio and 5 hours for Video
We'd be whooping this one a little bit more if it wasn't for the reduced screen depth  (262k down from from 16.7 million colours on the original X-Fi) and a touchscreen that many are reporting doesn't quite live up to its promise.
You're still getting an awful lot of bang for your buck mind, so if you've got a hundred quid or so burning a hole in your pocket, check out the sites below.
Creative UK
Shiny X-Fi2 micro site with annoying music
Get it discounted on Amazon:
Creative ZEN X-Fi2 8GB 3 inch TouchScreen MP3 and Video Player

Creative ZEN X-Fi2 16GB 3 inch TouchScreen MP3 and Video Player

Creative ZEN X-Fi2 32GB 3 inch TouchScreen MP3 and Video Player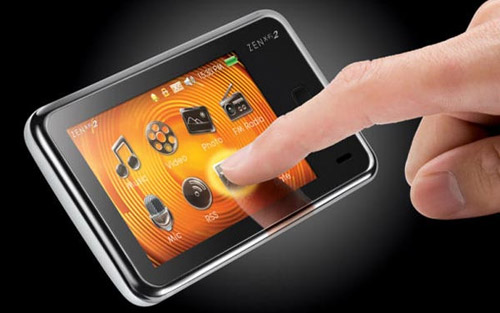 Specifications
Capacity: 8GB / 16GB / 32GB
Size: 102mm x 57mm x 11.6mm
Weight: 75g
LCD: 3.0″ TFT Touch Screen LCD, 262k colors
400 x 240 pixels resolution
Battery Life:
Up to 25hrs of audio playback
Up to 5hrs of video playback
X-Fi Audio Enhancement:
Adjustable Crystalizer / Expand effects
Video / Audio Out: PAL / NTSC (via A/V cable sold separately)
Expansion Slot: microSD memory card support
RSS: Displays RSS content feeds offline (Sync via PC/Laptop connected to the internet)
Power Charging: Via PC-USB or ZEN USB Power Adapter (sold separately)
Video Playback Formats: WMV9, MPEG4-SP3, DivX3 4/5 and XviD3
Up to 640 x 480 video size
Audio Playback Formats: MP3, WMA (DRM9), WAV (IMA-ADPCM) Audible4, AAC4, FLAC4.
Photo Formats Supported: JPEG, BMP (TIFF, GIF, PNG to be converted with bundled software)
Battery: Built-in Li-ion Battery
FM Radio: Built-in FM Radio with 32 preset stations
Organizer: Clock, Alarm, Calendar, Task, Contacts
Built-in speaker: Yes
Album Art: Only for MP3 and WMA files
Voice Recording format: IMA-ADPCM (*.wav) (Built in MIC)
Connectivity: USB 2.0 recommended