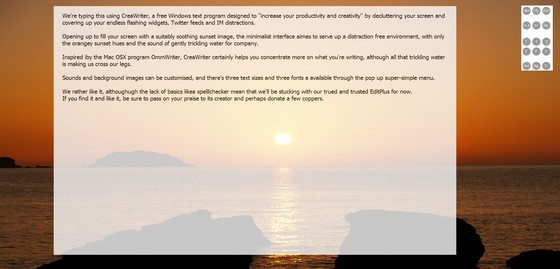 We're typing this using CreaWriter, a free Windows text editor designed to "increase your productivity and creativity" by decluttering your screen and covering up your endless flashing widgets, Twitter feeds and IM distractions.
Opening up to fill your screen with a suitably soothing sunset image, the minimalist interface aims to serve up a distraction free environment, with only the orangey sunset hues and the sound of gently trickling water for company.
Sounds and background images can be customised, and there's three text sizes and three fonts are available through the super-simple, pop-up menu. Text can be saved in the universal TXT format or you can do what we did and simply copy and paste your finished work into another editor/blog tool when you're finished.
Inspired by the Mac OSX program OmmWriter (see below), CreaWriter certainly helps you concentrate more on what you're writing, although all that trickling water is making us cross our legs.
*rushes off to the loo
OmmWriter for Mac OSX
Much like the Windows version it inspired, OmmWriter provides a serene environment for knocking out text and comes with three font types, three font sizes, seven different background sets of background music, and seven keyboard sound effects (which can be turned off).
Documents can be saved in either Ommwriter's own .omm document format or- more usefully – standard .txt.
OmmmMmmmm
We rather like both of these calming tools,  although the lack of basics like a spelllchecker mean that we'll be stucking with our tried and trusted EditPlus for now.
If you find you like using these programs, be sure to pass on your praise to their creators and perhaps donate a few coppers for their trouble.