A collaboration between Transport for London, Serco and Barclays Bank has seen thousands of bicycles being made available to Londoners, and the free Cycle Hire Widget for Android has been released to lets users locate a bike in double quick time.
Powered by data from the Barclays Cycle Hire website (with a crowd sourcing option if this data becomea unavailable), the app displays the direction and distance of the closest three cycle hire locations in a neat wee widget.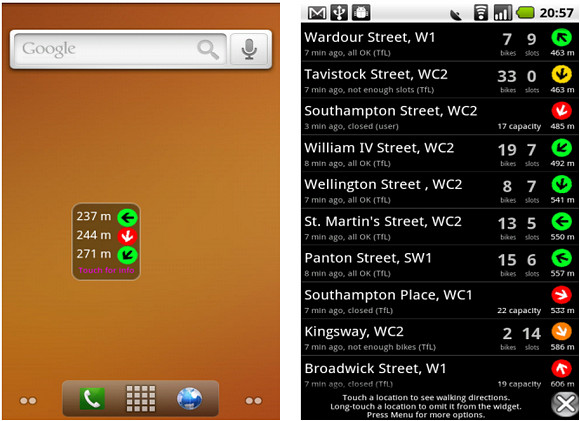 Colour coded info
The handy colour-coloured direction arrows reflect the known status of each hire location, which can vary from, 'all OK', 'not enough bikes', 'not enough spaces' and 'closed'.
Tapping the screen again brings up further information about the nearest 20 cycle hire locations, including the actual number of bike

s and slots available at each station.
When a location is selected, Google Maps then pops up to show walking directions to the hire location from the user's current position.
Installation
To install this freebie application, search Android Market for 'Cycle Hire Widget,' or scan in the QR code opposite with your handset (if you have the Barcode Scanner by ZXing installed – and you should, as it's rather good).
See the video
Want to know more? Check out the app in action below or read on for the full press blather:
Press release:
LONDON, ENGLAND, August 2, 2010 — By 11am on the morning of the launch of Barclays Cycle Hire on 30th July 2010, Cycle Hire Widget for Android was the first application on any platform to display realtime availability of cycles and slots at stations, beating all competitors to this feature by days. Here's how we did it:

On 28th July, two days before the scheme's launch, Little Fluffy Toys Ltd proudly announced the release of Cycle Hire Widget for Android-enabled phones. The free application directs users to their nearest cycle hire location. Uniquely among London cycle hire applications, Cycle Hire Widget launched with a 'crowdsourcing' feature to display the cycle availability at the hire locations, solving the biggest omission at the scheme's launch: that no third-party developer had access to the number of available bikes at each hire location.

That same evening, we discovered through reverse engineering that the new Barclays Cycle Hire website, due to go live on launch day, appeared to have the ability to display realtime availability of cycles and slots at hire stations. We had asked the architects of the scheme, Transport for London (TfL), for this information some time ago, but we were told it was not available and would not be available, hence us creating the crowdsourcing feature.

So we decided, just in case TfL went live with that information, to prepare to use the data from the Barclays Cycle Hire website as a feed to our crowdsourcing server. We issued an update to Android Market the night before the launch that would improve the display on users' phones if the crowdsourced source was TfL. Phones with the original version would still display what would appear to be perfectly-crowdsourced information, but upgraded phones would show the actual number of cycles and slots at each location.

Sure enough, unannounced in advance to third-party developers, TfL went live wtih the realtime data on their website. And after a frantic scramble to rewrite our screenscraper due to a data format change, by 11am on the morning of the scheme's launch, Cycle Hire Widget for Android was displaying realtime availability on users' phones. It took two days before any other cycle hire application on any platform could match this feature.

"It is a testament to the flexibility and agility of the Android platform and of Google's App Engine that we were able to be first to market with realtime cycle and slot availability, and retain that competitive advantage for days," said Kenton Price, Director and Chief Architect of Little Fluffy Toys Ltd.

The TfL data feed is still not officially available. In the event that the unofficial feed that we (and now others) are using becomes unavailable for any reason, Cycle Hire Widget will uniquely and automatically fall back to its crowdsourcing feature to enable its users to continue to see realtime cycle hire station status.

More details of the Cycle Hire Widget for Android:

When touched, the widget displays the direction and distance of the closest three cycle hire locations, with colour-coloured direction arrows reflecting the known status of each hire location:

all OK
not enough bikes
not enough spaces
closed
When touched again, the detail view displays further information about the nearest 20 cycle hire locations, including the actual number of bikes and slots at each location, and when a location is selected, Google Maps shows walking directions to the hire location from the user's current location.

Widgets in Android

Widgets are a powerful differentiator of Android over other smartphone platforms. A widget sits on a user's home screen and contains active information that can update in real-time or in the background, and the user can touch and interact with it. Cycle Hire Widget packs information about distance, direction and availability of your closest three hire locations into the smallest possible "1×1" widget (which occupies just one-sixteenth of a homescreen, of which you have several), and then allows the user to open it up to view more details.

Fast location awareness

Cycle Hire Widget features advanced location awareness technology from Skyhook to get a fast and accurate fix on a user's current location in around two seconds, much faster than using traditional GPS. "Cycle Hire Widget is using Skyhook because it needs fast, accurate location in an urban area," said Kate Imbach, vice president of marketing at Skyhook. "Skyhook offers device-level integration with leading Android handsets, and a developer plug-in for those Android devices without Skyhook pre-installed, in order to improve location over alternative offerings."