Dell have just whisked off the velvet sheet covering their new Adamo XPS, and shouted to the heavens that they – yes, they – now rule the roost when it comes to making the world's thinnest PC laptop.
Drop-kicking the now lardy MacBook Air into the WeightWatchers Club, the XPS is a  mere slither of a thing at just 9.9mm thick.
The new Adamo XPS shaves vital millimetres off last years model, with the even thinner lappie measuring up at a lithe 340 x 273.9mm and weighing just  under 1.44kg.
Inside its waif-like body is an Intel Core 2 Duo (1.4Ghz) ultra-low voltage processor, no less than 4GB of DDR3 800 memory  and a 128GB solid-state drive, topped off by a 13.4-inch high-definition display and a full-size aluminium keyboard.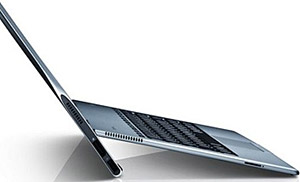 Other features include: a slightly odd capacitive latching device (this opens up the case with a swipe of your digit); built-in location awareness; onboard 802.11n wireless; 2x USB 2.0 sockets, significantly faster NVIDIA integrated graphics and an Ethernet connection (via a dongle), with the wafer thin laptop purring along on Windows 7 64-bit edition.
Battery life on its regular three-cell pack is a rather meagre two hours, although the extended battery can up the runtime up to 5.25 hours, at the expense of some additional body bulk.
Raving about the the Dell Adamo XPS, Alex Gruzen, Senior Vice President of Dell Consumer Products, whooped: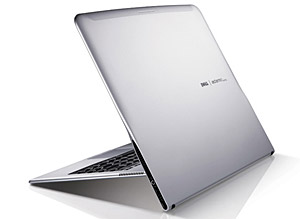 Our engineers and designers are breaking new ground and throwing away the old rules with the introduction of Adamo XPS.

We think the Adamo XPS will inspire an emotional connection with anyone who sees it.
We suspect that for many that only emotional connection they're likely to make will be one of sheer, jowl-dribbling envy, as this isn't going to be a budget priced number (we're talking $1,800 in the States).
There's ne'er a whisper about a UK release date or the pricing of the new XPS, but no doubt it will surface on www.adamobydell.co.uk soon.