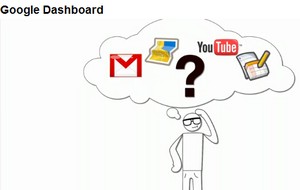 If, like us, you use a lot of Google services every day, you may be a tad concerned about what data Big Brother Google has on record about your activities.
In response, the company has created the Google Dashboard to let users see at a glance their privacy settings across multiple Google services – and see what information is being  stored about their activities.
Dashboard covers more than 20 products and services, including Gmail, Calendar, Docs, Blogger, Web History, Reader, Contacts, YouTube, Google Analytics, Picasa, Talk, Reader, Alerts, Latitude and others.
Although Google describes the "scale and level of detail" of their new service as being "unprecedented," in truth it was mainly a list of privacy-related settings for each service, revealing no sexy '24' style scrolling data graphics and no maps detailing your wanderings .
We're not going to gripe though as it is handy one-stop-shop for this kind of stuff , even if it was a tad alarming to see how many Google services we're subscribed to.
You can access Dashboard over by going to  google.com/dashboard, or by logging into your Google account, hitting 'Settings,' choosing "Google Account Settings" from the dropdown menu and then then clicking on the link next to "Dashboard".
Here's an introductory video for Google Dashboard below.