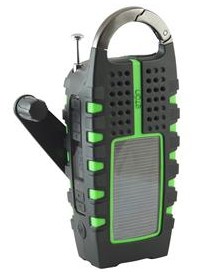 Billed as the "Essential Festival Companion," Etón's new SCORPION wind-up gizmo packs a solar powered radio, a mobile phone charger, a LED torch for avoiding those perilous tent pegs, and a bottle opener to keep the beers flowing.
Resplendent in shades of vibrant green or orange, Etón's Scorpion is tough enough to survive a lively night on the mephedrone, with the crank up handle letting you party on through the night.
There's a built in radio covering the FM, Medium and Shortwave bands, with the LED torch providing enough light to see you safely home from the Green Fields via Babylon straight back to your Glastonbury tent.
The whole thing comes in a splash-proof, rugged exterior, and should be out in time for the start of the festie season, retailing for £49.99.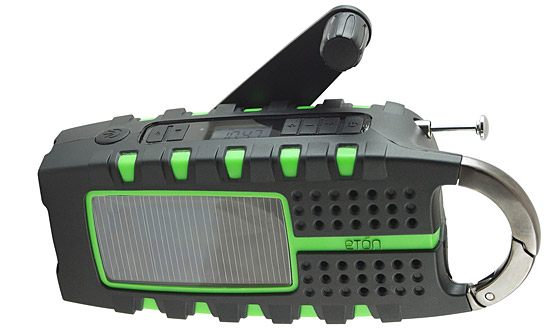 Technical Spec:
· AM FM Radio Tuner
· SW band coverage
· Built-In LED Flashlight
· Large Solar Panel
· Crank Powered
· USB Cell Phone Charger
· Audio Line Input
· Aluminium Carabineer
· Splash proof
· Rugged Exterior Skin
· Battery Charge Indicator
· Bottle Opener
· No Batteries Needed
· DC Power
· Dimensions: 5.25″ x 2.5″ x 1.75″ (W x H x D) 133 x 63.5 x 44.45 mm
· Weight: 8.5 oz. (241 g)