With a claimed user base of over 55 million "monthly active iPhone Facebook users," there's no doubting that the Facebook app is a popular choice for iPhone users, even if it isn't exactly the greatest app around.
The official app has had something of a chequered history on the iPhone, suffering a major setback in November 2009 when Joe Hewitt, Facebook's principal iPhone developer, quit after expressing his anger with "Apple's tyrannical App Store approval policies."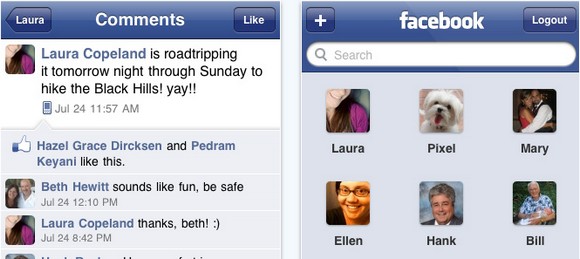 Videos are go
The latest version version 3.1.3 contains several major updates and some important bug fixes, most notably the ability to watch Facebook videos and upload larger 720px wide pictures on the iPhone.
Scheduled for inclusion – but not yet implemented  – is a feature to upload videos directly to Facebook from the iPhone – something that has been available on platforms like the webOS for some time.
Here's the official list of updates:
What's New in Version 3.1.3

New features in this version:

– You can now watch Facebook videos.
– You can now view and write on walls of events.
– Uploaded photos are now 720px wide.

This version contains fixes for the following bugs:

– Could not comment on photos accessed from Notifications
– Could not upload photos smaller than a certain size
– No more than 2 notifications were highlighted as unread
– Status updates appeared out of order in News Feed
– Broken photo album links in News Feed
– Birthdays view had months in wrong order
– Last section of friend list was incomplete if you had fewer than 8 friends
– Notes with non-ASCII text were cut off at the end