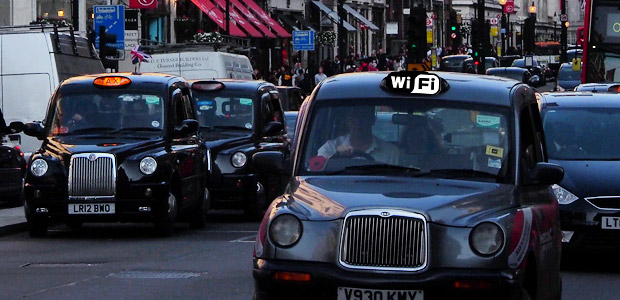 Gor blimey Guv'nor. Would you Adam and Eve it?  Free wi-fi in Sherbert Dabs! Lovely jubbly!
Or, in other words, a new start up is rolling out a free, advert-supported wi-fi service for passengers using the iconic London black cab.
Eyetease Limited, a TechCity based start-up, has received approval by the Transport for London to roll-out their new high speed wi-fi service for London cabs, giving drivers and passengers high speed web access on the move.
Called CabWifi, the 3G/4G powered service uses an 'ads-for-access' business model, which means passengers will have to sit through a 15 second advert before gaining access to 15 minutes of internet access. Drivers get a separate login.
Founder and CEO, Richard Corbett, was ready and willing to spread the news:
This is really great news for London. With dwell times averaging 15 minutes in the back of a taxi, what better way to pass the time than to use your laptop, tablet, book reader or phone with guilt free internet access. Tourists and business travellers can now access their emails, talk on Skype or surf the web without the fear of being hit with high data roaming charges when they return home!
Keen to ensure that can drivers felt all cuddly about the scheme, Corbett added,  "the London taxi drivers are without doubt the best in the world and Eyetease is really proud to launch this new service here in London first".
[Eyetease]
Here's a video clip that has just about nothing to do with the story, but we like it anyway.