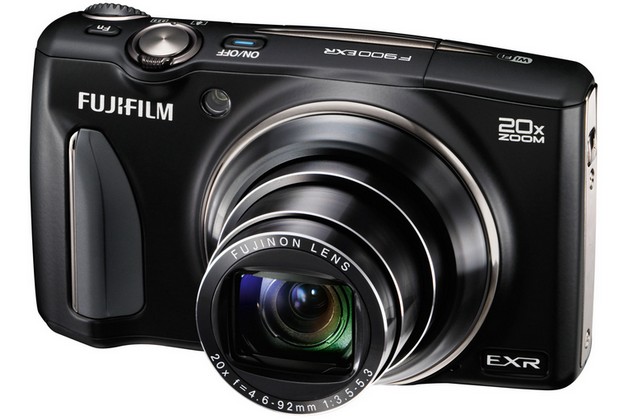 It's a bit of a beastly looking thing to our eyes, with its ungainly curves failing to win over any Wirefresh love, but Fujifilm's new FinePix F900EXR camera looks like it could almost be the perfect travel compact.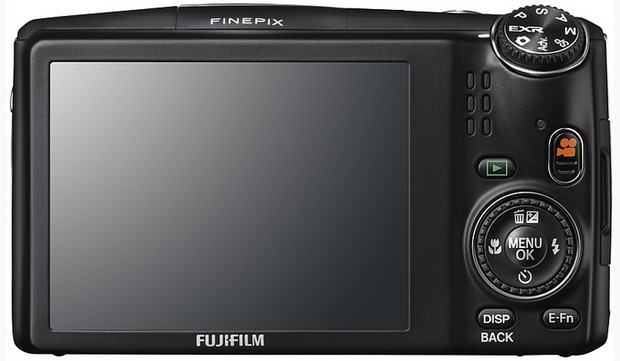 The RAW-capable compact superzoom packs a huge 20x FUJINON optical zoom (25-500mm equiv) with CMOS-shift image stabilisation, and comes with a slightly-larger-than-average 16 megapixel ½-inch EXR-CMOS II sensor.
Fujifilm is making a big hoo-hah over the camera's claim to possess the  'world's fastest AF,' thanks to its phase detection AF which promises to grab focus in as little as 0.05sec.
The camera can transfer images wirelessly to PCs once users have installed the necessary "FUJIFILM PC AutoSave" software and linked up the F900EXR camera with their Wi-Fi Router.
It's also possible to transfer up to 30 pictures at a time to smartphones and tablets via the "FUJIFILM Camera Application" which is available in iPhone, iPad, or Android smartphone or tablet devices.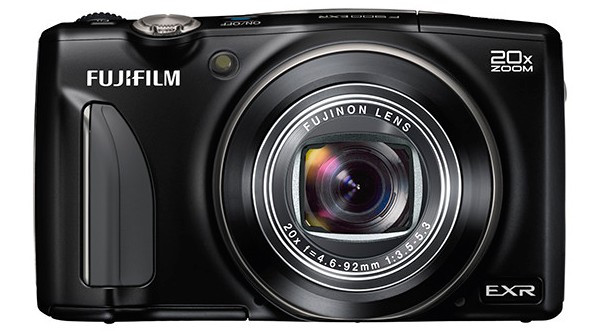 Around the back is a 3.0-inch LCD screen, while there's the usual slew of manual and auto controls onboard, with the XR-Auto feature offering auto optimisation for 108 different scene types, plus Advanced Art Filters, Motion Panorama 360 and Full HD 1080p Video (60fps) support.
With a nippy start-up time of 1.1 secs and an interval of just 0.5 sec between shots, the Fujifilm FinePix F900EXR should be able to capture most of the action you're likely to encounter.
Battery life is pegged at a rather disappointing 260 shots, and the camera will be available in the UK in Black, Red and Navy Blue from April, priced around £280.
Fujifilm Press Release

FUJIFILM launches superb new FinePix F900EXR Compact Ultra Zoom camera with World's Fastest AF of 0.05sec.(1) & Wireless Image Transfer

FUJIFILM is proud to announce the release of the FinePix F900EXR travel zoom camera; this handsome, pocketable compact is the latest addition to FUJIFILM's F series. It's targeted at an audience looking for excellent image quality, long zoom capabilities and advanced features, in a lightweight and slimline body. With a high precision FUJINON 20× optical zoom lens with a minimum focal length of 25mm(3), plus a powerful new EXR-CMOS II sensor with extra fast Phase Detection AF and an EXR Processor II, the F900EXR offers near instantaneous reactions and excellent functionality.

Available in April the F900EXR will have an RRP of £279.99

1. Super-fast response times
The F900EXR's new "Intelligent Hybrid AF system" focuses in as little as 0.05sec.(1) when employing the new Phase Detection AF which uses special new pixels that have been added to the EXR-CMOS II sensor. Its speed ensures that your subject will be captured at the precise moment you want them to be, avoiding missed photo opportunities. The camera automatically switches between Phase Detection AF and Contrast Detection AF depending on the subject and scene, guaranteeing superb ease-of-use and fast, accurate, autofocus whatever the shooting conditions.

The bespoke 16 megapixel ½" EXR-CMOS II back-side illuminated (BSI) sensor has been engineered to ensure that there will be enough light available for Phase Detection AF at larger apertures and in circumstances where the angle of incidence of light is high.

In addition, the EXR Processor II more than doubles the performance of the first-generation EXR Processor. With a super-fast startup time of 1.1sec.(4), an interval between shots of 0.5sec.(4),  and burst-mode rates of 11 frames/sec.(4) (max. 5 frames), the F900EXR offers fantastic response times that make it a joy to use and ensure you should never have to worry about missing that special shot again.

What's more, you can take advantage of the superb capabilities of the EXR-CMOS II sensor and EXR Processor II just by selecting FUJIFILM's EXR AUTO mode. In this mode, the camera has the ability to automatically optimise output by choosing between 108 pre-determined scene permutations and adjusting settings to suit the scene for hassle-free, high-quality results whatever your subject.

2. FUJINON 20× optical zoom lens combines with Intelligent Digital Zoom for up to a 40× zoom
From 25mm (3) (wide) to 500mm (3) (telephoto), the F900EXR offers an impressive zoom range packed into a very slim-line camera body. With the ability to combine the 20x optical zoom with the intelligent digital zoom allowing magnification up to 40×, the F900EXR will capture crisp images of subjects at an impressive distance.

Featuring advanced CMOS-shift image stabilisation which reduces the blurring which often occurs at long zoom ratios from camera shake or subject movement, the F900EXR is built to help you take good quality long zoom shots. With its superior grip for additional hold, you will feel in total control when you're snapping away on your travels.

3. Wireless Image Transfer makes it easy to transfer photos and movies(5) to smartphones and computers
The F900EXR's new wireless feature lets you transfer photos and movies(5) from the FinePix F900EXR to smartphones, tablets, and computers.

For first time, via Wi-Fi® (6), FUJIFILM is able to offer a means to back up your photos on your home PC. Just install the free "FUJIFILM PC AutoSave" software onto your PC and select which folder you want the photos to back up to, and then by linking your Wi-Fi Router and the F900EXR camera you will have set up a very simple to use backup for your photos on your home PC.

To connect to smartphones and tablets you will need to download the free dedicated "FUJIFILM Camera Application" to your iPhone, iPad, or Android™ smartphone or tablet device to transfer up to 30 pictures at a time from the FinePix F900EXR. The app also lets you download movies(5), expanding the range of options available for enjoying pictures taken with the camera. Pictures stored on the camera can be viewed and selected for download on large smartphone or tablet screens for a smooth download experience. No wireless LAN access point or complicated ID or password entry is required, and once pictures have been downloaded to the smartphone, it's a simple task to upload them to social networking sites.

High-quality pictures and movies(5) can be uploaded hassle-free to the smartphone or tablet of anyone who has downloaded the free "FUJIFILM Camera Application".

4. Record Full HD movies, thanks to the EXR- CMOS II sensor
Shoot video footage in Full HD at a smooth 60 frames per second with improved Phase Detection AF without losing any of the superior colour reproduction qualities offered by the EXR-CMOS II sensor with high bit rate. Movie recording can be started with a single press of the dedicated "Movie recording button". You can record high-quality sound using the built-in stereo microphone.

Optical zoom and still image photography are available during movie recording. Portraits will always be in focus thanks to the face-tracking autofocus feature, which even tracks subjects that look down or away.

The Intelligent Hybrid AF is active during movie recording for fast, precise focus. The camera also offers a Scene Recognition for movie recording feature that automatically adjusts camera settings for landscapes, close-ups, night landscapes, portraits, backlit portraits, and night portraits for high-quality, hassle-free results with a variety of subjects.

5. The fully-featured camera makes photography a snap
The FinePix F900EXR offers "Advanced Filter" for hassle-free access to innovative forms of artistic expression. You can preview these on the LCD before you take your shot.
Toy Camera – Create shaded borders as if you were taking a photo on a toy camera
Miniature – Add top and bottom blur for a diorama or miniature effect
Pop Colour – Emphasise contrast and colour saturation
High Key – Enhance brightness and reduce contrast to lighten tonal reproduction
Low Key (NEW) – Create uniformly dark tones with few areas of emphasised highlights
Dynamic Tone – Create a fantasy effect by dynamically-modulated tonal reproduction
Soft Focus (NEW) – Create a look that is evenly soft throughout the whole image
Partial Colour – Retain one selected original colour and change the rest of the photo to black and white. Colours can be selected from red, orange, yellow, green, blue and purple for dramatic effect

Further improvements have been made to "Advanced Anti-blur" mode, in which the camera takes four shots in rapid succession at high sensitivity settings and combines them using advanced image processing technology to reduce the effects of blur: it now works effectively with moving subjects for even more beautiful blur- and noise-free shots in low light and at high zoom ratios.

Combine two shots into a "Multiple Exposure" shot for a unique effect. Superimposed over the view through the lens in the monitor, the first shot serves as a guide to composing the second shot, allowing more accurate composition and giving you a better idea of how the picture will turn out for unique, creative works of art.

The "Motion panorama 360" feature makes it a snap to record dynamic, seamless 360° panoramas. And "Film simulation" lets you choose from five different combinations of colour gamut and tonal range, just as you used to choose the appropriate Fujifilm colour reversal film.

6. Extra clear display and superb ease-of-use for a variety of shooting modes
Its bright, high-precision, premium 3.0-inch, 920,000-dot LCD monitor offers a Monitor Sunlight mode for enhanced viewing in bright sunlight and a greatly improved viewing angle, thanks to a special film overlay employed. The improved viewing angle allows you to take photos from higher angles and makes it easier to show your photos/videos to a group of people crowded around the camera.

Additionally, frequently-used options can be assigned to the camera's "E-fn" or extended function button for enhanced ease of use.

7. FinePix F900EXR Key features list:
16 megapixel ½-inch EXR-CMOS II sensor with Phase Detection & EXR Processor II
20x optical zoom (25-500mm(3)) with CMOS-shift Image Stabilisation
3.0-inch LCD screen with wide viewing angle
EXR-Auto (with auto optimisation for 108 different scene permutations)
Full manual controls
Intelligent Hybrid AF (World's Fastest AF of 0.05sec.(1))
Start-up time of 1.1sec.(4)
Interval between shots of 0.5sec.(4)
RAW shooting (RAW, JPEG, RAW+JPEG image capture modes)
Wireless Image Transfer to PC, tablets and smartphones
11 frames/sec.(4) (max. 5 frames) continuous shooting (at full resolution)
Advanced Filter
Motion Panorama 360
Full HD 1080p Video (60fps)
Available in the UK in Black, Red and Navy Blue
260 shots (4) per battery charge

(1) FUJIFILM research as of November 2012. Compared with other digital cameras, based on CIPA standards, and conducted in High Performance mode at the maximum wide-angle position with AF-area mode set to center position
(2) Wi-Fi CERTIFIED logo is a certification mark of the Wi-Fi Alliance
(3) 35mm format equivalent
(4) FUJIFILM research based on CIPA standards
(5) "FUJIFILM Camera Application" for iOS may not save the movie files that your smartphone could not play it. Please try the movie mode less than HD(1280 x 720).
(6) Wi-Fi(R) is registered trademark of the Wi-Fi Alliance