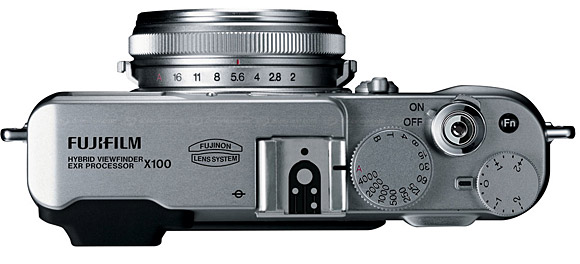 It's the camera we lusted over when it was first released, and now the Fujifilm Finepix X100 has bagged the prestigious award of Editors' Choice from the 2011 Camera Grand Prix of Japan.
With the TIPA Award for 'Best Premium Camera' already in the bag, Adrian Clarke, Director of Fujifilm's Digital Products was like a cat rolling in a vat of Devon's finest cream at the news of the second gong:
To win two of the camera world's most prestigious awards is a fantastic achievement… The Awards are the highest recognition that with the X100, Fujifilm has created a camera with truly outstanding qualities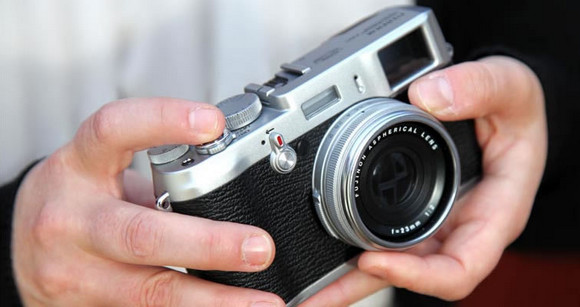 Our hands on
We finally managed to have a play with a Finepix X100 and ended up with mixed feelings.
Although the finish and ergonomics were the stuff of dreams and the viewfinder nothing short of sensational, a few things didn't quite add up for us.
First off was the performance – the thing was slow to start up and slow to save RAW files – which is the last thing you want for street shooting.
The camera was also a little bit bigger than we expected – we'd have preferred it to be about 25% smaller – although we adored the metal, old school controls and the picture quality was superlative.
That said, there is something about the camera that just makes you want to go out and take pictures, and any camera that makes you feel that way has to be a winner.
Whether it's £900's worth of win is another matter.
Fujifilm Press Release: Fujifilm FinePix X100 adds two new awards to the tally

It may be just four months since the Fujifilm FinePix X100's launch but International recognition for the camera's exceptional qualities continues to roll in with the receipt of two more prestigious awards.

The outstanding performance of the X100 had already been recently recognised with the TIPA Award for Best Premium Camera, which is now joined by the equally prestigious award of Editors Choice from the 2011 Camera Grand Prix of Japan.

The X100's growing iconic status has now also been recognised by the world's best-selling gadget magazine: Stuff who have awarded the camera as one of their 2011 Cool List Winners. Adrian Clarke, Director of Fujifilm's Digital Products said "To win two of the camera world's most prestigious awards is a fantastic achievement and we are equally proud that Stuff magazine should recognise the X100's iconic status. When the camera was unveiled in 2010, Fujifilm sought to remind the world of the company's heritage, resources and outright technical capabilities. The Awards are the highest recognition that with the X100, Fujifilm has created a camera with truly outstanding qualities".

First held in 1984, the Camera Grand Prix is one of the camera industry's most prestigious awards. Winners are selected by a 57 member selection panel; compromising members of the Camera Journal
Press Club of Japan, top editorial staff of the member publications, academic experts, technical writers, professional photographers and a representative of the TIPA.

The Camera Grand Prix Awards are held annually under the sponsorship of the Camera Journal Press Club (CJPC). Founded in 1963, the CJPC is based on the main photography writers from the top 11 photo and camera magazines in Japan.

The Camera GP Editors Award is chosen by a selection of top professional writers who select their ultimate favourite product having considered all photographic and imaging products launched between 1 April 2010 and 31 March 2011.

In selecting the FinePix X100, the editor's panel commented: 'Fujifilm's FinePix X100 is a compact digital camera featuring a new hybrid viewfinder, which combines a projected bright-frame optical viewfinder and an electronic viewfinder system with approx. 100% field of view and a 1,400,000 dot LCD panel. A magnesium alloy body with manually operated control dials, an APS-C CMOS sensor and new EXR processor deliver the highest image quality in the history of FinePix cameras, the quality of which is so high that is almost beyond the performance of DSLRs.'

Commenting on the X100's inclusion as a 2011 Cool List Winner the team at Stuff magazine said: 'Achingly retro on the outside but reassuringly cutting edge on the inside, Fujifilm's X100 doesn't just look the part, it's also capable of DSLR-standard results.'