It may look like something that your granddad may have carted around with him on a day out in the charabanc, but when it comes to capturing high quality images, Fujifilm's GF670 medium-format folding rangefinder camera is the shizzle.
So old looking it's actually gone beyond retro, the Fujifilm GF670 is aimed at high-end photographers who prefer the qualities of glorious film over boxes full of bits'n'bytes.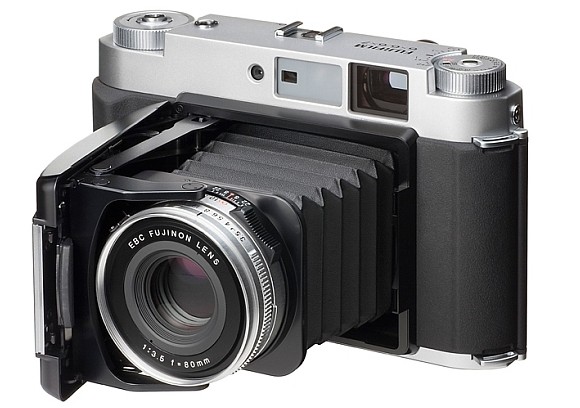 Medium format delight

Known as the Voigtländer Bessa III in the rest of Europe, the GF670 can switch between 6" x 6" and 6" x 7" formats on 120 and 220 roll rolls.
Capable of outputting extremely high quality images, the camera comes with a Fujinon EBC 80 mm lens and coupled rangefinder, and offers manual shutter speed control and aperture priority automation.
Wind 'er up
Film is wound on mechanically – old school style – exposure counter display, with the 'whisper quiet' Electronic Leaf shutter mechanism offering speeds ranging 4s~1/500s including bulb with flash sync at all speeds.
On the top plate, there's an ISO setting dial, a hot shoe flash mount and a PC sync connection socket, with the camera offering -2/+2 exposure compensation for tricky snaps.
Available in a time honoured silver and black finish, the Fujifilm GF670 is available now from leading camera retailers for the not-inconsiderable sum of  £1,700.
Click here to read the full specs of what all that dosh will get you.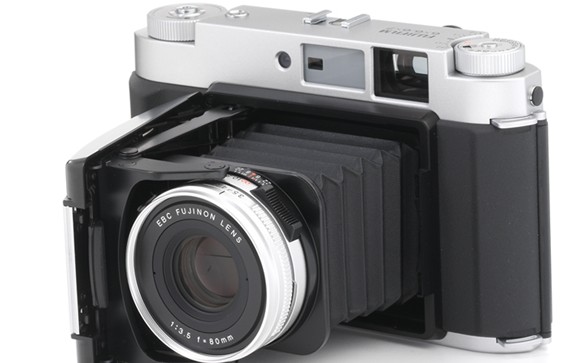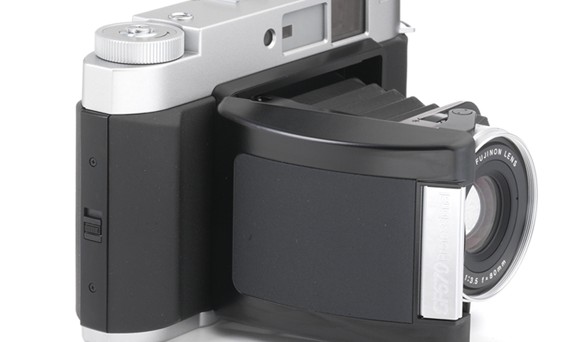 Fujifilm Press Release

Fujifilm's new medium format camera available now

The GF670 Professional, Fujifilm's new medium format film camera is now available to UK photographers.

This folding camera offers 6" x 6" and 6" x 7" format shooting, selectable via a simple switch, with 120 and 220 roll film. The GF670 features a Fujinon EBC 80 mm lens and coupled rangefinder. This stunning camera produces sharp, high quality images and is ideal for photographers who enjoy the unique look that film offers as well as the ability to produce high resolution photographs in very large sizes.

The GF670 has manual shutter speed control and offers a setting for aperture priority automation. With manual film advancement, exposure counter display, and an ISO setting dial, the camera also provides -2/+2 exposure compensation and includes a hot shoe flash mount and a PC sync connection socket. The 'whisper quiet' shutter mechanism is an Electronic Leaf shutter with speeds ranging from 4s~1/500s including bulb with flash sync at all speeds.

Fujifilm's Product Manager for film products, Gabriel Dacosta welcomed the release: "We had the GF670 on our stand at Focus and it created a real buzz, medium format photography is enjoying something of a renaissance at the moment and I'm sure this new camera will help keep the format alive."

He continued: "Many landscape photographers plus those involved in advertising and portraiture realise that traditional film produces the best results and that medium format is the perfect solution for their businesses."

Finished in silver, the GF670 is available now from leading camera retailers. To find out more on this new camera and to find your local stockist, go to http://www.gf670.com or emailprofessional@fuji.co.uk

The full range of Fujifilm Professional's film stock is available to buy online viahttp://www.fujilab.co.uk – for further details on the range visit, http://www.fujifilm.co.uk/professional