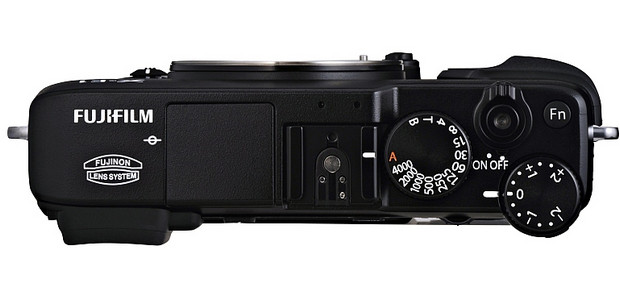 The details of the new enthusiast Fujifilm X-E1 compact camera had leaked to the press well in advance of the official launch, but the camera has finally been formally announced by Fujifilm today.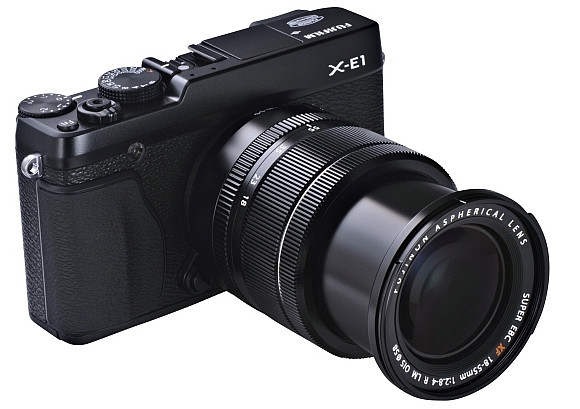 The high-end camera packs the same 16 megapixel APS-C X-Trans CMOS Sensor as seen in the X-Pro 1, although there's no fancy-pants hybrid optical/digital technology on offer, with the X-E1 coming with a high-definition 2.36-million-dot EVF.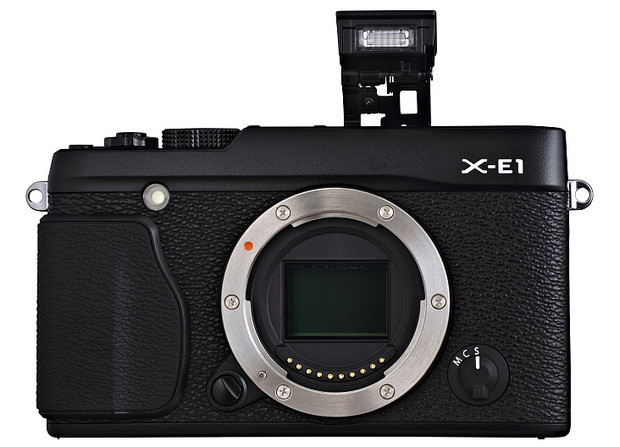 The camera uses the same Fujinon XF lens X mount as the X-Pro 1, and is compatible with the three existing XF lenses available, with Fujifilm promising two more additions to the range this year with five further lenses coming in 2013.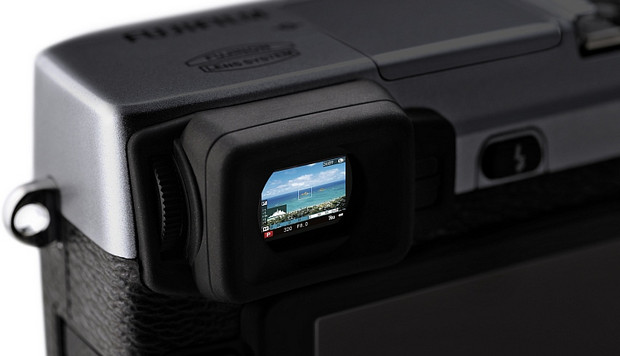 Billed as available 'later this year' (we're thinking November), the X-E1 comes in two traditional, old school colour schemes: two-tone Silver and solid Black.
In the US, the Fujifilm X-E1 will be set you back a hefty $1,000 (body only) and  around $1,400 for a kit version with the new 18-55mm f/2.8-4 OIS lens.
UK availability and pricing have yet to be confirmed.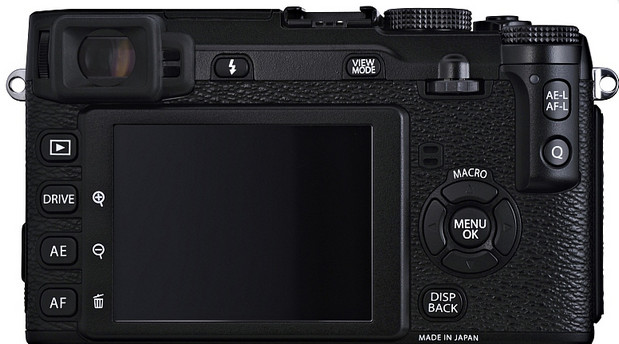 Fuji Press Release:
FUJIFILM launches a second X Series interchangeable-lens camera, with image quality comparable to 35mm full frame D-SLR sensors

The FUJIFILM X-E1 Premium interchangeable-lens camera

FUJIFILM Corporation (President: Shigehiro Nakajima) is proud to announce the launch of the X-E1, the second interchangeable camera from the brand this year. Following hot on the heels of the highly acclaimed X-Pro1, the X-E1 boasts the same 16 megapixel APS-C X-Trans CMOS Sensor, packed into a smaller body, and a new top-class OLED electronic viewfinder and built-in flash. Featuring the same Fujinon XF lens X mount as the X-Pro 1, the X-E1 is compatible with the 3 existing XF lenses available, with 2 more arriving this year and 5 further additions in 2013.

With its convenient portable size and fast autofocus speed, the X-E1 promises to be an exciting addition to the X series range. Hitting the market later this year, the X-E1 is available in two colour variations; two-tone Silver for those looking for cool retro styling, and solid Black for photographers wishing to blend in with their surroundings and not draw the attention of their subjects.

Classical design for intuitive operation
Made in Japan, the X-E1 exudes a class and quality that can be seen from each of its components. The top and front covers are made from die-cast magnesium for a rigid, yet delicate design. And at roughly the same size as the FUJIFILM X100, the X-E1 is refreshingly compact and lightweight (just 350g(1)), in spite of its advanced feature set. With a rubber grip for additional hold, the X-E1 is a well balanced camera, and the centrally positioned X mount distributes the weight of the body and the lens evenly.

Its ease of use was paramount in the minds of FUJIFILM's engineers when designing the X-E1. As on other X series models, the sides of the dials on the top panel feature a textured pattern for smooth adjustment. Users can turn the aperture ring on the lens with their left hand, and operate the dials for shutter speed and exposure compensation on the top panel with their right hand, for quick setting changes without having to take their eye off the viewfinder. Functions frequently used during shooting can be assigned to the Fn (Function) button for extra efficiency.

Despite a host of convenient features and lightweight design, the X-E1 can take approx. 350 shots per charge(2), allowing users to concentrate on their photography without having to worry about the remaining battery power. Additionally, the camera features a high-precision built-in flash equivalent to guide number of 7(3). The use of the proprietary TTL metering system enables indoor shooting of close-up shots with an appropriate amount of light.

High-definition and high-luminance 2.36 million dot OLED electronic viewfinder
Unlike the X-Pro1 with its hybrid multi viewfinder, the X-E1 camera boasts an OLED electronic viewfinder with a resolution of 2.36 million dots, making it one of the highest resolutions available on digital cameras with EVFs(4). The viewfinder on the X-E1 has a unique lens structure consisting of two glass elements and one double aspherical element, which in conjunction with the OLED offers an incredibly high quality display.

The OLED panel offers a high resolution of 2.36 million dots, with a high contrast ratio of 1:5000(5) resulting in rich gradation and faithful reproduction of focus, exposure, white balance and film simulation effects in the viewfinder.

The two glass elements and one double aspheric element used in the viewfinder construction offer an experience similar to an optical viewfinder, with a clear, distortion and aberration free view to all corners of the image.

A wide 25 degree horizontal field of view allows the user to scan the entire scene quickly and easily. The inclusion of a soft resin on the eyepiece allows eyeglass wearers to comfortably use the viewfinder, whilst the diopter dial allows you to adjust the distance between your eye and the EVF, to a position suited to your viewing preference.

Featuring FUJIFILM's proprietary APS-C X-Trans CMOS Sensor offering exceptional colour rendition and image resolution
The FUJIFILM X-E1 features the same 16.3 megapixel APS-C X-Trans CMOS Sensor as the FUJIFILM X-Pro1. Its unique colour filter array can effectively minimise moiré and false colours without the need for an optical low pass filter. This makes it possible for the camera to maximise its advanced resolution capture, and to record each photograph brightly and clearly across the whole image.

Conventional colour filters use a repeated arrangement of 2×2 pixel sets, which is prone to the manifestation of moiré and false colours. These are controlled with an optical low pass filter, inserted between the filter and the lens. However, the low pass filter itself causes degradation in image resolution. In contrast, the X-Trans CMOS sensor, inspired by the random arrangement of fine silver halide grains seen in photographic film, adopts a more complex, random arrangement of 6×6 pixel sets to reduce moiré and false colours. This innovative array of pixels eliminates the need for an optical low pass filter, and lets the X-Trans CMOS sensor capture unfiltered light from the lens avoiding any of the resolution reduction this causes, ensuring you get extra high resolution images that can withstand enlargement to a 2,700mm x 1,800mm size.

This unique colour filter arrangement is also very effective at noise separation in high sensitivity photography producing low-noise images even at high ISOs. In addition, one advantage of the use of the large APS-C sensor is the ability to create a large beautiful bokeh background effect – the out of focus effect when shooting with a shallow depth of field.

The X-E1 features the fast, high-precision "EXR Processor Pro" for quick responses whatever you're shooting. The EXR Processor Pro receives image signals from the complex X-Trans CMOS Sensor and processes the information swiftly ensuring you can move on to your next shot without delay.

Pair the X-E1 with the new FUJINON XF18-55mm F2.8-4 R LM OIS lens for high-speed autofocus of 0.1 sec
The highly agile linear motor in the newly announced XF18-55mm lens combines with the high-speed signal readout of the CMOS sensor and the newly developed EXR Processor Pro to achieve a huge leap in AF speed and precision performance. Contrast Detection in the X-E1 brings your subject into sharp focus in as little as 0.1seconds.

A masterpiece in optical technology, the high quality all-glass lens structure consists of 14 elements in 10 groups, including 3 aspherical lenses and 1 extra low dispersion element, and a seven-blade rounded diaphragm. This zoom lens covers a broad range of frequently-used focal lengths from 18mm in wide angle to 55mm mid telephoto(6) to cater for a variety of scenes including landscape and snap shots.

At F2.8-4.0 wide open, this fast lens is perfect for low-light photography or scenes with a beautiful bokeh effect. The compact design of this lens, made possible by optimising its component layout, enhances its portability. Advanced optical and mechanical designs are optimised to keep the lens compact, measuring 65.0mm×70.4mm (wide), despite offering maximum aperture of F2.8. The lens features an aperture ring so that users can adjust the aperture in a natural movement while holding the camera up to the eye, just as on other XF lenses. The lens includes an OIS (Optical Image Stabiliser) to provide image stabilisation equivalent to 4 stops, controlling the effects of camera shake and allowing users to seize perfect photo opportunities.

Original X Mount designed for maximum performance
FUJIFILM's X mount system has a short flange back distance of just 17.7mm to maximise the advantage of the camera's mirrorless design, which eliminates the mirror box mechanism.

The wide opening allows the lens to be mounted approx. 7.5mm into the body from the mount surface. The back focus distance has been reduced as much as possible to achieve the compact and lightweight lens design for easy portability. The short back focus distance also prevents vignetting to maintain high resolution to all edges of an image.

The mount features ten contact pins to facilitate high-speed communication between the body and lenses. Auto focus, aperture and other lens movements are conveyed to the body at high speed.

When fitted with a FUJIFILM M Mount Adapter, the X-E1 can use a wide variety of M lenses to broaden the scope of your photography.

Diverse shooting modes that faithfully reproduce conventional photographic film's distinctive textures
The X-E1 offers FUJIFILM's creative "Film Simulation Modes" to simulate the distinctive textures of conventional photo film. Use the high saturation "Velvia" for landscape shots with stunning primary colours, "ASTIA" for faithful smooth skin tone reproduction and the more versatile "PROVIA" for its natural look, as well as two additional settings based on professional colour negative films. Soft tonal PRO Neg.Std and the sharper PRO Neg.Hi are both suitable for indoor portrait photography. Three types of filter simulation are also available for monochrome and sepia looks. The Film Simulation Bracketing function uses a single exposure to produce three images with Film Simulation effects applied.

Advanced digital processing enables "multiple exposure", in which two exposures are superimposed to create a single image. After selecting the Multiple Exposure mode, take the first shot, and display the image on either the EVF or LCD monitor as reference when taking the second shot. This system facilitates more accurate positioning and focusing. The ability to take two shots while visually checking the finished image allows users to produce unique photographic expressions.

Full HD Movie recording
Shoot Full HD movies (1920 x 1080) at 24fps. In addition you can now use Monochrome or Film Simulation modes when video recording, and even take advantage of the X-E1's large sensor and bright XF lenses to capture movies with beautiful defocused bokeh effect.

Connect a microphone with a 2.5mm jack to the Microphone/remote release connector and record audio with enhanced clarity and presence. The X-E1 allows users to take videos without having to worry about the camera body's operation noise or lenses' motor sound being captured.

(1)Including the battery and memory card, excluding the lens
(2)With the XF35mm F1.4 R attached
(3)ISO200・m
(4)FUJIFILM Research ; August 2012
(5)Depending on the shooting conditions
(6)Equivalent 35mm format:27mm to 84mm

FUJIFILM X-E1 key features list:
16.3 megapixel APS-C X-Trans CMOS Sensor
EXR Processor Pro
FUJIFILM X mount (For Fujinon XF lenses)
Extra high resolution 2.36 million dot OLED electronic viewfinder
2.8-inch (460K dot) LCD (High contrast, High Brightness and Wide viewing angle)
Built-in pop-up Flash (hotshoe attachment also available for external flash)
ISO 200 – 6400, extended ISO 100, 12800, 25600 (range of ISO400-6400 when using ISO Auto)
0.05 sec Shutter time lag
Q (quick) button to shooting menu settings
In-camera RAW converter
Film simulation modes (Velvia, Astia, Provia, Monochrome, Sepia, PRO Neg Std & PRO Neg Hi)
Artistic features inc. Multiple exposure & Panoramic shooting
Auto Bracketing functions (AE/ISO/DR &FS)
Full HD Movie
Microphone/shutter release input (2.5mm)
Approx. 350 shots per battery charge

Accessories available for the FUJIFILM X-E1
Leather case BLC-XE1
Fujinon XF Lenses
M Mount Adapter
Hand Grip HG-XE1
Three dedicated flash models to choose from depending on requirements
(EF-X20, EF-20, EF-42)
Protector filters (PRF-39, PRF-52 and PRF-58)
Remote release RR-80