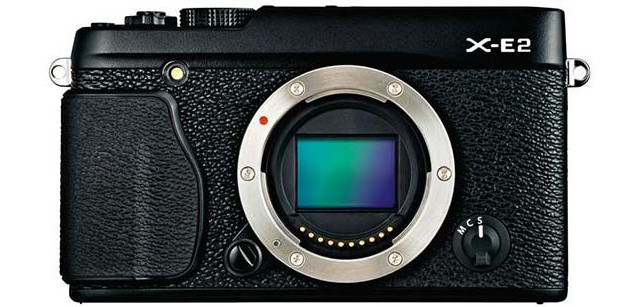 Fujifilm has thrown down its latest high end compact camera in the shape of the X-E2, a compact system camera with a  FUJIFILM X Lens mount that claims the world's fastest AF speed of 0.08 seconds for its class.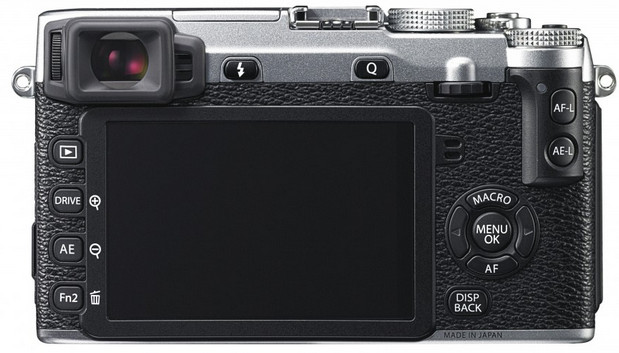 Sporting a 16.3 megapixel APS-C X-Trans CMOS II Sensor, the Fujifilm X-E2 has an original colour filter array to control moiré and false colour, backed by an EXR Processor II.
The camera has a high definition 2.36 million dot OLED electronic viewfinder and 1.04 million dot  3″ rear LCD made of reinforced glass.
The ISO range runs from 200 – 6400 ( extended ISO 100, 12800, 25600) with the range narrowing down to ISO400-6400 when using ISO Auto.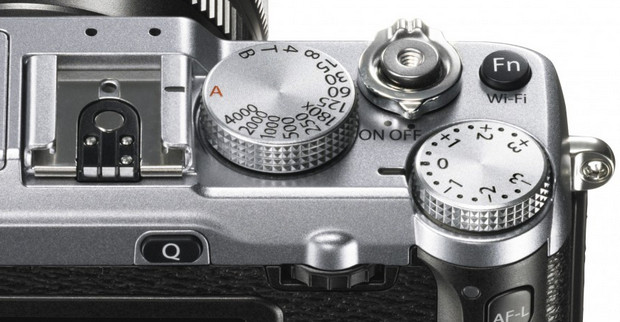 Along the top plate there's a satisfying collection of manual controls, letting users select shutter speeds/A mode and dial in ±3 Exposure Compensation dial.
There's also a built-in pop-up flash and hotshoe attachment, while the camera can serve up a selection of  bracketing functions (AE / ISO / Dynamic Range & Film Simulation) and record full HD Movies.
Available in solid Black or two-tone Black and silver, the X-E2 will ship next month for £749/$1,000 (body-only) or $1,400 when teamed up  with an 18-55mm f/2.8-4 zoom lens.
Fujifilm Press Release
FUJIFILM announces the new X-E2 interchangeable lens camera

FUJIFILM Corporation (President: Shigehiro Nakajima) is proud to announce the launch of the stylish X-E2, a premium interchangeable lens camera with the latest APS-C X-Trans TM CMOS II*1 sensor and the world's fastest AF*2 speed.

Main features of the FUJIFILM X-E2
Building on the global success of the highly acclaimed FUJIFILM X-E1 – awarded 2013's Best Expert CSC by the Technical Image Press Association – the X-E2 takes image quality to a dynamic new level that is comparable with full-frame cameras. It delivers even more beautiful colour reproduction, higher definition image capture, and that world's fastest AF speed of 0.08 seconds*2.

This is achieved by more than doubling the processing speed*3 of the EXR Processor II. It is able to harness the information taken from over 100,000 phase detection pixels incorporated in the X-Trans CMOS II. The hybrid AF also combines phase detection AF and contrast AF to ensure accuracy when shooting low-contrast subjects and dark scenes.

The 16.3 Megapixel APS-C sized X-Trans CMOS II Sensor incorporates an original colour filter array. This eliminates the need for an optical low pass filter that typically minimises moiré but does so at the expense of resolution. Instead, the X-Trans CMOS II sensor can capture unfiltered light from the lens for an unprecedented level of image clarity.

Quality is further improved by the Lens Modulation Optimiser (LMO). Its high-precision processing of the various lens parameters as well as data from the screen centre to the edges, corrects diffraction blur when shooting with a stopped down aperture and compensates for the slight blurring in the lens periphery. The result is edge-to-edge image quality with incredible sharpness. LMO is compatible with every XF lens.

The X-E2's prestigious feel continues with the combination of aperture ring on the lens and shutter dial on the top of the body as seen in its predecessor. This allows full shooting control while keeping your eye to the viewfinder.

Fast and accurate focusing
Thanks to the X-E2's ultra-fast response you won't miss a photo opportunity. In addition to achieving a world's fastest AF, the X-E2 has a rapid startup time (0.5 seconds*4), virtually no shutter lag (0.05 seconds), and high-speed continuous shooting of 7.0 fps (up to 28 frames) *5.

Accurate and comfortable focusing comes courtesy of the hybrid AF. It combines a contrast AF that is strong in low light situations and a phase detection AF that's superb for capturing moving objects. With the improvement of the detection algorithm, it's easier than ever to focus on difficult low contrast subjects and horizontal striped patterns. The camera automatically switches between the two AF modes and focusing continues right up to the moment the shutter is pressed during continuous AF.

Better image quality
The X-Trans CMOS II sensor controls moiré and false colour generation by using an original colour filter array with a highly randomised pixel arrangement. This removes the need for an Optical Low Pass Filter (OLPF) that degrades resolution. This is the same sensor as used in the highly acclaimed and award-winning FUJIFILM X100S.

Image quality is further increased by the inclusion of the first Lens Modulation Optimiser for interchangeable lens cameras. The EXR Processor II image engine corrects even slight blur at the edges of the lens, as well as diffraction blur caused when narrowing the aperture. This advanced technology has been made possible by the integrated development of lens, sensor and processor and is based on the optical performance and characteristics of individual lenses. The camera is able to maximise the resolving and individual imaging power of each lens.

Ultimately, the sensor and engine combination achieves astonishing resolution, extends dynamic range, and reduces noise at high sensitivity levels. FUJIFILM takes great pride in the resulting rich colour reproduction and beautiful gradation of tones.

Superb functionality
The X-E2 continues to use the combination of a manually adjusted aperture ring and a shutter speed dial on the top plate that was well received by X-E1 owners. It allows the user to shoot and operate the camera without needing to look away from the viewfinder. Exposure compensation has been increased to the scope of ±3. Every X-E2 owner can also customise up to 4 buttons on the top and back of the camera to suit their own shooting style.

Accurate and comfortable framing and focus checking is assured via the high resolution 2.36 million dot OLED viewfinder and Fujifilm's original optical design gives a distortion-free field of view. The premium clear LCD monitor size has been increased to 3.0" but the body is thinner. It has a high viewing angle and 1.04 million dot reinforced glass. The scratch-resistant surface reduces reflections and improves visibility, making it easier to check image quality.

Manual focus made easier
Manual focus has been made easier by the inclusion of Digital Split Image*6 technology. This helps the user achieve pin-sharp focusing by simply adjusting focus to line up the four stripes displayed in the central part of the live view and match the left and right split images. Focus Peak Highlight, the highlighting of the outline in high contrast areas of the subject during focusing, further assists the user achieve critically sharp shots.

Improved movie performance
The X-E2 shoots Full HD video (1920×1080) up to 60fps and the AF tracking performance in movie mode has been improved with good focusing speed, accuracy and smoothness. Quick tracking of the subject is possible in a variety of situations, such as when panning and zooming, or when the subject moves closer to or further from, the camera. Film simulation settings and exposure compensation (±2) can be used during movie recording, and a high bitrate (36Mbps) has been set.

Wirelessly transfer your images
You can easily transfer images wirelessly from the X-E2 to your smartphone or tablet after installing the free FUJIFILM Camera Application app. There are no troublesome ID and password settings; just press the Wi-Fi® button on top of the camera and then add the images directly to your blog or share them with friends on your social networking site. You can also use the X-E2's built-in Wi-Fi to save your photos to your PC.

Creative modes
Choose your own image style with the Film Simulation Mode setting and recreate FUJIFILMs unique film heritage. By selecting from one of 10 variations you can shoot your images how you want them. Velvia gives vivid colours, ASTIA is suitable for portraits, PROVIA is a natural all-rounder, while the softer Pro Neg.Std, and sharper Pro Neg.Hi, are perfect for indoor portraiture. Sepia film simulation is also possible while creative black & white photography can be enjoyed using three different filter effects. Film simulation bracketing is also handy for generating three film styles from one shot.

Multiple Exposure imaging is achieved by combining two shots in one frame. After taking the first image, you can display it in either the EVF or LCD monitor as reference for taking the second image. This ability helps users produce highly creative results. In addition, there are eight Advanced Filter options for extra creativity, including Toy Camera, Miniature, Dynamic Tone, Pop Color, Soft Focus, High Key, Low Key, and Partial Color.

Extra functions
Through the in-camera RAW development function, a RAW image can be converted to JPEG without a computer, while 14bit RAW capture enables RAW conversion with richer tonality. The built-in Super Intelligent Flash gives the right amount of light for the scene, while overexposure when using a flash for macro photography is also controlled, helping the user capture nature-looking images.

Handy accessories
Perfectly fitting the X-E2's compact and lightweight body, the BLC-XE-1 is an authentic quality leather case. It comes with a separate cloth wrap for extra protection when storing the camera away. To further enhance the handling experience and performance you can add the HG-XE1 hand grip and one of three styles of dedicated external flash.

Fujifilm X-E2 Key features list:
• 16.3 megapixel APS-C X-Trans CMOS II Sensor
• Original colour filter array to control moiré and false color
• EXR Processor II
• FUJIFILM X Lens mount
• Lens Modulation Optimiser for improved image quality
• Extra high resolution 2.36 million dot OLED electronic viewfinder
• ±3 Exposure Compensation dial
• 3-inch (1.04 million dot) premium clear LCD (High contrast, High Brightness and Wide viewing angle)
• Built-in pop-up Flash (hotshoe attachment also available for external flash)
• ISO 200 – 6400, extended ISO 100, 12800, 25600, Auto (max range of ISO400-6400 when using ISO Auto)
• AF speed 0.08sec*2
• Q (quick) button to easily access shooting menu settings
• In-camera RAW converter
• Film simulation modes (Velvia, ASTIA, PROVIA, Monochrome, Sepia, Pro Neg.Std & Pro Neg.Hi)
• Artistic features inc. Multiple exposure, Panoramic shooting, and 8 Art filter effects
• Selection of  Bracketing functions (AE / ISO / Dynamic Range & Film Simulation)
• Full HD Movie
• Microphone/shutter release input (Φ 2.5mm)
• Approx. 350 shots per battery charge
• Available in solid Black or two-tone Black and silver
Full X-E2 accessories list:
• Dedicated all-leather case BLC-XE1
• Compatible with all Fujinon X Mount Lenses
• M Mount Adapter for additional lens compatibility
• Hand Grip HG-XE1
• Three dedicated flash models to choose from depending on requirements (EF-X20, EF-20, EF-42)
• Protector filters (PRF-39, PRF-52, PRF-58 and PRF-62)
• Remote release RR-90

*1: X-Trans is a trademark or registered trademark of FUJIFILM Corporation
*2: FUJIFILM research as of September 2013. Compared with other digital cameras equipped with 4/3-inch sensor or larger, based on CIPA standards, and using internal measurement methods under high performance mode. Attached with XF14mm F2.8R lens.
*3: Compared with EXR Processor Pro
*4: In high performance mode with XF27mm F2.8 lens
*5 JPEG format, Fujifilm testing standard: class 10 SD card or higher
*6 Digital Split Image is a trademark or registered trademark of FUJIFILM Corporation

X-E2 Specification chart
Number of effective pixels 16.3 million pixels
Image sensor 23.6mm×15.6mm(APS-C)X-Trans II CMOS with  primary colour filter
Total number of pixels: 16.7 million pixels
Sensor Cleaning system Ultra Sonic Vibration
Storage media SD memory card / SDHC memory card / SDXC(UHS-I) memory card *1
File format  (still image) JPEG (Exif Ver 2.3 *2)
RAW (RAF format)
RAW+JPEG
(Design rule for Camera File system compliant / DPOF-compatible)
(movie) Movie File Format : MOV
Movie Video Compression : H.264
Audio : Linear PCM  Stereo
Number of recorded pixels L:<3:2>4896x3264 <16:9>4896x2760 <1:1>3264 × 3264
M:<3:2>3456x2304 <16:9>3456x1944 <1:1>2304 × 2304
S:<3:2>2496x1664 <16:9>2496x1408 <1:1>1664 ×1664

<Motion Panorama>
L   Vertical:2160x9600 Horizontal:9600x1440
M    Vertical:2160x6400 Horizontal:6400x1440
Lens mount FUJIFILM X mount
Sensitivity AUTO (Control available up to ISO6400)
Equivalent to ISO 200  – 6400   (Standard Output Sensitivity)
Extended output sensitivity : Equivalent to ISO 100, 12800 and 25600
Exposure control TTL 256-zone metering, Multi / Spot / Average
Exposure mode Programmed AE, Shutter priority AE, Aperture priority AE, Manual exposure
Exposure compensation -3.0EV – +3.0EV, 1/3EV step
(movie recording : -2.0EV – +2.0EV)
Image Stabilizer Supported with OIS type lenses
Face Detection Yes
Shutter type Focal Plane Shutter
Shutter speed (P mode) 1/4 sec. to 1/4000 sec.,
(All other modes) 30 sec. to 1/4000 sec.
Bulb (max.60min.)
Time 1/2  to 30 sec
Synchronized shutter speed for flash :1/180 sec or slower
Continuous shooting Approx. 7.0 fps (JPEG: max. 28 frames, RAW/RAW+JPEG: max. 8 frames)
Approx. 3.0 fps (JPEG: up to the capacity of the card, RAW/RAW+JPEG: max. 8 frames)
* Use a card with SD Speed Class with "Class10" or higher.
* The frame rate varies with shooting condition and the number of images recorded.
Auto bracketing AE Bracketing (±1/3EV, ±2/3EV, ±1EV)
Film Simulation Bracketing (Any 3 types of film simulation selectable)
Dynamic Range Bracketing (100%, 200%, 400%)
ISO sensitivity Bracketing (±1/3EV, ±2/3EV, ±1EV)
Focus              (mode)
Single AF / Continuous AF/MF Distance Indicator
(type) Intelligent Hybrid AF (TTL contrast AF/TTL phase detection AF) , AF assist illuminator available
(AF frame selection) Area (EVF/LCD : 49 areas with 7x7)/ Multi
* Changeable size of AF frame among 5 types
White balance Automatic scene recognition
Custom, Colour  temperature selection (K)
Preset: Fine, Shade, Fluorescent light (Daylight), Fluorescent light (Warm White),
Fluorescent light (Cool White), Incandescent light, Underwater
Self-timer Approx. 10sec. / 2sec. Delay
Flash Manual pop-up flash (Super Intelligent Flash)
Guide number : approx.. 7 (ISO200・m)
Flash modes Red-eye removal OFF: Auto/Forced Flash/Slow Synchro/Rear-curtain Synchro/Commander
Red-eye removal ON: Red-eye Reduction Auto/Red-eye Reduction & Forced Flash/
Red-eye Reduction & Slow Synchro/Red-eye Reduction & Rear-curtain Synchro/Commander
*Red-eye removal is active when Face Detection is set to ON.
Hot shoe Yes (Dedicated TTL Flash compatible)
Viewfinder 0.5-in., approx.2,360,000-dot OLED colour viewfinder
Coverage of viewing area vs. capturing area :  approx. 100%
Eye point  : approx. 23 mm
Diopter adjustment : -4m-1 to +2m-1
Built-in eye sensor
LCD monitor 3.0-in, aspect ratio 3:2, approx. 1,040K-dot,  colour  LCD monitor  (Approx. 100% coverage)
Movie recording 1920×1080 60p/30p  Continuous recording : up to approx. 14 min.
1280x 720 60p/30p  Continuous recording : up to approx. 27min.
* Use a card with SD Speed Class with "Class10" or higher.
Mode dial –
Film Simulation mode 10 types (PROVIA/STANDARD, Velvia/VIVID, ASTIA/SOFT, PRO Neg Hi, PRO Neg. Std, MONOCHROME, MONOCHROME+Ye FILTER, MONOCHROME+R FILTER, MONOCHROME+G FILTER, SEPIA)
Dynamic range setting AUTO (100-400%),100%, 200%, 400%
Advanced filter Toy camera/ Miniature/Pop color/ High-key /Low-key/Dynamic tone/ Soft focus/Partial colour (Red/Orange/Yellow/Green/Blue/Purple)
Other photography  functions Auto Red-eye Removal, Setting  (Colour, Sharpness, D-range, Gradation), Select custom setting,  Motion panorama, Colour space,  Framing guideline, Frame No. memory, Histogram display, Preview depth of focus, Lens Modulatioon  Optimiser, Pre-AF, Focus check, Focus Peak Highlight, , Digital Split Image*3, Electronic level, Multiple exposure, Fn button setting (RAW, Movie, etc.)
Playback  functions RAW conversion, Image rotate, Red-eye reduction, Photobook assist, Erase selected frames, image search, Multi-frame playback (with micro thumbnail), Slide show, Mark for upload, Protect, Crop, Resize, Panorama, Favourites
Wireless transmitter
(standard) IEEE 802.11b/g/n (standard wireless protocol)
(access mode) Infrastructure
Wireless function Geotagging, Wireless communication (Image transfer), View & Obtain Images, PC Autosave
Other functions PictBridge, Exif Print, Language selection, Time difference, High Performance mode, Silent mode
Terminal      (Video output)
(Digital interface)
(HD output) –
USB 2.0 High-Speed :
* connectable with Remote Release RR-90 (sold separately)
HDMI mini connector (Type C)
(Others) Microphone/shutter release input: Φ2.5mm, stereo mini connector
Power supply NP-W126 Li-ion battery (included)
Dimensions 129 (W) mm x 74.9(H) mm x 37.2(D) mm
(Minimum depth: 30.9 mm)
Weight Approx. 350g / 12.3 oz. (including battery ) and memory card)
Approx. 300 g / 10.6 oz. (excluding accessories, battery and memory card)
Operating Temperature 0℃ – 40℃
Operating Humidity 10 – 80%  (no condensation)
Battery life  for still images
(approximate number of frames that can be taken with a fully-charged battery)
*CIPA standard Approx 350 frames (When using XF35mmF1.4R lens)
Battery life for movies
(approximate movie recording period that can be taken with a fully-charged battery)
*CIPA standard Single consecutive movie : approx. 110 min.
(Face detection is set to OFF)
Starting up period Approx. 0.5 sec, when High Performance mode set to ON
Approx. 1.0 sec, when High Performance mode set to OFF
* FUJIFILM research
Accessories included Li-ion Battery NP-W126
Battery Charger BC-W126
Shoulder strap
Body cap
Metal strap clip
Protective cover
Clip attaching tool
CD-ROM (Viewer software, RAW File Converter etc. *4 )
Owner's manual