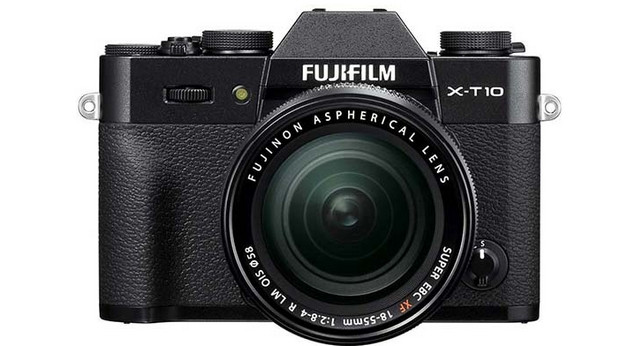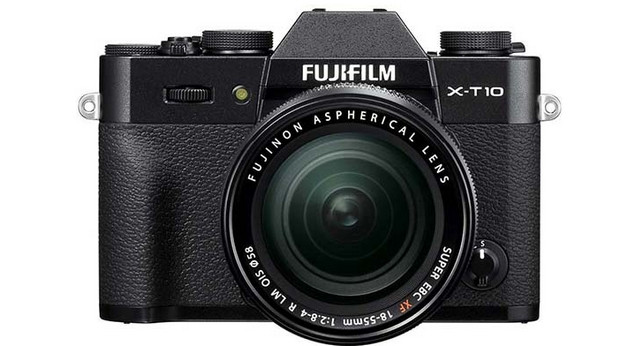 Currently causing serious agitations in the wallet department is the new Fujifilm X-T10 compact, which packs in a half ton of seductive retro camera looks with a large dollop of old school mechanical controls.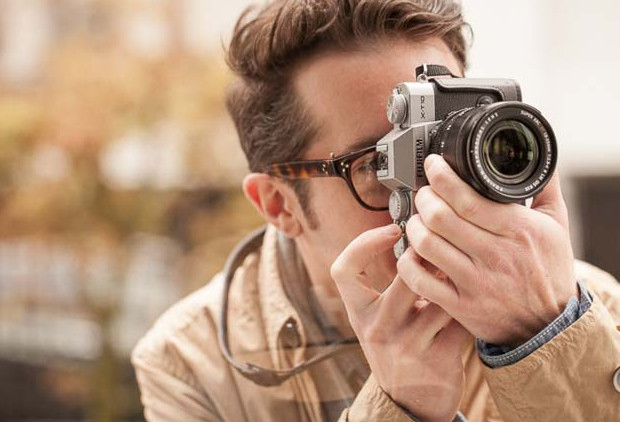 Weighing 331g/11.7 oz and measuring 118.4mm (W) x 82.8mm (H) x 40.8mm (D), the new X-T10 comes in a die-cast magnesium body with three precision-milled aluminium dials. It's 27% smaller than the flagship X-T1 too, although it loses out on the weather-proofing.
Sporting a new AF system , the X-T10 features an APS-C X-TransTM CMOS II sensor with built-in phase detection AF, backed by a 49-point AF mode for high speed and precision focusing.
There's also new Zone and Wide/Tracking modes that can track subject movement across a larger 77-point area.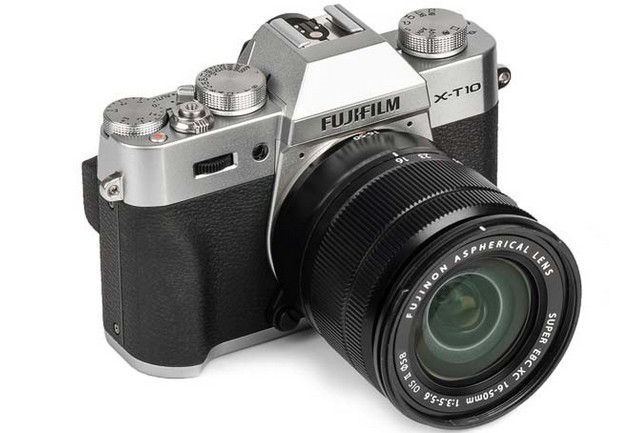 Available in black or a hipster thrilling silver finish, the body has a flip up flash, 2.36million dot EVF and 3-inch 920K-dot tilting LCD monitor. It looks lovely to out eyes, but then we've been huge fans of the similarly old school Olympus OM-D system from the start.
It's keenly priced too, with X-T10 body going for £499.00, the X-T10 XC16-50mm kit for £599.00 and the X-T10 XF18-55mm kit knocking you back £799.00.
The Fujifilm X-T10 will be on sale in the UK from mid-late June 2015. Scroll down for Fujifilm's veeeery long press release.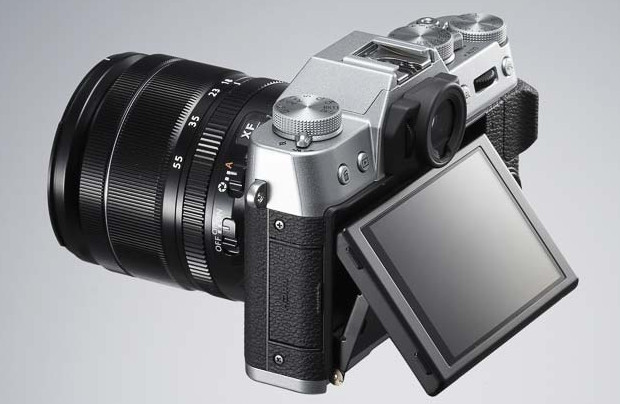 Fujifilm UK Press Release
The FUJIFILM X-T10: a stunning addition to the X series

FUJIFILM Corporation (President: Shigehiro Nakajima) is proud to announce the launch of the FUJIFILM X-T10, the latest premium interchangeable lens model to join the world-renowned X-series digital camera line-up. Boasting outstanding image quality thanks to unique colour reproduction technology, the new model, which is aimed at photography enthusiasts, combines a compact and lightweight body with a new AF system that excels at capturing moving subjects, as well as an electronic Real Time Viewfinder, which boasts an impressive 0.62x*1 magnification ratio, high-definition precision 2.36 million dot display and the world's shortest time lag of 0.005 seconds*2.

The X-T10 features an APS-C X-TransTM*3 CMOS II sensor with built-in phase detection AF. Coupled with a high-performance image processing engine and FUJINON lenses, the camera delivers excellent resolution and outstanding image quality, backed by unique colour reproduction technology. The X-T10 uses a new AF system. This offers Fujifilm's conventional 49-point AF mode for high speed and precision focusing, as well as new Zone and Wide/Tracking modes that track subject movement across a larger 77-point area, substantially improving the camera's ability to capture moving subjects. Combined with the AF-C capability and the continuous shooting speed of up to 8.0fps*4, the camera delivers the high quality images that have become synonymous with the X Series, across a broader range of photographic situations.

Key features of the Fujifilm X-T10

(1) All-new design packs X Series' operability into a compact and lightweight body

The design of the compact and lightweight body bears all the hallmarks of an X Series camera. Both top and base plates are made of a lightweight, but highly rigid, die-cast magnesium. The top plate features three precision-milled aluminium dials which give the X-T10 a premium feel and allow users to intuitively adjust the combination of aperture, shutter speed and shooting functions while concentrating on picture taking.

Additionally, the back panel has a 3-inch 920K-dot tilting LCD monitor suitable for both above head and close to the ground shooting. Two colour options will be available: Black and Silver.

It is equipped with an Auto Mode Switch lever for selecting the fully-automatic Advanced SR Auto mode. In this mode, the camera automatically chooses the optimum settings for a given scene to make shooting effortless.
Each of the two command dials and seven function buttons featured can be customized so that you can tailor the camera to your needs.

The body also features an integral pop-up flash, positioned in the centre of the top plate. The built-in Super Intelligent Flash automatically adjusts light output according to the scene type.

(2) Real Time Viewfinder

With a magnification of 0.62x and a display lag time of just 0.005sec, the X-T10 has a large, fast viewfinder. It offers a clear; high-definition live view thanks to the new 2.36million dot organic EL electronic viewfinder, plus visibility has been improved by automatically controlling finder brightness according to the ambient light levels. The live view display can also be set to the "Preview Pic. Effect" option to reflect the shooting conditions and offer a natural view close to that of the naked eye. The viewfinder's eye sensor will also automatically orientate the information when the camera is positioned vertically; something that's not possible on models with optical viewfinders.

(3) The X-TransTM CMOS II Sensor and EXR Processor II engine combine to deliver outstanding image quality and high speed performance

The camera features Fujifilm's APS-C 16.3 megapixel X-Trans™ CMOS II sensor. Its unique, random colour filter array reduces moiré and false colours without having to use an optical low pass filter. The elimination of the low pass filter, which compromises image quality, means a greater amount of light reaches the sensor. Combined with the EXR Processor II image processor, this means the sensor delivers outstanding resolution and low noise.

Fujifilm combined the processor's noise reduction function with the technology for mounting circuit boards to reduce noise in high sensitivity images. This has enabled the ISO setting of up to 51200*5. Even at an ultra-high sensitivity, the camera produces low noise and strong blacks, thereby broadening photographic potential in low light conditions.
The camera features the unique Lens Modulation Optimizer (LMO) *6 image processing technology to deliver the best possible image quality. Using optical performance and other characteristics of each lens, LMO corrects optical defects such as diffraction*7 to achieve edge-to-edge sharpness and a realistic three-dimensional effect.
The unique on-sensor phase detection AF system focuses in an ultra-fast 0.06 sec*8. With the high-speed EXR Processor II image processor, the camera starts up in just 0.5sec*9, has a shutter time lag of 0.05sec and shooting interval of 0.5sec*10.

(4) New AF system with Zone and Wide/Tracking modes for effortless capture of moving subjects

The new AF system offers Fujifilm's standard 49-point Single Point mode for high speed and precision focusing, as well as the new Zone and Wide/Tracking modes that use a larger 77-point area to capture moving subjects.
Zone mode allows users to select a 3×3, 5×3 or 5×5 zone out of the 77-point AF area. During AF-C focus, the camera continually tracks a subject, positioned at the centre of the zone. The centrally positioned 3×3 and 5×3 zones, in particular, delivers fast focusing thanks to the on-sensor phase detection AF.
The Wide/Tracking mode is a combination of the Wide mode (during AF-S), in which the camera automatically identifies and tracks the area in focus across the 77-point AF area, and the predictive Tracking mode (during AF-C), which uses the entire 77-point area to continue tracking a subject. This feature enables continuous focusing on a subject that is moving up and down, left and right or towards and away from the camera.
The Single Point mode divides the focus area into smaller sections to accurately determine the distance to the subject for greater focusing precision. The working range of the on-sensor phase detection AF has been improved from 2.5EV to 0.5EV so phase detection AF works at high speed even in low light conditions or on a low contrast subject.
The camera features Eye Detection AF, which automatically detects and focuses on human eyes. The function allows you to easily focus on the eyes even in difficult conditions – when shooting a portrait with a very wide aperture to obtain strong bokeh effects, for example.
The Auto Macro function automatically activates the Macro mode while maintaining AF speed, eliminating any need to press the Macro button to capture a close-up. This allows you to re-assign the Macro button to a different function.
The optimised algorithm delivers a smoother and more natural AF action during video recording.
With the combination of the phase detection AF data and subject motion predictive AF, the camera is capable of continuous shooting with AF-C at up to approx. 8.0fps.

(5) 18 high-performance FUJINON X-mount lenses that deliver premium image quality and expand the scope of photography

The very latest digital technologies have been used to develop X-mount lenses, which offer high-precision optical designs to deliver the highest possible image quality. When designing the lens range, the aim was to achieve edge-to-edge definition for high-resolution imagery across the entire frame and offer the brightest possible maximum aperture for maximum creativity, while maintaining a compact and portable size. The current line-up of 18 lenses ranges from ultra wide-angle to telephoto, including five fast aperture prime lenses. These lenses bring out the very best image quality from the X-T10. Optional accessories such as mount adapters and macro extension tubes further broaden photographic potential.

(6) Perfect your photos with Film Simulation modes and other creative features

Fujifilm's unprecedented image quality has been created through 80 years of development of photographic films. This technology helps the camera to reproduce warm skin tones, bright blue skies and rich green trees, just as photographers remember the scene. The X-T10 features the latest CLASSIC CHROME Film Simulation mode, which delivers muted tones and deep colours. Users can choose from ten other modes that simulate the effects of traditional Fujifilm films. These include colour reversal film effects (VELVIA/PROVIA/ASTIA), professional colour negative film (PRO Neg.Std / PRO Neg.Hi), monochrome filters (MONOCHROME, Ye filter, R filter and G filter) and SEPIA.

Advanced Filter functions are also available on the X-T10. Users can choose from eight different artistic effects:
Pop Colour – Emphasizes contrast and colour saturation.

Toy Camera – Creates shaded borders as if you were taking a photo on a toy camera.

Miniature – Adds top and bottom blur for a diorama or miniature effect.

Dynamic Tone – Creates a fantasy effect by boosting tones.

Partial Colour – Retains one selected original colour and changes the rest of the photo black & white. Colours can be selected from red, orange, yellow, green, blue and purple.

High Key – Enhances brightness and reduces contrast to lighten tonal reproduction.

Low Key – Creates uniformly dark tones with few highlight areas.

Soft Focus – Creates a look that is soft throughout the whole image.

The Multiple Exposure function offers users the chance to combine two separate subjects into one photo, perfect for adding people into photos.
The camera's aspect ratio can be selected from 3:2, 16:9, and 1:1 (square) to accommodate a wide range of photographic styles.
The camera also features an ADVANCED SR AUTO mode, which recognizes faces and every scene type to automatically optimise the focus, exposure, ISO and other settings.
Interval timer shooting for time lapse photography is available with intervals of one second to 24 hours and up to 999 frames.
A completely silent electronic shutter that is capable of exposures up to 1/32000sec. has been added. Photos with a shallow depth-of-field can now be shot with the aperture wide open on snowy fields or the beach under clear skies. As there are no mechanically operated parts, candid shots of animals and sleeping babies can be captured more easily than ever before.
Other features include the Digital Split Image for precise manual focusing, and Focus Peaking, which highlights high-contrast areas of the subject's outlines. These areas can be highlighted in white, red or blue, providing a focusing guide even when photographing a scene that's tricky to focus on.

(7) Full HD video with the X-TransTM CMOS II sensor

60fps smooth Full HD movies can be shot with the X-T10. 50fps, 30fps, 25fps and 24fps frame rates are also available.
Film Simulation modes, including the latest CLASSIC CHROME, and detailed white balance setting is also possible.
Manual exposure can also be set during movie shooting. Aperture, shutter speed*11 and ISO sensitivity can be changed enabling movies to be shot using an exposure of the user's preference.
High-speed, high-precision focusing is made possible by activating Intelligent Hybrid AF, which switches between phase-detection AF and contrast AF according to the scene, even during movie shooting. Manual focus is also possible.
Six types of scene recognition functions can be used, or it can be left up to the camera to capture beautiful movies.
A high bit rate of 36Mbps enables high definition capture of delicate movements.

(8) Built in Wi-Fi for shooting from your smartphone or tablet devices*12.

By downloading the free FUJIFILM Camera Remote app to your smartphone or tablet device, users can use the Remote Control function, which allows a wealth of control, even from a distance. This functionality is great for a wide variety of shots, including group photos, self-portraits and animals in their natural habitat.
Photos and videos can be sent to devices such as your smartphone with an easy one-touch operation. Pictures and videos on the camera can be browsed, selected, and imported using your smartphone, all without the hassle of inputting an ID or password. It is also possible to add location information acquired by the smartphone or tablet to the image.
Photos can be sent directly from the camera to the Instax SHARE Smartphone Printer for instant Instax prints.
Wi-Fi® Transfer*13 is supported, enabling wireless backup of the data to a computer*14.

(9) Premium accessory line-up

Leather Case BLC-XT10

A stylish authentic leather case that has a wonderfully tactile feel and perfectly suits the X-T10's classic design. With the X-T10 snugly protected, you can even change batteries without removing the camera. A matching leather shoulder strap and protective cloth are included.

Hand Grip MHG-XT10

To increase the camera's grip. Both battery and memory card can be swapped with the grip in place. Additionally, a tripod screw hole can be placed in centre of the optical axis and the base parts are equipped with a 38mm width dovetail protrusion plate, allowing use as a quick shoe mount when using a dovetail groove tripod pedestal.

M Mount Adapter for additional lens compatibility
Macro Extension Tube MCEX-16/MCEX-11

Two tubes (16mm and 11mm) are available for fitting between the camera body and an interchangeable lens to enable high magnification macro photography.

Shoe Mount Flash

There are three types of FUJIFILM external flash, all of which are capable of high-precision TTL auto flash control. The EF-20 and EF-X20 both have a guide number of 20, while EF-42 has a guide number of 42.

External Stereo Microphone MIC-ST1

Make realistic voice recordings for your high-quality Full HD videos.

Protector Filters (PRF-39, PRF-52, PRF-58, PRF-62, PRF-67, PRF-72 and PRF-77)
DC coupler CP-W126
AC adapter AC-9V
Remote Release RR-90

*1: Market leading viewfinder magnification ratio. Approx. 0.62x magnification 50mm (35mm format equivalent) at infinity and diopter set to -1.0 m-1.

*2: Fujifilm research as of April 2015.

*3: X-Trans is a trademark or registered trademark of FUJIFILM Corporation.

*4 In CH mode, focus area is limited inside of central 3×3 in Single point and 5×3 in Zone and Wide/Tracking.

*5: Extended output sensitivity.

*6: Unique signal processing technology that reproduces the sharpness of images blurred by diffraction, etc.

*7: When a fine image that should be sharp is blurred when using a stopped down the aperture.

*8: Fujifilm research based on CIPA guidelines using the X-T10 equipped with XF16-55mmF2.8 R LM WR lens in High Performance mode as of April 2015.

*9: Equipped with XF27mmF2.8 lens in High Performance mode.

*10: MF mode.

*11: Aperture and shutter speed can be changed during shooting. Only shutter speeds faster than the set frame rate can be set.

*12 Android™, smartphone and table devices, iPhone / iPad.

*13 Wi-Fi® is a registered trademark of the Wi-Fi Alliance®.

*14 Requires advanced installation of the free dedicated software FUJIFILM PC AutoSave to your computer.

(10) SPECIFICATION CHART

FUJIFILM X-T10
Number of effective pixels
16.3 million pixels

Image sensor
23.6mm x 15.6mm (APS-C) X-Trans CMOS II with primary colour filter Total number of pixels: 16.7 million pixels

Sensor Cleaning system
Ultra Sonic Vibration

Storage media
SD memory card / SDHC memory card / SDXC (UHS-I) memory card *1

File format
Still image
JPEG (Exif Ver 2.3)*2, RAW (RAF format), RAW+JPEG (Design rule for Camera File system compliant / DPOF-compatible)

Movie
MOV (H.264, Audio : Linear PCM / stereo sound)

Number of recorded pixels
L : (3:2) 4896 x 3264 / (16:9) 4896 x 2760 / (1:1) 3264 x 3264
M : (3:2) 3456 x 2304 / (16:9) 3456 x 1944 / (1:1) 2304 x 2304
S : (3:2) 2496 x 1664 / (16:9) 2496 x 1408 / (1:1) 1664 x 1664
180° Vertical : 2160 x 9600 Horizontal : 9600 x 1440
120° Vertical : 2160 x 6400 Horizontal : 6400 x 1440

Lens mount
FUJIFILM X mount

Sensitivity
AUTO (Control available up to ISO 6400)
Equivalent to ISO 200 – 6400 (Standard Output Sensitivity)
Extended output sensitivity : Equivalent ISO 100, 12800, 25600 and 51200

Exposure control
TTL 256-zone metering, Multi / Spot / Average

Exposure mode
Programmed AE / Shutter Speed priority AE / Aperture priority AE / Manual exposure

Exposure compensation
-3.0EV – +3.0EV, 1/3EV step
(movie recording : -2.0EV – +2.0EV)

Image Stabilizer
Supported with OIS type lenses

Face detection Yes
Shutter type
Focal Plane Shutter
Shutter speed
(Electronic Shutter mode) 1sec. to 1/32000sec. *3
(P mode) 4sec. to 1/4000sec., (All other modes) 30sec. to 1/4000sec., Time 30sec. to 1/4000sec., Bulb (max.60min.), Synchronized shutter speed for flash : 1/180sec. or slower

Continuous shooting
Approx. 8.0 fps (JPEG : max. approx. 8 frames) Approx. 3.0 fps (JPEG : up to the capacity of the card)
* Recordable frame number may vary depending on the type of memory card used.
* The frame rate varies with shooting condition and the number of images recorded.

Auto bracketing
AE Bracketing (±1/3EV, ±2/3EV, ±1EV)
Film Simulation Bracketing (Any 3 types of film simulation selectable)
Dynamic Range Bracketing (100%, 200%, 400%)
ISO sensitivity Bracketing (±1/3EV, ±2/3EV, ±1EV)
White Balance Bracketing (±1, ±2, ±3)

Focus
Mode
Single AF / Continuous AF / MF

Type
Intelligent Hybrid AF (TTL contrast AF / TTL phase detection AF), AF assist illuminator available

AF frame selection
Single Point AF : 49 areas on a 7×7 grid (Changeable size of AF frame among 5 types), Zone AF : Selectable with 3×3 / 5×3 / 5×5 areas from 77 areas on an 11×7 grid, Wide/Tracking AF : Automatic selection from 77 areas on an 11×7 grid

White balance
Automatic scene recognition / Custom / Color temperature selection (K) / Preset : Fine, Shade, Fluorescent light (Daylight), Fluorescent light (Warm White), Fluorescent light (Cool White), Incandescent light, Underwater

Self-timer
10sec. / 2sec. delay

Flash
Manual pop-up flash (Super Intelligent Flash)
Guide number : Approx. 5 (ISO100·m) / Approx. 7 (ISO200·m)

Flash modes

Red-eye Removal OFF
Auto / Forced Flash / Slow Synchro / Suppressed Flash / Rear-curtain Synchro / Commander

Red-eye Removal ON
Red-eye Reduction Auto / Red-eye Reduction & Forced Flash / Red-eye Reduction & Slow Synchro / Suppressed Flash / Red-eye Reduction & Rear-curtain Synchro / Commander
*Red-eye removal is active when Face Detection is set to ON.

Hot shoe
Yes (Dedicated TTL Flash compatible)

Viewfinder
0.39-in., approx. 2,360K-dot OLED color viewfinder Coverage of viewing area vs. capturing area : approx. 100% Eye point : approx. 17.5mm (from the rear end of the camera's eyepiece) Diopter adjustment : -4m-1 to +2m-1 Magnification : 0.62x with 50mm lens (35mm format equivalent) at infinity and diopter set to – 1.0m-1 Diagonal angle of view : approx. 30° (Horizontal angle of view : approx. 25°) Built-in eye sensor

LCD monitor
3.0-inch, aspect ratio 3:2, approx. 920K-dot, Tilt type color LCD monitor (approx. 100% coverage)

Movie recording
Full HD 1920 x 1080 60p / 50p / 30p / 25p / 24p, Continuous recording : up to approx. 14 min.
HD 1280 x 720 60p / 50p / 30p / 25p / 24p, Continuous recording : up to approx. 27 min.
* Use a card with SD Speed Class with Class 10 or higher

Photography functions
Advanced SR AUTO, Eye detection AF, Face Detection, Interval timer shooting, Auto Red-eye Removal, Select custom setting, Motion panorama, Color space, Setting (Color, Sharpness, D-range, Gradation), Film Simulation, Advanced Filter, Framing guideline, Frame No. memory, Histogram display, Preview depth of focus, Lens Modulatioon Optimizer, Pre-AF, Focus check, Focus Peak Highlight, Digital Split Image™ *4, Electronic level, Multiple exposure, Release priority / Focus priority selection, Fn button setting (RAW, Movie, etc.), ISO AUTO control, Instant AF setting (AF-S/AF-C), Interlock spot AE & Focus area, Selector button setting, AE-L/AF-L button setting, Edit/Save quick menu, Preview exp./WB in manual mode, Shutter Type

Film simulation mode
PROVIA/STANDARD, Velvia/VIVID, ASTIA/SOFT, CLASSIC CHROME, PRO Neg Hi, PRO Neg. Std, MONOCHROME, MONOCHROME+Ye FILTER, MONOCHROME+R FILTER, MONOCHROME+G FILTER, SEPIA

Dynamic range setting

AUTO, 100%, 200%, 400%

Advanced filter
Toy camera / Miniature / Pop color / High-key / Low-key / Dynamic tone / Soft focus / Partial color (Red / Orange / Yellow / Green / Blue / Purple)

Playback functions
RAW conversion, Image rotate, Auto image rotate, Face Detection, Red-eye reduction, Photobook assist, Erase selected frames, Image search, Multi-frame playback (with micro thumbnail), Slide show, Mark for upload, Protect, Crop, Resize, Panorama, Favorites

Wireless transmitter

Standard

IEEE 802.11b / g / n (standard wireless protocol)

Access mode

Infrastructure

Wireless function
Geotagging, Wireless communication (Image transfer), View & Obtain Images, Remote camera shooting, PC Autosave, instax printer print

Other functions
PictBridge, Exif Print, 35 Languages, Date/Time, Time difference, Sound & Flash OFF, Quick start Mode, High Performance, Preview exp. in Manual mode, Monitor sunlight mode, EVF Brightness, EVF Color, LCD Brightness, LCD Color, Preview Pic. Effect, DISP. Custom Setting

Terminal

Digital interface
USB2.0 (High-Speed) / micro USB terminal
*connectable with Remote Release RR-90 (sold separately)

HDMI output
HDMI Micro connector (Type D)

Power supply
NP-W126 Li-ion battery (included)

Dimensions
118.4mm (W) x 82.8mm (H) x 40.8mm (D) / 4.7 in. (W) x 3.3in. (H) x 1.6in. (D)
(Minimum Depth : 31.9mm / 1.3 in.)

Weight
Approx. 381g / 13.4 oz. (including battery and memory card)
Approx. 331g / 11.7 oz. (excluding accessories, battery and memory card)

Operating Temperature
0℃ – 40℃ (+32°F – +104°F)

Operating Humidity
10% – 80% (no condensation)

Battery life for still images
Approx. 350 frames (When XF35mmF1.4 R is set, LCD monitor on) *5

Battery life for movies
Consecutive movie recording : approx. 124 min. (Face detection is set to OFF)
* Individual movies cannot exceed approx. 14 min. on Full HD mode, and approx. 27 min. on HD mode in length.

Starting up period
Approx. 0.5 sec., when High Performance mode set to ON
Approx. 1.0 sec., when High Performance mode set to OFF

Accessories included
Li-ion battery NP-W126, Battery charger BC-W126, Shoulder strap, Body cap, Metal strap clip, Protective cover, Clip attaching tool, Owner's manual

*1 Please see the Fujifilm website to check memory card compatibility.

*2 Exif 2.3 is a digital camera file format that contains a variety of shooting information for optimal printing.

*3 The Electronic Shutter may not be suitable for fast-moving objects. Flash can not be used.

*4 Digital Split Image is a trademark or a registered trademark of FUJIFILM Corporation.

*5 Approximate number of frames / period that can be taken with a fully-charged battery based on CIPA standard.

UK AVAILABILITY AND PRICING:

The FUJIFILM X-T10 will be on sale in the UK from mid-late June 2015. It will be available in both Black and Silver versions. All kit lenses will be Black.

The Suggested Retail Prices are as follows:

X-T10 Body Only – £499.00
X-T10 XC16-50mm Kit – £599.00
X-T10 XF18-55mm Kit – £799.00