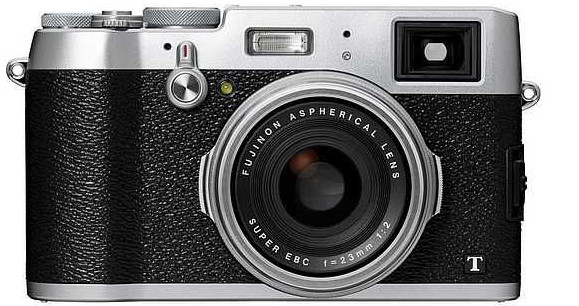 We're huge fans of enthusiast focused, retro-styled compacts, so we're stoked to see the announcement of the Fujifilm X100T, a stylish, premium large-sensor digital compact camera.
The specs are as good as it looks, with this latest iteration to the range sporting an ultra-fast electronic shutter and the same nifty advanced hybrid viewfinder offering real-time parallax correction and an electronic rangefinder (EVF)
For street shooting, the silent electronic shutter is capable of rattling out exposures up to 1/32,000sec, coupled with a 23mm (35mm equivalent) f/2 lens and a 3-inch 1.04-million-dot monitor on the back.
Inside there's a 16.3-megapixel X-Trans CMOS II sensor with on-chip phase detection, and full HD videos can be recorded while using the optical viewfinder. There's also built in Wi-Fi for sharing images.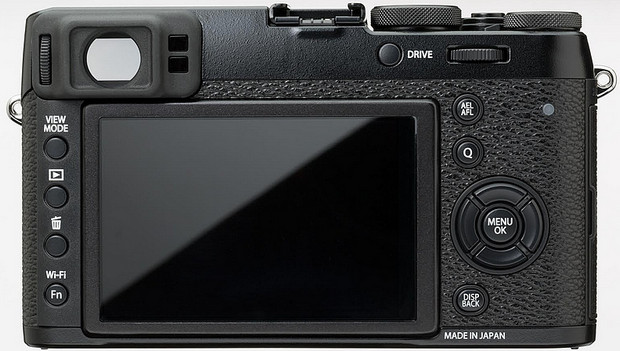 ISO tops out at a gloom-illuminating of ISO 51,200, while the customisable function buttons and raw shooting capabilities will keep pros'n'tweakers happy.
The Fujifilm X100T is expected to heading into the UK from November 2014 for around £999.99, with the camera available in rather delicious black and silver finishes.
It's certainly a pricey enough offering but the looks are indeed seductive – although perhaps not seductive enough to pull us away from our cheaper and equally capable Ricoh GR.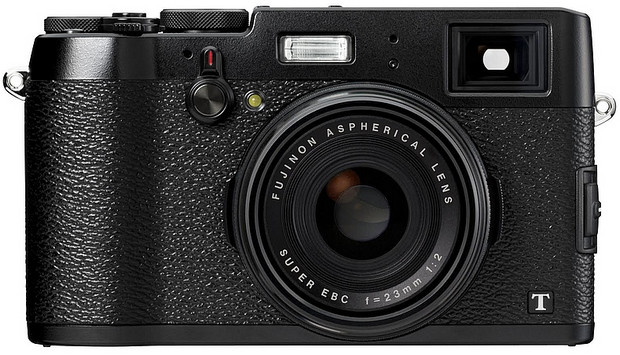 Here's a suitably enthusiastic press release:
FUJIFILM announces the third generation X100T premium digital compact featuring the world's first*1 Electronic Rangefinder

September 10th, 2014

FUJIFILM Corporation (President: Shigehiro Nakajima) is proud to announce the launch of the new FUJIFILM X100T premium compact digital camera. Equipped with the world's first electronic rangefinder, an APS-C size X-Trans CMOS II sensor, high-speed EXR Processor II image processing engine and a FUJINON 23mm F2 lens, the X100T delivers unsurpassed image quality thanks to advanced colour reproduction technology and the new unique Classic Chrome film simulation mode.

In March 2011, Fujifilm released the X100, opening up a new market for premium compact cameras. In February 2012, the second generation X100S was released, complete with a newly developed sensor, processor, and an advanced Hybrid Viewfinder. Now, the X100T marks the ultimate evolution as the third generation of the X100 Series, reflecting the feedback from customers for each and every part, including image quality, viewfinder and operability. The X100T is available in both black and silver versions and includes three key changes:

1) World's first Advanced Hybrid Viewfinder, complete with Electronic Rangefinder

The X100T's optical viewfinder can simultaneously display the focus area by using the built-in ND filter. Users simply need to turn the camera's focusing ring for a mechanical rangefinder-style view. Additionally, Focus Peaking and Digital Split Image modes can be selected and the magnification of the focused area can be changed.

With the optical viewfinder, Real-time Parallax Correction has also been added to ensure more accurate framing. Parallax error, which occurs during close-up shooting, is automatically corrected in real time so users no longer having to reframe after focusing.

In addition, reduced display time lag, automatic brightness control, and enhanced Live View settings have been added to the electronic viewfinder providing a more comfortable shooting experience.

2) Increased operability with the 1/3 stop aperture ring, command dial, 4-way controller, and seven Fn buttons

Until now, setting the aperture in 1/3 steps needed to be done using the command lever. Now, it is done using the aperture ring. Also, the command lever has been changed to a command dial, and with the addition of a four-way controller, operability has been dramatically improved. The X100T is also equipped with seven Fn buttons, each one of which is customisable, while the rear LCD has been ungraded to 1.04M-dot 3-inch monitor, greatly improving visibility.

3) New Classic Chrome film simulation mode, developed through 80 years of photographic experience

Fujifilm's unique Film Simulation modes that mimic the effects of photographic films help users to reproduce warm skin tones, bright blue skies and rich green trees. Classic Chrome, which delivers muted tones and deep colours, has been added to the existing selection.

*1 As of August 2014. Fujifilm research.

Product features

(1) World's first Advanced Hybrid Viewfinder, complete with Electronic Rangefinder

To facilitate manual focusing while using the Optical Viewfinder, the focus area is enlarged and displayed in the bottom right of the viewfinder. Part of the original optical image is blocked and then the digital EVF display is projected in the resulting space. Manual focusing that was previously difficult with the optical viewfinder is made easier, much like a mechanical rangefinder.

Focus Peak Highlight and Digital Split Image can also be selected on the enlarged area, and the magnification of the focused area can be changed.

Compared to the X100S, bright frame coverage has been increased from 90% to 92%.

Real-time parallax correction has been added for more accurate framing. Parallax, the gap between the shooting range frame and actual shooting range when taking pictures close up, is automatically corrected in real time. Reframing after focusing is no longer necessary.

Changes to the electronic viewfinder

Visibility has improved under a variety of conditions, from bright scenes outdoors to dark scenes indoors, by automatically controlling finder brightness.
The Live View display can also be set to "Preview Pic. Effect", which recreates selected camera effects such as Film simulation modes. Equally, a more natural Live View close to what the naked eye sees can be chosen by turning this option off.
The image within the finder is smoother in low light conditions as it is displayed at the maximum frame rate possible.
Display time lag, inherent problem with electronic viewfinders, has been significantly reduced.

(2) Increased operability

On previous X100 series models, setting the aperture to 1/3 stops could only be done with the command lever, now it can be done using the aperture ring. The exposure compensation dial has been extended to ±3 stops. Also, the command lever has been changed to a command dial, and with the addition of a four-way controller, operability has been dramatically improved.

The X100T is equipped with seven Fn buttons, each one of which is customisable. Further user customisation is offered on via the Q Button on the rear of the camera: all 16 functions can be chosen according to the user's preference.

Die-cast magnesium is used for the top and bottom of the body, for a precise, light and highly durable design. A special coating is used for the surface finish, creating a premium feel.

The exterior is finished with non-slip synthetic leather, which is durable and resilient.

Applying a grooved pattern to the aperture ring, shutter speed dial, and exposure compensation dial improves grip and looks good.

The rear LCD has been upgraded to 1.04M-dot 3-inch monitor, greatly improving visibility.

Each and every part is made in Japan, for high precision and finish.

(3) New Classic Chrome Film Simulation

Fujifilm's unique Film Simulation modes mimic the effects of photographic films and help users to reproduce warm skin tones, bright blue skies and rich green trees. Classic Chrome, which delivers muted tones and deep colours, has been newly added to the existing selection.

(4) Installed with the fastest electronic shutter at 1/32000 sec., expanding the shooting range

A completely silent electronic shutter that is capable of exposures up to 1/32000 sec. has been added.

Photos with a shallow depth of field can now be shot with the aperture wide open on snowy fields or the beach under clear skies. As there are no mechanically operated parts, natural facial expressions such as those of sleeping babies can be captured more easily than ever before.

(5) Full HD video with the X-Trans CMOS II sensor

Frame rates can be selected from 60fps, 50fps, 30fps, 25fps and 24fps for Full HD movies, supporting worldwide motion picture formats.

The world's first*2 videos can be shot with the optical viewfinder, just like using a film movie camera

Film simulation modes can be used on videos to add creative colour effects, plus bokeh can be created by using the lens's wide maximum aperture.

Manual exposure can also be set during video shooting. Aperture, shutter speed*3 and ISO sensitivity can be set, allowing videos to be shot just as the user wishes.

A high bit rate of 36Mbps enables clear capture of delicate movement.

High-speed, high-precision focusing thanks to Intelligent Hybrid AF, which switches between phase detection AF and contrast AF according to the scene, even during video shooting. Manual focus is also possible.

*2 As of August 2014. Fujifilm research.

*3 Aperture and shutter speed can be changed during shooting. Only shutter speeds faster than the set frame rate can be set.

(6) Built in Wi-Fi for shooting from your smartphone or tablet devices*4.

By downloading the free FUJIFILM Camera Remote app to your smartphone or tablet device, users can use the Remote Control function, which allows a wealth of control, even from a distance. This functionality is great for a wide variety of shots, including group photos, self-portraits and animals in their natural habitat.

Photos and videos can also be sent to devices such as your smartphone with an easy one-touch operation. Pictures and videos on the camera can be browsed, selected, and imported using your smartphone, all without the hassle of inputting an ID or password. It is also possible to add location information acquired by the smartphone, etc., to the image.

Photos can also be sent directly from the camera to the Instax SHARE Smartphone Printer for instant Instax prints.

Wi-Fi® Transfer*5 is also supported, enabling backup of the data in the camera onto the computer wirelessly.*6

*4 Android™, smartphone and table devices, iPhone / iPad.

*5 Wi-Fi® is a registered trademark of the Wi-Fi Alliance®.

*6 Requires advanced installation of the free dedicated software "FUJIFILM PC AutoSave" to your computer.

(7) A high-performance system that delivers high image quality and fast response

High image quality and high speed processing capabilities have been inherited from the X100S thanks to the APS-C size "X-TransTM CMOS II"*7 sensor, EXR Processor II image processing engine and FUJINON 23mm F2 lens

The X100T's 16.3-megapixel X-Trans CMOS II sensor controls moiré and fake colours with the X-Trans color filter in which RGB pixels are randomly arranged, negating the need for a low-pass filter.

Combined with the image-processing engine EXR Processor

II, the camera delivers images with impressive levels of sharpness and low noise.

The unique image quality design technology created through years of developing photographic films helps to reproduce warm skin tones, bright blue skies and rich green.

To reduce noise at high sensitivities, a setting of the highest ISO 51200*8 has been made possible through processor noise reduction processing optimisation. Noise is reduced even under ultra-high sensitivities, reproducing tight black colours.

Optical effects that occur by light passing through the lens, such as the diffraction*9 are corrected by the unique Lens Modulation Optimiser*10 which deliver sharp details even when the aperture is set to F16.

*7 X-Trans is a trademark or registered trademark of FUJIFILM Corporation.

*8 During expanded sensitivity

*9 When a fine image that should be sharp is blurred when shooting by stopping down the aperture

*10 Unique signal processing technology that reproduces the sharpness of images blurred by diffraction, etc.

A specially designed FUJINON 23mm (approximately 35mm in 35mm format equivalent) F2 lens has an optimal optical design that delivers high levels of sharpness from the centre to the edges of the frame.

The lens is made up of 8 glass elements in 6 groups, which includes one high-performance double-sided aspheric lens and a convex lens made of high refractive glass. Images display minimal aberrations, along with high sharpness, and beautiful colour reproduction. FUJINON's unique HT-EBC coating is applied to the lens control flare and ghosting.

9 aperture blades are used, allowing for soft, beautiful, circular bokeh.

Macro photography is possible down to 10cm.

The built-in ND filter delivers the equivalent of three stops of compensation.

By placing AF phase detection pixels on the X-Trans CMOS II sensor, AF speeds of approximately 0.08 sec are possible. Intelligent Hybrid AF automatically switches between image phase detection AF and contrast AF depending on the subject and scene, so high-speed and high-precision AF is possible on every scene.

The EXR Processor II has with more than double*11 the processing performance when compared to previous models. The X100T is also starts up in approximately 0.5 sec., has a shutter time lag of about 0.01 sec., and offers shooting interval of approximately 0.5 sec.

High-speed continuous shooting of a maximum of 6fps (25 frames continuously: during JPEG shooting) using the full 16.3 megapixels is possible.

*11 Compared to the "EXR Processor Pro."

(8) Other functions

11 different Film Simulation modes can be selected, including PROVIA / Velvia / ASTIA / PRO Neg.Std / PRO Neg. Hi / SEPIA, as well as three filter effects (Ye Filter, R Filter, G Filter) for monochrome shooting.

A Multiple Exposure mode allows two shots to be put together on one frame.

Advanced Filter functions offer creative fun. Pop Colour / Toy Camera / Minature / Dynamic Tone / Partial Colour (red, orange, yellow, green, blue, and purple) / and Soft Focus can be chosen, as well as advanced shooting techniques such as High Key and Low Key.

Interval timer shooting is possible. Shooting intervals of 1 second to 24 hours, up to 999 frames, and a start time can be set.

Charging from your PC via the attached USB cable is possible.

Built-in Super Intelligent Flash that automatically controls the amount of light according to the situation.

The lens shutter is durable for approximately 100,000 shots. The camera is equipped with a shutter counter.

A power saving function starts up when the optical viewfinder is used, increasing the number of possible shots to 700 with the OVF POWER SAVE MODE.

(9) A true system camera with a range of accessories, including two conversion lenses and a new hand grip.

● <NEW> Hand Grip MHG-X100

To increase the camera's grip. Both battery and memory card can be swapped with the grip in place. Additionally, a tripod screw hole can be placed in centre of the optical axis and the base parts are equipped with a 38mm width dovetail protrusion plate, allowing use as a quick shoe mount when using a dovetail groove tripod pedestal.

● Wide Conversion Lens WCL-X100

The WCL-X100 is a dedicated wide conversion lens that multiples the fixed focal length by approx. 0.8x, converting it to 28mm (35mm format equivalent). Not only does this lens emphasize perspective, it's also perfect for when you want to capture a broader view such as when shooting in tight spots or landscapes.

● Tele-conversion Lens "TCL-X100"

T he "TCL-X100" is a dedicated tele-conversion lens for narrowing the field of view by multiplying the fixed focal length by approx. 1.4x, converting it to 50mm (35mm format equivalent). This lens can be used in a variety of situations, such as portraits taking advantage of a natural perspective, or close-up photography from as close as 14cm.

● Leather Case "LC-X100S"

It is possible to swap the battery and media when the case is attached to the camera. A Quickshot Premium Leather Case that emphasises a sense of unity with the body as well as practicality.

● External Stereo Microphone "MIC-ST1"

Record a realistic voice along with your high-quality, smooth, Full HD videos.

●Shoe Mount Flash – three types of FUJIFILM external flash, capable of high-precision TTL auto flash control: EF-20 and EF-X20 with the guide number 20, and EF-42 with the guide number 42

● Remote Release RR-90

● Protect Filter PRF-49S

● Grip Belt GB-001

● Lens Hood(includes Adapter Ring) LH-X100

● Adapter Ring AR-X100

The FUJIFILM X100T will be available in the UK in both Black and Silver from November 2014 with a Suggested Retail Price of £999.99.