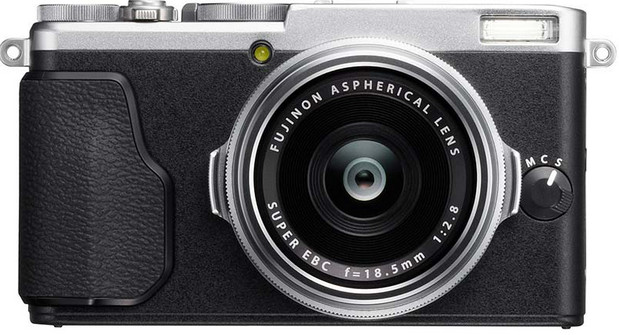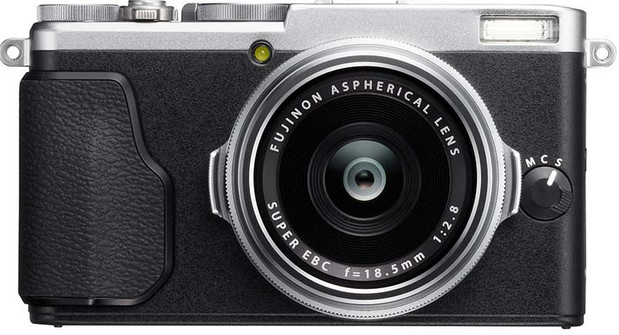 The Ricoh GR (and it's updated Mk II variant) has long been the king of street shooters, offering full manual controls and an APS-C sensor is a wonderfully pocketable package.
Various rivals have risen up and slunk off without trace, but the new Fujifilm X70 looks to be a real contender, matching the GR's key specs and outdoing them on a few areas.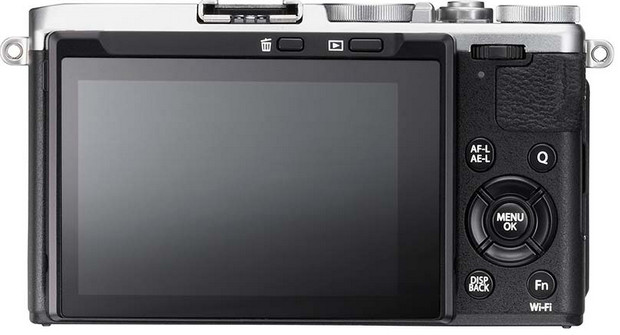 The smallest and lightest camera in the X-Series premium compact digital camera range, the Fujifilm X70 comes with a FUJINON 18.5mm F2.8 lens and 16.3-megapixel APS-C sized X-Trans CMOS II sensor, backed by an EXR Processor II image processing engine.
So, matching Ricoh all the way so far.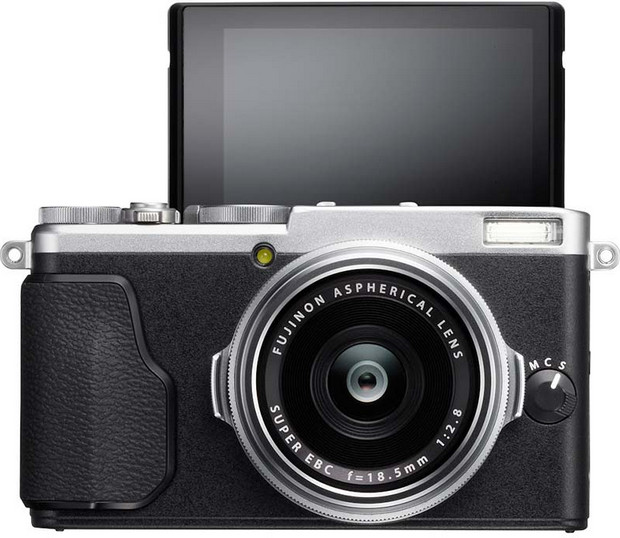 Crucially the X70 oulls ahead of the GR with with a 180-degree tilting touchscreen LCD, which can flip up 180 degrees for the essential selfie shot. If you must.
The touchscreen lets you touch any part of the screen and the camera will swiftly focus and take the shot – something that might prove really useful for street shooting.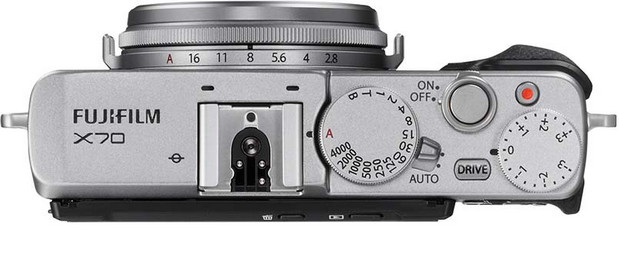 Available in retro silver or black, there's an enthusiast-pleasing, aluminium exposure compensation dial on the top plate and an aperture ring and focus ring around the lens mount, but, like the GR, there's no viewfinder onboard.
However the sealed lens construction means that the Fujifilm may be free from the Ricoh's Achilles heel – dust on the sensor, sucked in by the GR's telescopic lens.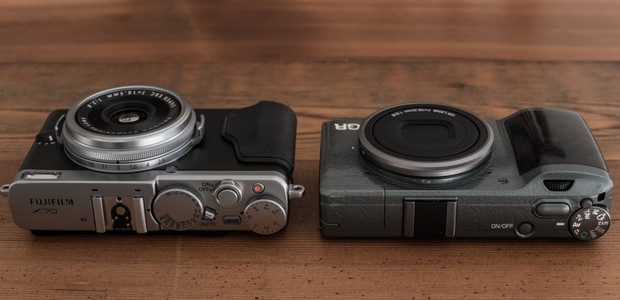 As you can see, its a very similar size to the GR too, so the X70 really is barging deep into Ricoh's turf here, and for some, we suspect that the presence of that alluring aperture ring may be enough for them to make the switch.
[Comparison picture from bigheadtaco – check out more comparisons in their review]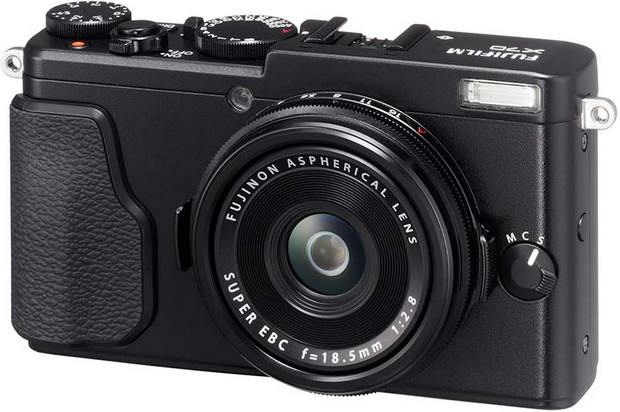 The Fujifilm X70 will be on sale in the UK from February 2016 in both Black and Silver versions for £549. We'll definitely be checking out out.
Check out the video below for more info:
Scroll down for Fujifilm's hefty press release:
Fujifilm Press Release

Introducing the FUJIFILM X70: The smallest and lightest X-Series model with an APS-C sized sensor. Featuring a new FUJINON 18.5mm*1 F2.8 lens for every scene from landscapes to snapshots.

FUJIFILM Corporation (President: Shigehiro Nakajima) is proud to announce the launch of the FUJIFILM X70, a premium compact digital camera featuring a new FUJINON 18.5mm*1F2.8 lens suitable for a range of applications from landscapes to snapshots. The camera, which will be available in February 2016, features an APS-C sized X-Trans CMOS II sensor and EXR Processor II image processing engine.

The X70 bears all the hallmarks of the range combining a simple manual operation with superior image quality and versatile picture-taking functions. The X70 is the first X-Series model to offer a touchscreen display that rotates 180 degrees enabling users to shoot from up high, down low and capture selfies.

Key features of the X70

1. New FUJINON 18.5mm F2.8 lens for a wide range of shooting conditions from landscapes to snapshots!

By using the optical design from the X100T, it has been possible to develop a compact, high quality wide-angle lens in a smaller, thinner body. The single focal length lens distributes light evenly across the frame to produce a high-resolution image from the centre to the edges.

2. High-quality finish and easy operation encourage creativity

Weighing approximately 340g*2, the X70 is the lightest X-Series camera with an APS-C sized sensor. The top-plate features milled aluminium exposure compensation and shutter speed dials, making it easy to quickly access key features, while the aperture and focusing rings are also made from milled aluminium to help keep weight down. Apertures can be changed in 1/3 or 1 stop increments, plus the focusing ring doubles up as a control ring for quick access to a range of functions.

The X70 is also equipped with an Auto Mode Switch lever for selecting the fully automatic Advanced SR Auto mode. Once selected, the camera automatically chooses the optimum settings for great results on any scene.

3. Compact body with an APS-C sized X-Trans CMOS II*3 sensor and EXR Processor II image processing engine

Key technologies that deliver the high quality images unique to X-Series models have been compressed into a pocket-sized body. This includes the stunning colour reproduction technology, developed as a result of more than 80 years of photographic film research, and the unique Lens Modulation Optimiser (LMO) image processing technology that corrects optical defects such as diffraction to achieve edge-to-edge sharpness and a realistic three-dimensional effect.

On-sensor phase detection AF focuses in an ultra-fast 0.1 sec*4 and, thanks to the high-speed EXR Processor II image processor, the camera starts up in just 0.5sec*5, has a shutter time lag of 0.01sec and shooting interval of 0.5sec*6.

4. The first 180-degree tilting touchscreen LCD in an X-Series camera

The X70 features a touchscreen LCD; a first for the X-Series. Turning on the Touch Panel Settings enables Touch Shot and Focus Area Selection when shooting. During playback, intuitive smartphone-style operations including swipe, drag, pinch in/out, and double-tap scaling can be performed. By combining the Touch Shot function with the 180-degree tilt LCD, you can get even more creative. Place the camera on the ground and use Touch Shot for a child's or pet's eye view. The same function also makes it easier to shoot selfies.

5. Dedicated accessories to expand the world of the X70

Four dedicated optional accessories have been developed to make the X70 more versatile. The four include the BLC-X70 half leather case for protection and to provide an extra grip, the LH-X70 lens hood to cut down flare and ghosting, the VF-X21 optical viewfinder for those who prefer to frame images through a finder and the WCL-X70 wide conversion lens giving a 21mm view (35mm equivalent).

*1 35mm format equivalent: 28mm.

*2 Weight including battery and memory card.

*3 X-Trans is a trademark or registered trademark of FUJIFILM Corporation.

*4 Fujifilm research based on CIPA guidelines in High Performance mode as of January 2016.

*5 In High Performance mode.

*6 MF mode.

Main features of the X70

(1) Function-driven FUJINON 18.5mm F2.8 lens

・ Comprising seven elements in five groups, including two high-performance aspherical elements, the lens delivers highly detailed images with minimal aberrations, excellent sharpness and beautiful colour reproduction. FUJINON's unique HT-EBC coating has also been used to control flare and ghosting.

・ Using a non-collapsible lens design and minimal lens length keeps size down and eliminates telescoping of the lens when powered up. The X70 is ready to start shooting the moment the user switches it on.

・ The 9-blade aperture diaphragm combined with the large F2.8 aperture and high-quality optics lets users take photos with beautiful bokeh effects.

・ A close focusing distance of approx. 10cm*7 lets users enjoy all the benefits of macro photography.

*7 Distance from the front of the lens surface to the subject.

(2) Easy operation and a premium finish

・ By using smooth aluminium for the body and shutter speed and exposure compensation dials on the top-plate, the X70 has a premium look and feel without being too heavy.

・  The aperture can be adjusted by 1/3 stop increments using the aperture ring, while up to ±3 stops of exposure compensation is available on the top-plate dial.

・  It is also equipped with an Auto Mode Switch lever for selecting the fully-automatic Advanced SR Auto mode. In this mode, the camera automatically chooses the optimum settings for a given scene to make shooting effortless.

・ The X70 is equipped with eight Fn buttons, each one of which is customisable. Further user customisation is offered via the Q Button on the back of the camera: all 16 functions can be chosen according to the user's preference.

・  The camera is designed to allow the photographer to keep their left hand on the lens's aperture ring with their right hand operating the shutter speed and exposure compensation dials on the top-plate. This allows instant changing of settings to meet the photographer's needs.

・  The lens barrel features a control ring in addition to the aperture ring. Depending on the shooting mode, various functions are automatically assigned to the control ring making them quicker to access and change. Functions such as ISO sensitivity, Film Simulation, white balance, continuous shooting and the Digital Tele-converter can be assigned by pushing the control ring setting button on the left side of the body.

・ The X70 features a bright, highly detailed 3.0-inch monitor with 1.04 million dots that has a wide viewing angle and can be tilted 180°. The tilting screen is useful for shooting from a low-angle for children and pets, from a high-angle above large crowds or obstacles, or for capturing self-portraits.

(3) Perfect your photos with Film Simulation modes and other creative features

・ The X70's 16.3-megapixel X-Trans CMOS II sensor controls moiré and false colours with the X-Trans colour filter, with its random arrangement of RGB pixels negating the need for a low-pass filter. Combined with the EXR Processor II processing engine, the camera delivers images with impressive levels of sharpness and low noise.

・ Fujifilm's unique colour reproduction technology, created through years of researching photographic films, helps reproduce warm skin tones, bright blue skies and rich greens.

・ A high ISO setting of 51,200*8 has been made possible by optimising noise reduction processing. Noise is reduced even at these ultra-high sensitivities, reproducing deep blacks.

・ Diffraction*9 is corrected by the unique Lens Modulation Optimiser which delivers superb detail even when the aperture is set to F16.

・ The X70 features CLASSIC CHROME Film Simulation mode, which delivers muted tones and deep colours. Users can choose from ten other modes that simulate the effects of traditional Fujifilm films. These include colour reversal film effects (Velvia/PROVIA/ASTIA), professional colour negative film (PRO Neg.Std / PRO Neg.Hi), monochrome filters (MONOCHROME, Ye filter, R filter and G filter) and SEPIA.

・ Advanced Filter functions are also available on the X70. Users can choose from eight different artistic effects:

Pop Colour – Emphasises contrast and colour saturation.

Toy Camera – Creates shaded borders as if you were taking a photo on a toy camera.

Miniature – Adds top and bottom blur for a diorama or miniature effect.

Dynamic Tone – Creates a fantasy effect by boosting tones.

Partial Colour – Retains one selected original colour and changes the rest of the photo black & white. Colours can be selected from red, orange, yellow, green, blue and purple.

High Key – Enhances brightness and reduces contrast to lighten tonal reproduction.

Low Key – Creates uniformly dark tones with few highlight areas.

Soft Focus – Creates a look that is soft throughout the whole image.

・ The Multiple Exposure function offers users the chance to combine two separate subjects into one photo, perfect for adding people into images.

・ The camera's aspect ratio can be selected from 3:2, 16:9, and 1:1 (square) to accommodate a wide range of photographic styles.

・ The camera also features an ADVANCED SR AUTO mode, which recognises faces and every scene type before automatically optimizing the focus, exposure, ISO and other settings.

・ Interval timer shooting for time lapse photography is available with intervals of one second to 24 hours for up to 999 frames.

・ The camera has a completely silent electronic shutter that is capable of exposures up to 1/32,000sec. . Photos with a shallow depth-of-field can now be shot with the aperture wide open. As there are no mechanically operated parts, candid shots of animals and sleeping babies can be captured easier.

・ Other features include a Digital Split Image for precise manual focusing, and Focus Peaking, which highlights the part of the scene that is in focus. This can be highlighted in white, red or blue, providing a focusing guide even when photographing a scene that's tricky to focus on.

*8 During expanded sensitivity.

*9 When a fine image that should be sharp is blurred when shooting by stopping down the aperture.

(4) Intuitive operation with the touchscreen display

・ The X70's touchscreen panel, the first in an X-Series model, enables  comfortable and intuitive use. Turning the Touch Panel Settings on allows the following operations during shooting and playback modes:

Shooting Modes

・Focus Area Selection: Move the focus point to the chosen position by tapping the LCD monitor.

・Touch Shot: Touch to focus on a specific point, then take the picture.

Playback Modes

・Swipe Movement : Swiping a finger across the screen scrolls through the images, one after another.

・Double-Tap Enlargement: Tapping the screen twice will enlarge the image, centering on the active focus point when the images was taken.

・Drag: Moving a finger across the screen when an image is enlarged will move it around the frame.

・Pinch out: Placing two fingers on the screen and widening the distance between them enlarges the image.

・Pinch in: While the image being displayed is enlarged, placing two fingers on the screen and narrowing the distance between them reduces the image size*10.

・ All the touchscreen functions are disabled when the Touch Panel Settings are turned off.

*10 Cannot be zoomed out further than the original image.

(5) Digital Tele-converter *11 with three settings

・ One body, three lenses. The X70's fixed lens offers a 28mm angle of view (35mm equivalent) but, thanks to the first Digital Tele-converter in an X-Series camera, users can also select 35mm and 50mm options. Settings for the Digital Tele-converter can be changed within the menu, or on the control ring on the lens barrel, enabling users to quickly check the image on the LCD before shooting.

*11 The image quality may degrade when using the Digital Tele-converter function. Phase detection AF is only effective in the centre of the screen. Contrast AF is enabled for the rest of the screen.

(6) AF system with Zone and Wide/Tracking modes for effortless capture of moving subjects

・ The AF system offers the standard 49-point Single Point mode for high speed and precision focusing, as well as the new Zone and Wide/Tracking modes that use a larger 77-point area to capture moving subjects.

・ Zone mode allows users to select a 3×3, 5×3 or 5×5 zone out of the 77-point AF area. During AF-C*12, the camera continually tracks a subject, positioned at the centre of the zone. The centrally-positioned 3×3 and 5×3 zones deliver fastest focusing thanks to the on-sensor phase detection AF.

・ The Wide/Tracking mode is a combination of the Wide mode (during AF-S), in which the camera automatically identifies and tracks the area in focus across the 77-point AF area, and the predictive Tracking mode (during AF-C), which uses the entire 77-point area to continue tracking a subject. This feature enables continuous focusing on a subject that is moving up and down, left and right or towards and away from the camera.

・ The Single Point mode divides the focus area into smaller sections to accurately determine the distance to the subject for greater focusing precision. The working range of the on-sensor phase detection AF works at high speed even in low light conditions or on a low contrast subject.

・ The camera features Eye Detection AF, which automatically detects and focuses on human eyes. The function allows you to easily focus on the eyes even in difficult conditions – when shooting a portrait with a very wide aperture to obtain strong bokeh effects, for example.

・ The Auto Macro function automatically activates the Macro mode while maintaining AF speed, eliminating any need to press the Macro button to capture a close-up. This allows you to re-assign the Macro button to a different function.

・ A new optimised AF algorithm delivers a smoother and more natural AF action during video recording.

・ With the combination of the phase detection AF data and subject motion predictive AF, the camera is capable of continuous shooting with AF-C at up to approx. 8.0fps.

*12 AF system continuously focuses while pressing the shutter button halfway.

*13 When set to AF-C and CH, the focus area is fixed to the range of Central 3×3 ("Single Point" mode), or Central 5×3 ("Zone" / "Wide / Tracking" mode).

(7) Full HD video with the X-Trans CMOS II sensor

・ 60fps smooth Full HD movies can be shot with the X70. 50fps, 30fps, 25fps and 24fps frame rates are also available.

・ Film Simulation modes, including the latest CLASSIC CHROME, and detailed white balance setting is also possible.

・ Exposure can be set manually during movie shooting. Aperture, shutter speed*14 and ISO sensitivity can be changed enabling movies to be shot using an exposure of the user's preference.

・ High-speed, high-precision focusing is made possible by activating Intelligent Hybrid AF, which automatically switches between phase-detection AF or contrast AF according to the scene, even during movie shooting. Manual focus is also possible.

・ Six types of scene recognition functions can be used so that users can capture beautiful movies.

・ A high bit rate of 36Mbps enables high definition capture of delicate movements.

*14 Aperture and shutter speed can be changed during shooting. Only shutter speeds faster than the set frame rate can be set.

(8) Built in Wi-Fi for shooting from your smartphone or tablet devices*15

・ By downloading the free FUJIFILM Camera Remote app to your smartphone or tablet device, users can use the Remote Control function, which allows a wealth of control, even from a distance. This functionality is great for a wide variety of shots, including group photos, self-portraits and animals in their natural habitat.

・ Photos and videos can be sent to devices such as your smartphone with an easy one-touch operation. Pictures and videos on the camera can be browsed, selected, and imported using your smartphone, all without the hassle of inputting an ID or password. It is also possible to add location information acquired by the smartphone or tablet to the image.

・ Photos can be sent directly from the camera to the instax SHARE Smartphone Printer for instant instax prints.

・ Wi-Fi® Transfer*16 is supported, enabling wireless backup of the data to a computer*17.

*15 Android™, smartphone and table devices, iPhone / iPad.

*16 Wi-Fi® is a registered trademark of the Wi-Fi Alliance®.

*17 Requires you install the free dedicated software "FUJIFILM PC AutoSave" on your computer.

Premium accessory line-up

・ Leather Case「BLC-X70」

A stylish, authentic leather case that has a wonderfully tactile feel that perfectly suits the X70's design. With the X70 snugly protected, you can change batteries without removing the case. A matching leather hand strap and protective cloth are included.

・ Lens Hood(Adapter Ring Included) 「LH-X70」

Precision milled from metal, the lens hood and adapter ring will be available as a set. The adapter ring is also compatible with commercially sold 49mm filters.

・ External optical viewfinder VF-X21

Attaches to the top-plate mounting shoe above the optical axis of the lens, the optical finder provides a bright frame for the 28mm and 21mm angles of view*18 (35mm-format equivalent). Also includes a suede case for protection.

*18 Effective angle-of-view when the WCL-X70 wide-conversion lens is mounted.

・ Wide Conversion Lens「WCL-X70*19」

The WCL-X70 is a dedicated wide conversion lens that multiples the fixed focal length by approx. 0.8x, converting it to 21mm (35mm format equivalent). Not only does this lens emphasise perspective, it is also perfect for capturing a broader view such as when shooting in tight spots or landscapes. (Expected release in Spring 2016)

*19 The X100 Series dedicated WCL-X100 and TCL-X100 conversion lenses cannot be used on the X70. A firmware upgrade is planned for public release with the launch of the WCL-X70 – please make sure you upgrade to the latest firmware.

X70 Specifications

Model name

FUJIFILM X70

Number of effective pixels – 16.3 million pixels

Image sensor – 23.6mm x 15.6mm (APS-C) X-Trans CMOS II with primary colour filter  Total number of pixels: 16.7 million pixels

Storage media – SD memory card / SDHC memory card / SDXC (UHS-I) memory card *1

File format           Still image

JPEG (Exif Ver 2.3)*2, RAW (RAF format), RAW+JPEG (Design rule for Camera File system compliant / DPOF-compatible)

Movie – MOV (H.264, Audio : Linear PCM / stereo sound)

Number of recorded pixels

L : (3:2) 4896 x 3264 / (16:9) 4896 x 2760 / (1:1) 3264 x 3264
M : (3:2) 3456 x 2304 / (16:9) 3456 x 1944 / (1:1) 2304 x 2304
S : (3:2) 2496 x 1664 / (16:9) 2496 x 1408 / (1:1) 1664 x 1664

<Motion Panorama>
180° Vertical : 2160 x 9600 Horizontal : 9600 x 1440
120° Vertical : 2160 x 6400 Horizontal : 6400 x 1440

Lens – FUJINON single focal length lens

Focal length : f=18.5mm(35mm format equivalent : 28mm)

Full-aperture: F2.8

Constitution : 5 groups 7 lenses (2 aspherical glass moulded lens included)

Aperture – F2.8~F16  1/3EV step (controlled with 9-blade aperture diaphragm)

Focus distance – Approx. 10cm to infinity / 3.9in. to infinity

Sensitivity

AUTO (Control available up to ISO 6400) Equivalent to ISO 200 – 6400
Equivalent ISO 100, 12800, 25600 and 51200

Exposure control – TTL 256-zone metering, Multi / Spot / Average

Exposure mode – Programmed AE / Shutter Speed priority AE / Aperture priority AE / Manual exposure

Exposure compensation – -3.0EV – +3.0EV, 1/3EV step
(movie recording : -2.0EV – +2.0EV)

Face detection

Yes

Shutter speed

(Electronic Shutter mode) 1sec. to 1/32000sec.*3,
(P mode) 4sec. to 1/4000sec., (All other modes) 30sec. to 1/4000sec., Time 30sec. to 1/4000sec., Bulb (max.60min.)

Continuous shooting

Approx. 8.0 fps (JPEG: max. approx. 10 frames) Approx. 3.0 fps (JPEG: up to the capacity of the card)
* Recordable frame number may vary depending on the type of memory card used.
* The frame rate varies with shooting condition and the number of images recorded.

Auto bracketing

AE Bracketing (±1/3EV, ±2/3EV, ±1EV)
Film Simulation Bracketing (Any 3 types of film simulation selectable)
Dynamic Range Bracketing (100%, 200%, 400%)
ISO sensitivity Bracketing (±1/3EV, ±2/3EV, ±1EV)
White Balance Bracketing (±1, ±2, ±3)

Focus Mode – Single AF / Continuous AF / MF

Type – Intelligent Hybrid AF (TTL contrast AF / TTL phase detection AF), AF assist illuminator available

AF frame selection

Single Point AF : 49 areas on a 7×7 grid (Changeable size of AF frame among 5 types),  Zone AF : Selectable with 3×3 / 5×3 / 5×5 areas from 77 areas on an 11×7 grid, Wide/Tracking AF : Automatic selection from 77 areas on an 11×7 grid

White balance

Automatic scene recognition / Custom / Colour temperature selection (K) / Preset : Fine, Shade, Fluorescent light (Daylight), Fluorescent light (Warm White), Fluorescent light (Cool White), Incandescent light, Underwater

Self-timer – 10sec. / 2sec. delay

Interval timer Shooting – YES
Setting : Interval, Number of shots, Starting time

Flash
Auto flash (Super Intelligent Flash)
Effective range:(ISO 1600) approx. 30cm – 7.9m/1.0ft. – 25.9ft.
Guide Number: approx. 5.5(ISO100・m)

Flash modes
Red-eye Removal OFF
Auto / Forced Flash / Slow Synchro / Suppressed Flash /Commander
Red-eye Removal ON

Red-eye Reduction Auto / Red-eye Reduction & Forced Flash / Red-eye Reduction & Slow Synchro / Suppressed Flash / Commander
*Red-eye removal is active when Face Detection is set to ON.

Hot shoe – Yes (Dedicated TTL Flash compatible)

LCD monitor
3.0-inch, aspect ratio 3:2, approx.
1,040K-dot Tilt-type TFT colour LCD monitor (approx. 100% coverage)

Movie recording
Full HD 1920 x 1080 60p / 50p / 30p / 25p / 24p, Continuous recording : up to approx. 14 min.
HD 1280 x 720 60p / 50p / 30p / 25p / 24p, Continuous recording : up to approx. 27 min.
* Use a card with SD Speed Class with Class 10 or higher

Photography  functions

Advanced SR AUTO, Eye detection AF, Face Detection, Interval timer shooting, Auto Red-eye Removal, Select custom setting, Motion panorama, Colour space, Setting (Colour, Sharpness, D-range, Gradation), Film Simulation, Advanced Filter, Framing guideline, Frame No. memory, Histogram display, Preview depth of focus, Lens Modulation Optimizer, Pre-AF, Control ring setting, Focus check, Focus Peak Highlight, Digital Split Image™ *4, Electronic level, Multiple exposure, Release priority / Focus priority selection, Fn button setting (RAW, Movie, etc.), ISO AUTO control, Instant AF setting (AF-S/AF-C), Interlock spot AE & Focus area, Focus area setting, AE-L/AF-L button setting, Edit/Save quick menu, Preview exp./WB in manual mode, Shutter Type, Touch screen setting

Touch screen mode

Shooting Mode:Touch shooting、Focus area, OFF
Display Mode:Swipe, Zoom, Pinch-in / Pinch-Out, Double-tap, Drag

Digital Tele-Converter

28mm* (Normal)、35mm* 、50mm*   *35mm format equivalent

Film Simulation mode

PROVIA/STANDARD, Velvia/VIVID, ASTIA/SOFT, CLASSIC CHROME, PRO Neg Hi, PRO Neg. Std, MONOCHROME, MONOCHROME+Ye FILTER, MONOCHROME+R FILTER, MONOCHROME+G FILTER, SEPIA

Dynamic range setting -AUTO, 100%, 200%, 400%

Advanced filter

Toy camera / Miniature / Pop colour / High-key / Low-key / Dynamic tone / Soft focus / Partial colour (Red / Orange / Yellow / Green / Blue / Purple)

Playback  functions

RAW conversion, Image rotate, Auto image rotate, Face Detection, Red-eye reduction, Photobook assist, Erase selected frames, Image search, Multi-frame playback (with micro thumbnail), Slide show, Protect, Crop, Resize, Panorama, Favourites

Wireless transmitter – Standard
IEEE 802.11b / g / n (standard wireless protocol)

Access mode

Infrastructure

Wireless function

Geotagging, Wireless communication (Image transfer), View & Obtain Images, Remote camera shooting, PC Autosave, instax printer print

Other functions

PictBridge, Exif Print, 35 Languages, Date/Time, Time difference, Sound & Flash OFF, High Performance, Preview exp. in Manual mode, LCD Brightness, LCD Colour, Preview Pic. Effect, DISP. Custom Setting

Terminal

Digital interface

USB2.0 (High-Speed) / micro USB terminal
*connectable with Remote Release RR-90 (sold separately)

HDMI output

HDMI Micro connector (Type D)

Power supply

NP-95 Li-ion battery (included)

Dimensions

112.5mm (W) x 64.4mm (H) x 44.4mm (D) / 4.43in. (W) x 2.54in. (H) x 1.75in. (D)
(Minimum Depth : 25.9mm / 1.02 in.)

Weight

Approx. 340g / 12.0 oz. (including battery and memory card)
Approx. 302g / 10.6 oz. (excluding accessories, battery and memory card)

Operating Temperature

0℃ – 40℃ (+32°F – +104°F)

Operating Humidity

10% – 80% (no condensation)

Battery life for still images

Approx. 330 frames*5

Battery life for movies

Consecutive movie recording : approx. 86 min. (Face detection is set to OFF)
* Individual movies cannot exceed approx. 14 min. on Full HD mode, and approx. 27 min. on HD mode in length.

Starting up period

Approx. 0.5 sec., when High Performance mode set to ON
Approx. 1.0 sec., when High Performance mode set to OFF

Accessories included

Li-ion battery NP-95, AC power adapter AC-5VF, Plug Adapter, Shoulder strap, Lens cap, Metal strap clip, Protective cover, Clip attaching tool, USB cable, Owner's manual

*1 Please see the Fujifilm website to check memory card compatibility.

*2 Exif 2.3 is a digital camera file format that contains a variety of shooting information for optimal printing.

*3 The Electronic Shutter may not be suitable for fast-moving objects. Flash cannot be used.

*4 Digital Split Image is a trademark or a registered trademark of FUJIFILM Corporation.

*5 Approximate number of frames / period that can be taken with a fully-charged battery based on CIPA standard.