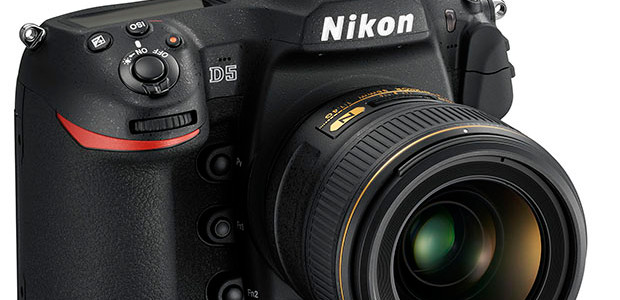 Nikon has unleashed two rather delicious new cameras at this year's Consumer Electronics Show in the shape of the enthusiast Nikon D5 and the wallet-stripping, high end Nikon D5.
Nikon D5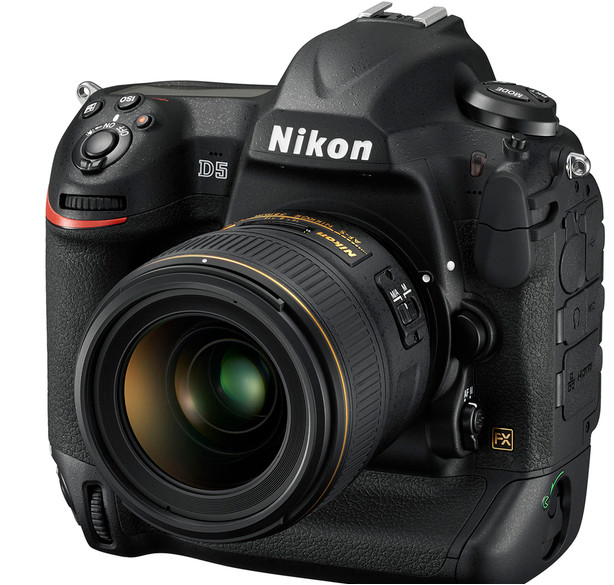 The D5, Nikon's flagship full-frame DSLR camera, packs in plenty of pro-pleasing advancements including an all-new 153-point AF system, 4K UHD video capture, and EXPEED 5 image processing, all captured on a 20.8-megapixel CMOS sensor
Boasting "astounding low-light performance," the weather-proof, super tough snapper comes with a native ISO range between 100 and 102,400, which can be boosted to a darkness-inquiring high-sensitivity range between 3200 and 12,800.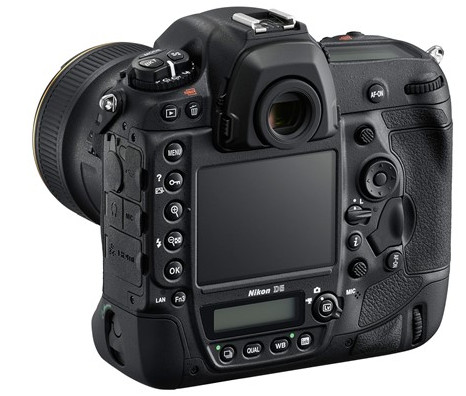 But wait – they're not finished yet – there's also the option to expand from ISO 50 (Lo-1) to ISO 3,280,000 (Hi-5). Yep – that's right – the ISO stretches into the millions here!
Naturally, all this wonder tech comes at a price that will make you feel like you've just gone two rounds with Mike Tyson, with the Nikon D5 available in March and retailing for an OMG £5,200.
Scroll down for the full fact-filed press release.
Nikon D500
More affordable (ish) is the prosumer Nikon D500, billed as possessing the "best of both worlds" with a DX-format (APS-C) sensor combined with many of the pro-level features of its pricey big brother.
The D500 comes with an all-new 20.9-megapixel CMOS sensor, backed by the EXPEED 5 image processing engine serving up another hefty ISO range of 100 to 51,200 (expandable from 50 to a 1,640,000 equivalent).
Inside there's the same 153-point AF system as in the D5, and when it comes to video it can match the D5 all the way, outputting 4K UHD video at up to 30fps, as well as Full HD at a range of frame-rates.
Sports fans will also love its ability to shoot continuously at 10 fps with a 200 shot buffer for Raw images.
The Nikon D500 will be available in March, body only priced at £1,730.
Press releases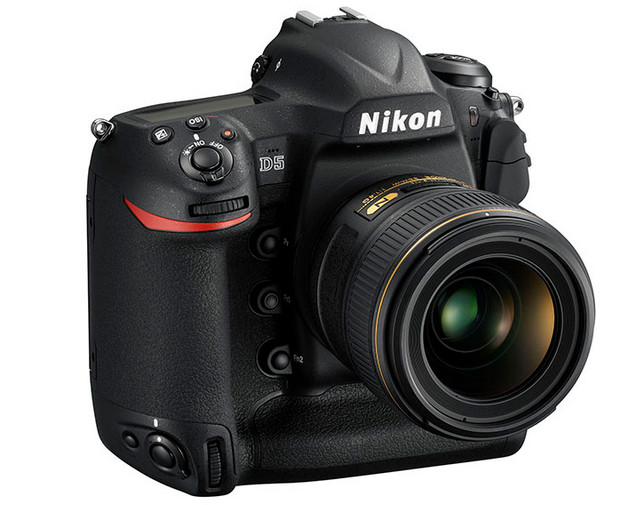 Nikon D5 press release:
CONQUER THE DARK: THE NEW NIKON D5 DSLR SHATTERS EXPECTATIONS FOR THRILLING NEW LEVELS OF LOW-LIGHT PERFORMANCE, IMAGE QUALITY AND SPEED

In Addition to the D5, Nikon Releases Imaging Accessories Including Powerful New SB-5000 Speedlight and WT-6A Wireless Transmitter

LAS VEGAS, NV (January 5, 2016) – Today, Nikon Inc. announced the latest in the acclaimed series of flagship FX-format professional DSLR cameras, the Nikon D5. Far surpassing mere evolution, the D5 boasts a myriad of powerful new imaging innovations, including a Nikon-developed 20.8-megapixel CMOS sensor, an all-new 153-point AF system, 4K UHD video capture and EXPEED 5 image processing to give photographers the best balance of performance, precision and low-light ability. Nikon has also announced additional products, including the WT-6A Wireless Transmitter and the exciting new SB-5000 Speedlight, Nikon's first radio frequency (RF) controlled flash.

"The D5 doesn't simply get the shot that others might miss– it helps get the shot that others just simply cannot," said Masahiro Horie, Director of Marketing and Planning, Nikon Inc. "With these new products, it becomes evident that photographers who choose Nikon cameras and NIKKOR lenses are equipped with an unrivaled system to surpass even the most demanding imaging expectations."

The Nikon D5 once again redefines what a DSLR is capable of capturing, and is engineered with the ideal balance of resolution, low-light ability, system speed and processing power. The resulting camera body is truly worthy of the flagship moniker, giving professional photographers and multimedia content creators an indispensable tool to make their creative vision a reality with superior image quality. The D5 introduces many technological firsts for Nikon and offers many new features that share a common goal: to get the shot, no matter what.

New Features Include:

Astounding Low-Light Performance – The Nikon D5 offers an unprecedented native ISO range, from 100 to 102,400, reinforcing the D-series reputation as the leader of low-light image capture. A veritable new world of shooting opportunities awaits, as advancements in noise reduction and processing help capture low-noise images with fantastic fidelity that were previously impossible. The D5 tames the shadows, whether shooting a newlywed couple's candle-lit first dance or sports with minimal lighting.

The D5 also realizes unprecedented image quality in the high-sensitivity range between ISO 3200 and 12800 — the range favored by sports photographers. In addition, the D5 affords the ability to use higher shutter speeds with minimal illumination, letting photographers capture stunning images that are sharper, clearer and more colorful than ever before. As an added benefit, the next generation autofocus system performs in near darkness, acquiring focus in as little as EV-4 illumination.

For extreme low-light ability, the ISO range is expandable from 50 (Lo-1) to a staggering ISO 3,280,000 (Hi-5), offering near-night vision capability that's well beyond the visibility of the human eye. This extreme sensitivity is a benefit to photojournalists as well as for surveillance and security applications, letting users get shots others cannot see without a flash. This vast ISO range is also available to those capturing 4K UHD video, opening up new possibilities for multimedia and spot-news capture.

Exhilarating Image Quality – The Nikon D5 delivers on the promise of stunning image quality with the adoption of a new, Nikon-developed 20.8-megapixel FX-format CMOS sensor. The camera is designed to achieve the optimized balance between the large full-frame sensor size, resolution and the new EXPEED 5 image processing engine.

Users can be confident that images will have enhanced sharpness and clarity, faithful skin tones and the unequaled dynamic range that Nikon pros have come to love. EXPEED 5 also helps to enhance noise reduction, letting photographers take full advantage of the D5's immense ISO range. When paired with legendary NIKKOR optics, the D5 is truly a tool to help photographers capture the sharpest images possible with astounding clarity and radiant colors.

Powerful Performance – Nikon's EXPEED 5 engine also serves to dramatically enhance camera performance, delivering low noise, high-speed image processing and offers the additional processing power needed for 4K UHD video. For professional sports and wildlife photographers, the D5 is capable of capturing images at 12 frames-per-second (fps) with full AE and AF, helping to ensure that the decisive moment is caught in crystal clarity and absolute sharpness.

Users can also shoot at up to 14 fps with fixed focus and exposure and the mirror locked up, ideal for remote capture. Because the action won't take a break, the extended buffer lets users shoot for up to 200 frames of 14-bit lossless RAW/NEF files + JPG fine*. The new processor is also 25% more efficient with up to 3780 shots per charge.

Fast Acquisition, with Precision – An exciting addition to the D5 is an all-new AF system with Nikon's first dedicated AF processor. The Multi-CAM 20K AF sensor module offers superior AF performance with 153 AF points, including 99 cross-type sensors – triple the AF points from Nikon's previous flagship, the D4S. Of these 153 points, 55 AF points/35 cross-type points are selectable by photographers to quickly and easily frame any shot.

The system is configurable in 153, 72 and 25-point coverage when used with Continuous AF, allowing for stellar AF tracking performance of even the most rapidly moving subjects throughout the frame. Fifteen of the AF points are also functional up to f/8, further aiding those who require extreme telephoto capabilities, including wildlife photographers. This all-new AF system is coupled with a new 180K pixel RGB metering system and Advanced Scene Recognition System, helping to achieve optimally balanced exposures and accurate white balance in even the most challenging light.

Rugged Reliability and Unsurpassed Usability – Downtime is never an option, so professionals need a camera that is going to be reliable and augment a demanding workflow.

The Nikon D5 delivers with rugged construction and robust weather sealing, coupled with a familiar yet enhanced Nikon interface. A new 3.2" 2359K dot XGA LCD adds touchscreen functionality, allowing the user to easily pinch, zoom, swipe and scrub in playback, and also enter text faster than ever before. Being the champion of low-light, it is only natural that additional buttons and dials illuminate for enhanced visibility, while two additional Function buttons have been added for increased customization.

The camera also features a Quick Release Mode setting for rapid access to release mode settings. Additionally, a new shutter and mirror sequencing mechanism nearly eliminates blackout time and mirror slap for bright, consistent views during high-speed shooting– realizing truly confident tracking of fast, erratically moving subjects that were previously difficult to achieve. The D5's shutter itself is tested to 400K actuations for maximum durability. When paired with the WR-R10 wireless remote controller (transceiver) and WR-A10 Wireless Remote Adapter, the D5 is also able to interface with Nikon's newest Speedlight, the RF controlled SB-5000, for new possibilities in lighting control. **

Rapid and Flexible Workflow – Further enhancing speed, the D5 is able to utilize the superior read and write speed of XQD memory cards, which are up to 35% faster than CF cards. To appeal to a wide variety of photographers, the D5 will be available in two versions; with either dual XQD card slots or with dual CF card capability. For maximum efficiency the camera is also capable of shooting smaller RAW Size S or M file types (12-bit, uncompressed), for greater flexibility when transferring batches of files from the field, while retaining image integrity. Photographers can also use the built in 1000 Base-T 400MBps Ethernet connection for image transfer, with speeds up to 1.5x faster than D4S.

Multimedia Powerhouse with 4K/UHD Video – The Nikon D5 is the first Nikon DSLR capable of capturing 4K UHD video (3840×2160 at 30p), letting users create stunning ultra-high definition video with beautiful clarity and color. Multimedia content creators can also use the D5 to create 4K time-lapse videos in-camera using the Time-lapse Movie function, and can create 8-megapixel still images from frame grabs.

A great addition to any production environment, the D5 includes all of the most popular pro-level features of the Nikon D810, including Full HD 1080p video at a variety of frame rates, uncompressed HDMI out, simultaneous live view and headphone/microphone connections. Additionally, the D5 adds a feature to smooth exposure transitions using the Auto ISO function as well as exposure compensation to create natural-looking exposure transitions in video.

New Radio Controlled SB-5000 Speedlight: Lighting with No Limits

The Nikon D5 is optimized to work with the newest flagship Speedlight, the SB-5000, illuminating new possibilities in creative lighting. A first for Nikon, the flash operates via radio frequency and will operate without a direct line of sight for a range of up to approx. 98 feet (30 meters).

This new-found flexibility lets photographers place lights in different rooms, around corners and work seamlessly in bright ambient light with maximum efficiency. When paired with the WR-R10 and the D5 or the D500, this Speedlight can control up to six groups (A-F) or 18 Speedlights for truly advanced wireless lighting.

It is also possible to perform Advanced Wireless Lighting using either radio-controlled (up to three groups) and/or optical-controlled units (up to three groups) by simply attaching a conventional, optical-control Nikon Speedlight or the SU-800 Commander (as a master or commander unit) and a WR-R10 (as a commander) onto the D5.

The new smaller SB-5000 Speedlight also has a radically new design that includes its own internal cooling system, which prevents overheating of the flash panel from consecutive firings. As a result, the SB-5000 can fire consecutively for longer than conventional models, without flash cool-down time between bursts, and can fire up to 120 continuous shots at 5 second intervals.

Controls have also been streamlined and refined, with the addition of an "i" button for access to frequently used settings. The design also integrates versatile bounce ability, with the flash head capable of tilting down to -7° or up to 90°, and rotate horizontally 180° to the left and right. 

New WT-6A Wireless Transmitter

Nikon has also announced the WT-6A Wireless Transmitter for use with the D5. An ideal solution for professional image transfer, the WT-6A can transfer with speeds of up to 130 mbps wirelessly and supports the fast IEEE802.11ac standard. The connectivity distance has been extended to approximately 656 ft. and can be used to transfer images to an FTP server or to a computer. When in HTTP mode, the unit can be used to operate camera controls, begin Live View shooting or start/stop HD video recording.

Price and Availability:

The Nikon D5 DSLR will be available in March for a suggested retail price (SRP) of $6,499.95***. The Nikon SB-5000 AF Speedlight will be available in March for the SRP of $599.95. The WT-6A Wireless Transmitter will also be available in March, with the SRP of $749.95. For more information on these new Nikon products, please visit www.nikonusa.com.
Nikon D500 press release: 
PRO PEDIGREE, DX AGILITY: THE NEW NIKON D500 ESTABLISHES A NEW ERA OF DX-FORMAT PERFORMANCE

The Highly Anticipated Resurrection of the DX-Format Flagship Gives Photographers the Best Combination of Speed, Reach and Connectivity

LAS VEGAS, NV (January 5, 2016) – Today, Nikon Inc. announced the D500, a DX-format DSLR with pro-level features that gives photographers nimble handling, speed and extreme processing power in a compact and lightweight body. With amazing imaging capability, robust build quality and lightning fast performance, the D500 is sure to satisfy as the highly sought-after successor to the venerable D300S. Like its sibling the D5, the D500 benefits from Nikon's latest technological innovations such as the totally new, blazing-fast Multi-CAM 20K 153-point AF system and 4K UHD video capture, yet adds a fun new way to share photos with Nikon SnapBridge built-in.

"Nikon has answered the call from photographers to once again re-invent this camera category and offer an unmatched combination of performance and value that is hard for any photographer to resist," said Masahiro Horie, Director of Marketing and Planning, Nikon Inc. "When paired with the amazing imaging capabilities of legendary NIKKOR optics, photographers can capture intimate portraits, mind-blowing macros or action from extreme distances– the possibilities are endless."

Pro-Level Image Quality, DX-Format Versatility

The D500 imagines the best of both worlds, offering advanced enthusiasts and pro photographers all the benefits of DX-format, such as smaller form-factor and lens crop, combined with many of the same advanced pro features found in the new Nikon D5. The new Nikon D500 features an all-new 20.9-megapixel DX-format CMOS sensor that renders images with outstanding colors and gorgeous tonality. This new sensor is coupled with Nikon's new EXPEED 5 image processing engine, affording low noise and maximum processing power with a surprisingly small footprint and superbly balanced body.

The benefits of the DX-format are evident for long-distance applications like wildlife and sports photography, where telephoto ability is at a premium and weight reduction is welcome. With Nikon's legendary FX or smaller-sized DX-format NIKKOR lenses, the sleek D500 is the ideal companion for wanderlust. When mated with the new AF-S NIKKOR 200-500mm f/5.6E ED VR lens, the D500 offers a remarkable 350-750mm equivalent focal range for a lightweight, yet super-telephoto duo.

Because amazing images can happen even when the sun goes down, the D500 is capable of excellent low-light performance, with an ISO range of 100-51,200, expandable to 50-1,640,000 equivalent. From low-light cityscapes to action sports under the lights, the D500 is ready to tackle any imaging challenge.

Performance Meets Portability

Within the streamlined body of the D500 is a formidable processing powerhouse. Whether photographing sideline sports for the home team or animals in exotic destinations, a super-fast 10 frames-per-second (fps) burst speed with full AF and AE will help nail nearly any shot. This extreme speed lets users capture every fleeting moment in exceptional clarity, while a generous buffer allows for up to 79 shots (14-bit, uncompressed RAW/NEF) to be captured, so the moment won't be missed.

To keep pace with the action, the D500 is fitted with the same AF system as the Nikon D5, the Multi-CAM 20K AF sensor module, with a separate dedicated processor for AF function. On the D500's DX format sensor, the 153-point AF array fills the frame from side to side, letting users flawlessly track and lock-onto subjects from the edges of the viewfinder. Like the D5, the D500 utilizes the new 180K RGB Metering system and Advanced Scene Recognition System to help ensure balanced exposures and fantastic color rendition in nearly any shooting situation.

Controls and Rugged Construction Worthy of a Flagship

The D500 features an enhanced level of robust build quality, offering the same amount of rugged weather sealing as the Nikon D810. The durable body is a monocoque structure composed of magnesium alloy for the top and rear, while the front is reinforced with lightweight carbon fiber. The shutter mechanism has been tested for 200K actuations, helping to ensure maximum endurance. For further durability, the D500 excludes a pop-up flash, yet is compatible with Nikon's newest radio frequency capable flash, the SB-5000 Speedlight (with optional WR-R10 & WR-A10)1.

It's easy to compose and view images on the D500's bright 3.2-inch, high resolution (2359K-dot) touchscreen LCD, which lets users interact with photos in playback, control the camera and operate menus. When mounted on a tripod or shooting from creative angles, landscape and event shooters will appreciate the reinforced tilting LCD screen, similar to that of the Nikon D750. Additionally, images are rapidly written to either a fast XQD card slot or to the additional SD card slot for maximum workflow efficiency.

Constant Connectivity with the New Nikon SnapBridge

The D500 marshals in a new way to share photos wirelessly with the new Nikon SnapBridge, making the camera's built-in connectivity easier to use than ever before. SnapBridge allows for Bluetooth2supported connection between your camera and compatible smart device, thus making automatic upload of your images possible. Once enabled, the camera stays connected to the smart device and transfers photos, eliminating the need to re-connect devices. Those looking to share images from their travels or from the field can also tag images for transfer in camera and can password protect their connection for added security. As an added benefit, the D500's built-in Near Field Communication (NFC)3 capability easily connects the camera to a compatible smart device with just a tap, while built-in Wi-Fi3 capability allows for faster wireless image transfer.

For those looking for an even faster transfer solution, the D500 is also compatible with the new optional WT-7A Wireless Transmitter, enabling wired or wireless transmission of files to an FTP server or computer at faster speeds.

Advanced Video Features

Just like the D5, the D500 has the ability to capture striking 4K UHD video at up to 30p (3840×2160), as well as Full HD (1080p) video at a variety of frame rates. Ready for any production, the camera sports a host of pro video features derived from the D810, including uncompressed HDMI output and Picture Controls, but adds even more great features. These pro-level creative video features include the ability to create 4K time-lapse movies in-camera, Auto ISO smoothing to provide fluid transitions in exposure during recording, and the capability to record 4K UHD video to the card and output to HDMI simultaneously. When capturing 1080p Full HD content, the camera also has a new 3-axis electronic VR feature that can be activated regardless of the lens being used.  Challenging video exposures are no problem for the D500, as it also adds in Active D-Lighting to Full HD video to balance exposure values within a scene to help prevent blown-out highlights

Price and Availability

The new Nikon D500 DSLR will be available in March 2016 for a suggested retail price (SRP) of $1,999.95* for the body-only configuration. A kit will also be available, bundled with the versatile AF-S DX NIKKOR 16-80mm f/2.8-4E ED VR lens, for the SRP of $3,069.95*. The MB-D17-battery pack will also be available in March 2016 for the SRP of $449.95* and will add extended battery life and facilitate vertical shooting. The WT-7A Wireless Transmitter will be available in March 2016, for the SRP of $934.95*. For more information on these new Nikon products, please visitwww.nikonusa.com.