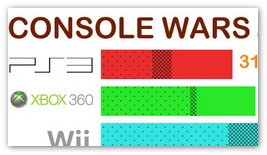 The least thing a hard-fragging gamer wants to look at is a page full of boring ol' words, so thankfully the folks at OnlineEducation have employed a neat graphic to lay down Da Facts about consoles.
The illustrated page throws down a load of facts, including the average time spent by gamers per week on their craft, the biggest selling consoles, and the top selling video games of all time.
Interested? Click on for the graphic.