Promising to take guitars to "new heights of functionality and usability," Gibson is hoping that their new Firebird X guitar will prove a hit with seasoned six string pros and aspiring wannabe axepersons.
Created from technologies that apparently "did not exist even a few years ago," Gibson have got hold of a classic 1963 Firebird guitar and bolted on a load of widgets and gizmos to create an upmarket, limited edition, hi-tech model.
Armadillos in our trousers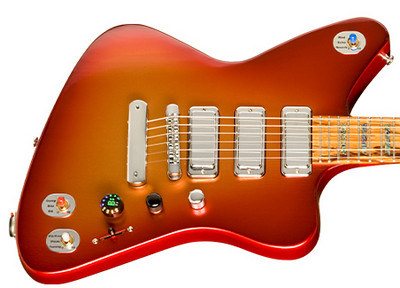 Most usefully, the Firebird X features the clever robo-tuning head as seen on the Gibson Dark Fire, along with a load of built-in effects like modulation, echo, reverb, compression, EQ and distortion.
Collectively known as the Pure-Analog Digital Signal Processing (DSP) engine with Goldtone FX, the effects are controlled by 'intuitive new guitar controls' and a wireless pedal controller.
The Firebird X is set to launch on December 11th – you can see a countdown clock on its dedicated webpage – and sports a hefty $5,500 price tag.
Too much perspective
Perhaps unwisely, the Gibson webpage invites visitors to comment on the new guitar, and so far it seems that the guitar is enjoying – in the words of Spinal Tap – a very selective appeal.
Almost all of the comments have been less than complimentary, with several posters accusing Gibson of introducing pointless gimmicks in status guitars aimed at the well heeled.
Here's a few examples:
Gb: Instead of reissuing a non-reverse Thunderbid or a non-reverse Firebird, we got this toy. PFFFT!!! Does it make sheep and cow noises when I push those buttons? This indecency has Toys-R-Us stamped all over it!!!
gbsngy67: I have for several years now resisted the urge to post a comment on this site, but I have to finally break my silence; Gibson, please quit building these ridiculous gimmick guitars; It's all fine and good to try out the newest technology on an instrument, but I can assure you , you will never see one of these things in the hands of any well known or up-and-coming guitarist.

These guitars are like the clothes that are seen at most fashion shows; over the top creations that are basically design exercises with no practicality whatsoever. First of all, Gibsons are supposed to look "cool." This thing has zero "cool" factor! Enough of the sci-fi crap;

Why load up what is basically a non-reverse Firebird body with a bunch of useless electronics and then expect anyone but the most trend-obsessed collectors to fork over 5 grand for it, while overall fit and finish continues to suffer in the instruments that roll off the assembly wine.
Maxword: Gibson used to make the best electric guitars on earth. They now make the most expensive pieces of garbage on earth . . . and at prices only rich collector boys can afford. Dentists and plastic surgeons ought to stick to dentistry and plastic surgery and stop driving up the price of a once great brand. Gibson and Harley Davidson ought to get together and go bowling. American made garbage.
*Update – it looks like some of the adverse comments are now being airbrushed out of history by their moderators.