Computer monitor hotshots ViewSonic have shoulder barged themselves into the Android tablet party, clutching  not one, but two shiny new tablets.
ViewPad 10
The top of the range ViewPad 10 packs a surprise with its ability to boot into either Android 1.6 or Windows 7 Home Premium operating systems.
The tablet comes with a 1.66GHz Intel Atom processor, 1GB of RAM, a 16GB SSD drive, microSDHC support (up to 32GB), a 1.3-megapixel webcam and a 10-inch 1024 x 600-pixel LED backlit multitouch display.
The 10-incher comes with  Microsoft Office, Adobe Flash support and videoconferencing software pre-installed.
ViewPad 7
The smaller ViewPad 7 keeps things simple with just  Android 2.2 onboard, and comes with cellular data connectivity (HSPA) and a 3-megapixel rear camera and 0.3-megapixel front camera for video chat.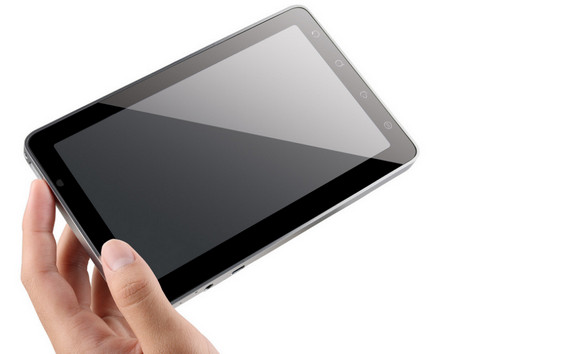 The tablet also offers 512MB of RAM, a 7-inch 800×480 WVGA LCD  touchscreen display, microSDHC support (up to 32GB) and an impressive 10 hours of battery life.
The ViewPad 7 us expected to launch before the year is out for $479, while the ViewPad 10 is pencilled in for a Q1 2011 release for $629.
Here's the full press release.
ViewSonic Unveils Android-Based ViewPads

THOUSANDS OF OPEN-SOURCED APPS AVAILABLE FOR 7″ ANDROID 2.2 3.5G CAPABLE VIEWPAD 7 AND 10.1″ DUAL-BOOT WIN 7 AND ANDROID 1.6 VIEWPAD 10
WALNUT, CA–(Marketwire – November 1, 2010) –  ViewSonic Corp., a leading global provider of computing, consumer electronics and communications solutions, today announced its ViewPad line of Android-based devices, featuring the ViewPad 7 and ViewPad 10.

"Leveraging our 20-year display heritage, these new ViewPad solutions provide users with anytime anywhere connectivity," said Jeff Volpe, vice president and general manager for ViewSonic Americas. "With access to the universe of Android apps, our new ViewPads are perfectly suited for enjoying digital entertainment and social media. Office productivity is also a snap with robust web browsing functionality."

ViewPad 7 — The Android 2.2 ViewPad 7 combines a powerful processor with 3.5G capable data technology in a lightweight, pocket-sized 7″ form factor. With an 800×480 WVGA LCD screen, this device is one of the only 7″ tablet solutions with Android Google Mobile Services (GMS). As a result, consumers can connect to a selection of more than 100,000 apps and games along with Gmail, YouTube and more for a superior and convenient entertainment solution that fits today's mobile lifestyle.

With its wireless 802.11 b/g and Bluetooth® connectivity the ViewPad 7 supports instant messaging, VoIP, and all the web browsing and USB connectivity functions of a capacitive multi-touch device. The ViewPad 7 features 2 built-in cameras: a 3-megapixel, auto focus camera in the rear and a 0.3 megapixel camera in the front. In addition to the integrated 512MB of memory, the ViewPad 7 offers up to an additional 32GB of storage capacity via the micro SD card slot, along with battery life of up to 10 hours. The result is the ultimate device for connected fun and multitasking — in a compact size easier to carry than a netbook and with better media performance than a smartphone.

The ViewPad 7 will be available in late Q4 2010 for an ESP of $479. Third-party accessories and ViewCare™ extended warranties will also be available at launch.

ViewPad 10 — Innovative and productive, this 10.1″ dual-boot Wi-Fi device gives users a choice between Windows® 7 Home Premium and Google Android 1.6 within the same device. With a high performance, high speed Intel® Atom™ 1.66GHz processor, integrated 1GB of memory, 16GB SSD hard drive and expandable micro SD slot, the ViewPad 10 is ideally designed to view Flash-based content and Office programs with Windows, and for an optimized mobile entertainment experience with Android. Additionally, the 1024×600 LED backlit panel includes a G-sensor and capacitive multi-touch for intuitive navigation across multiple applications. Teamed with a 1.3-megapixel webcam with built-in microphone, the ViewPad 10 is great for videoconferencing as well.

The ViewPad 10 with dual-boot OS will be available in Q1 2011 for an ESP of $629. Third-party accessories and ViewCare™ extended warranties will be available at launch.
[Via]