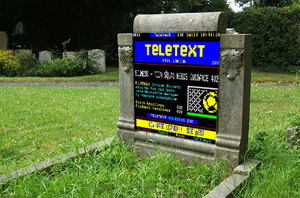 Older viewers will recall the thrill of watching football scores slowly update onscreen via Teletext, or perhaps remember basking in the glory of its uber-blocky pixellated renditions of maps and the graphics.
Although to web-connected, mobile-internet'd eyes it must look almost comically quaint now, but back in the day a Teletext-equipped TV was the numero uno news source, the big cheese of information and a crucial piece of equipment for footie fans.
If you were as sad as us, you may have spent an entire evening by the sofa, cheering on the mighty Cardiff City and willing that winning goal each time the painfully slow pages cycled around to reveal the latest score.
If your team was facing a relegation battle or (like above) revelling in a push for promotion from the mighty Division Three, there's be another excruciating wait after the results came in while the league tables were updated.
We figure only a few were tragic enough to photograph themselves next to the TV showing the Teletext league table with their team sitting proudly at the top, but that's foooootball for you. And that's how important Teletext once was.
They think it's all over. It is now.
Sadly, it's all over. Owners Daily Mail and General Trust are switching off its news and information pages across the UK and the Channel Islands today, with the service disappearing from our screens from 10am this morning – well  ahead of the originally planned  2012 retirement.
News, sport, entertainment and other content will vanish from analogue TV, Freeview and Teletext.co.uk, but the following commercial operations will continue:
– Teletext Holidays on analogue ITV (LSE: ITV), Freeview channel 101 and at TeletextHolidays.co.uk, ThisIsTravel.co.uk, InLuxury.co.uk and VillaRenters.co.uk.
– Teletext Racing on analogue C4, Freeview and satellite and, soon, web and mobile.
– Services including dating brands Rabbit TV and One2One on Freeview channels 102-107.
– TeletextCars.co.uk
– TeletextCasino.co.uk
– And SMS football alerts service
– p888 subtitles on analogue TV
To be honest, we can't even remember the last time we looked at Teletext, so it was no surprise to learn that the service was losing a packet, notching up losses of £4m in the year to October 4. Around 50 staff are expected to be shunted out into the street in time for Christmas.
Goodbye Teletext. You served us well.