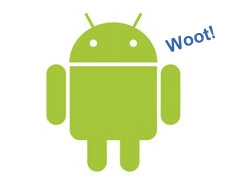 The Android Marketplace has jogged up and high-fived an impressive milestone, notching up no less than 20,000 apps which are now available for downloading.
Well, we say 20,000 but it doesn't look like anyone's actually sat down and officially counted them all because  Google doesn't release any official figures,
Instead, we have to rely on figures from the AndroLib site which has tracked the Android Market since it opened, so it'll be a pretty good stab at the total.
Breaking down the figures, it seems that 62.3% of available apps are free, with around a 100 fresh faced new apps bundling into the store every day.
Customer satisfaction seems high too, with nearly half of the apps (44.6%) getting five star reviews, with only 17% getting one star reviews.
The rate of growth is increasing, with more apps being churned out in the first half of this month than were produced through out July 2009.
Like Apple's AppStore, we imagine a lot of these apps are going to duplicate the functionality of others, with some of extremely variable quality, but it's an impressive tally, none the less.