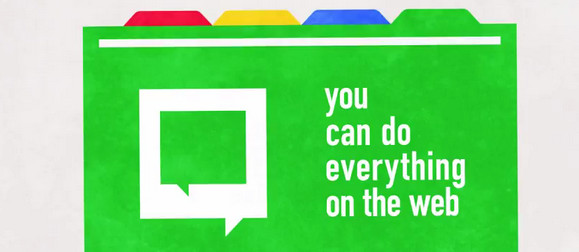 Figuring that a lot of folks are going to have a bit of trouble getting their heads around what the new Google Chrome-powered notebooks are all about, the search engine giant has released a rather charming video.
Booting up in a mere 8 seconds and permanently connected to the web via 3G and Wi-Fi, there's no hard drive on the machines, with all apps, documents, and settings stored in the cloud. Flash support is built in.
Google say that "every Chromebook runs millions of web apps, from games to spreadsheets to photo editors," and if your connection goes down, many of those apps will continue to work, "thanks to the power of HTML5."
The Google blog post goes into more detail:
These are not typical notebooks. With a Chromebook you won't wait minutes for your computer to boot and browser to start. You'll be reading your email in seconds. Thanks to automatic updates the software on your Chromebook will get faster over time. Your apps, games, photos, music, movies and documents will be accessible wherever you are and you won't need to worry about losing your computer or forgetting to back up files. Chromebooks will last a day of use on a single charge, so you don't need to carry a power cord everywhere. And with optional 3G, just like your phone, you'll have the web when you need it. Chromebooks have many layers of security built in so there is no anti-virus software to buy and maintain. Even more importantly, you won't spend hours fighting your computer to set it up and keep it up to date.
Chromebooks ahoy
The Chromebooks will be available online June 15 in the U.S., U.K., France, Germany, Netherlands, Italy and Spain.
So far, Samsung and Acer have confirmed specs for their Chromebooks, with the Acer machine featuring an 11.6-inch HD Widescreen CineCrystal LED-backlit LCD, Intel Atom dual-core CPU,  6 hours of continuous usage and weigh 1.34 kg.
There's also dual-band Wi-Fi and world-mode 3G (optional) for hooking up to the cloud, a  HD webcam, high-definition audio support, USB 2.0 ports, a 4-in-1 memory card slot, and HDMI port for connecting it to a TV/projector.
The Samsung machine will sport a slightly bigger 12.6-inch, 1280 x 800 resolution screen, 16GB memory, optional global 3G connectivity, 802.11 WiFi, two USB ports and a HD webcam and and an improved battery life of 8.5 hour. The pricing is £399 for the 3G model and £349 for the Wi-Fi only edition.
We'll post up more info on these machines as it comes through.
Check out the video below for more info: