Google has been providing updates about their Chrome range of products, including news about the Chrome OS and the official announcement of the Chrome Web Store.
Speaking at the Google Chrome event on Tuesday in San Francisco, Sundar Pichai, Google's vice president of Product Management said:
The web has thousands of applications, more than we can count, but its hard to find them… The goal was to help users find great applications
Chrome Web Store
The Web Store has been likened to an App Store for the Chrome browser, with the apps working in both the  Chrome web browser and in Google's upcoming Chrome OS.
Apps will range from magazines, entertainment, games, news, utilities and productivity, and big names like NPR, The New York Times, EA and Amazon.com have already jumped onboard, with over 500 apps available for today's launch.
Users will be able to install the web apps via their browser, with the app remaining in the cloud, but accessible via a dedicated browser page, while non free apps can be purchased via Google checkout.
Chrome OS
More details have emerged about the forthcoming Chrome OS, which will include a swift'n'easy setup process, ultra-nippy boot times and an 'instant resume' feature which will get the machine up and running from sleep mode quicker than Billy Whizz on meow meow.
Google say that the OS will offer a 'unified experience' across netbooks, desktops and more, with seamless updates requiring no user operations to keep the apps and OS up to date.
The operating system offers multiple user support plus a 'guest' mode where all actions are private and the user history deleted as soon as a session is ended.
In the US, Verizon Wireless will offer cellular data connectivity for Chrome OS notebook/netbooks, with no contracts, no activation fees and monthly plans starting at $9.99.
For security, all Chrome OS data is encrypted by default and Chrome machines will come with a verified boot so firmware core OS components can't be modified.
Google should be rolling out the Chrome Web Store to Chrome users later today and it will be accessible via chrome.google.com/webstore.
Chrome OS 'Cr-48'  laptop
Google has also announced the first Chrome OS laptop which is currently being held aloft at the San Francisco event.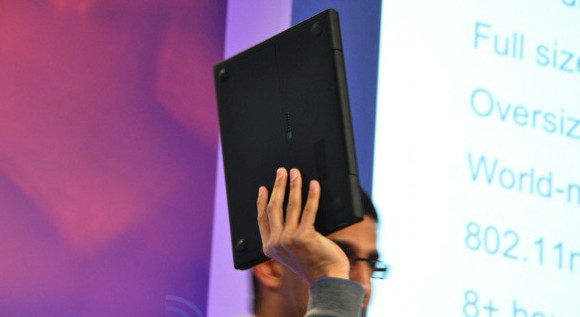 It's going under the name 'Cr-48' and will be released under  a limited public beta before the likes of Acer and Samsung knock out mainstream production models in the 'first half of  next year'.
Engadget is covering the event, and has produced the first burst of specs:
2.1-inch screen.
Full size keyboard.
Oversized clickpad.
Qualcomm Gobi 3G chip for Verizon data in the US, your carrier of choice internationally.
802.11n dual-band WiFi.
8+ hours of active use.
8+ days of standby.
Webcam.
Flash storage.
More news as we get it…