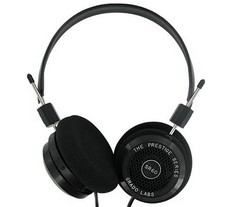 Created by a family business in Brooklyn, USA, Grado's philosophy is to simply create the best sounding headphones they can, with sound quality being placed far ahead of streetwise looks and funky features.
That's the kind of philosophy we like when it comes to audio products, and the Grado SR60i's are certainly gloriously untroubled by the vagaries of fashion, looking look like something WW2 pilots might have strapped on to their heads before going off for a dogfight.
Sporting an open-back design with a flexible, vinyl-covered headband, the driver units are covered by black supra-aural foam ear pads, with vertical metal height adjusters letting you find the perfect fit.
Conveniently, the earpads can be rotated 360 degrees, so the headphones can be packed flat to save  space.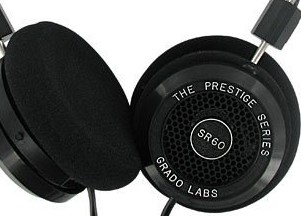 The Grados sit comfortably on the head, with an unusually thick cable coming from each earpiece, stethoscope-style.
The cable is a rather miserly 2m long (we immediately invested in an extension) and terminates in a 3.5mm jack. Thankfully, Grado also supply a 6.3mm adaptor.
Despite their antique looks, the Grados are remarkably comfortable to wear and feel very light on the bonce, with the 'breathable' foam pads letting you enjoy extended listening sessions.
Sonically, they're a revelation. The sound is full-bodied, fast and articulate with a solid bass performance creating an impressively spacious soundstage.
Plug these puppies into your MP3 player or – even better – your home hi-fi system and you'll be blown away by the quality: they sound superb.
New life
A few hours spent with the Grados saw new life blown into old recordings, revealing hitherto-unheard subtleties and intricacies, while new CDs were silky smooth, natural-sounding, transparent and powerful.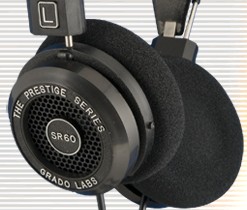 The clarity and depth of these phones is unheard of at this price level – stick on a pair of trendy designer "DJ" headphones after a session on the Grados and it'll sound like listening to a transistor radio.
Hi-fi reviewers have been frothing about the Grados since they first appeared on the market over ten years ago and it's easy to see why – a few minutes with these headphones should be enough to get you reaching for your wallet.
Buy them on Amazon now
for around £90 (note the earlier – and similar sounding SR60s- can sometimes be picked up for a tenner less).
Specs:
Tranducer type – dynamic
Operating principle   –  open air
Frequency response   –  20-20
SPL 1mV  –   98
Normal impedance  –   32ohms
Driver matched db –     .1