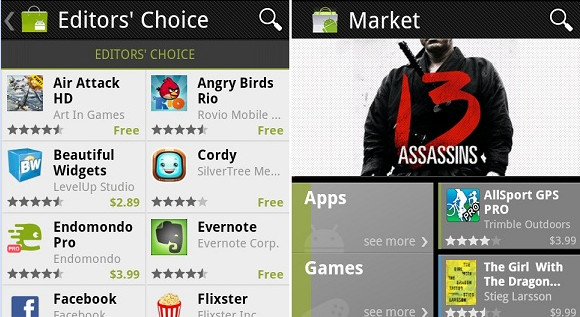 After a day or two of enjoying the groovy new Market interface on our Android Samsung Galaxy S2 handset, we suddenly couldn't access the market any more, with the phone throwing up repeated errors, saying that the app had "closed unexpectedly."
Update March 7th 2012; The Android Market app has now been updated on most phones and is renamed Google Play or Play Store – look for that on your device FIRST before trying out any of the steps below!
It's gorn
The errors wouldn't go away so we tried a restart, only to find that the Market icon had been replaced by the default Android icon and the caption 'loading.'
Clicking on the icon told us that the Market app was not installed, which was news to us because we certainly hadn't uninstalled it.
This looks bad..
We headed to the web for answers, and at first the advice wasn't too encouraging, with many people advising a hard reset – which would see us having to reinstall everything – or employ another solution that would involve us having to fiddle about rooting the phone.
Further rummaging around found a fix that involved typing in a strange time-based code that seemed to also bring the Market app back for phones in countries where it wasn't supported – although this also involved wiping the phone clean first.
And the solution was found!
Eventually, we found several people recommending a less stressful fix. Although it may not work for everyone, this did the job for us. Huzzah!
Firstly, we downloaded the app on to our phone by clicking on this link: Market_3.1.5.apk  (here's a Mirror link).
We then clicked on the downloaded apk file and said 'yes' when the phone asked if we wanted to overwrite a system file.
The app installed just fine and we thought we were home and dry until we started getting a load of 'closed unexpectedly' errors again.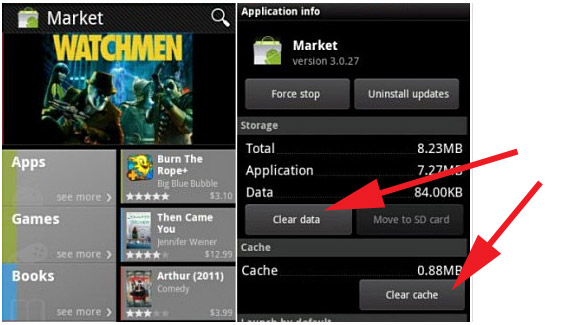 We tried restarting the phone, but the error continued – but then we remembered another fix we'd seen suggested:
On your phone, go to your main settings ->applications ->manage applications and click on the Market app.
Then choose "Clear cache" and "clear data" (others have also suggested clicking "uninstall updates), restart the phone and that should be it – your Market app should back in full working order with no rooting and all your apps left intact.
It certainly cheered us up and we hope this works for you too.
[See other fixes on XDA]