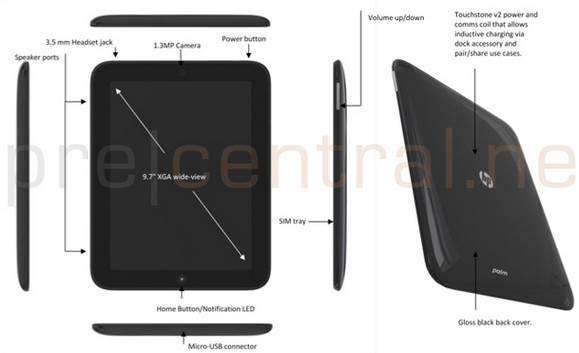 There's been a vast cavalcade of Android tablets trotting over the hills in the recent weeks, but the one tablet that's got us more interested than most is the upcoming one from HP/Palm running their fabulous webOS multitasking operating system.
Up until now the retails have been rather hazy, but precentral.net has got its hands on what it reckons is the lowdown on HP's new wonder tablet, codenamed Topaz.
The webOS-powered machine is said to offer a 9.7-inch, 1024 x 768-pixel oil and scratch-resistant display, and be powered by a 1.2GHz processor, backed by an Adreno 220 graphics processor.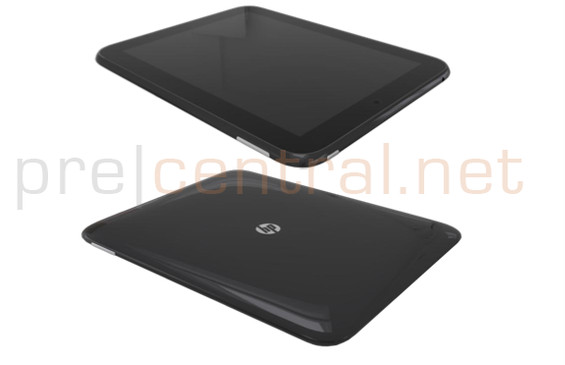 Minimalistic looks
Just three buttons will adorn the rather familiar-looking design: power, volume up, and volume down, with Palm breaking from their traditional dedicated silent / ringer switch..
Onboard there's 512MB of DDR2 RAM, Wi-Fi, Bluetooth, a front-facing camera for video chat, integrated Beats audio and two 3,150 mAh batteries promising 8 hours of use.
The tablet is reported as launching as Wi-Fi only at first, but with 3G and 4G versions following soon.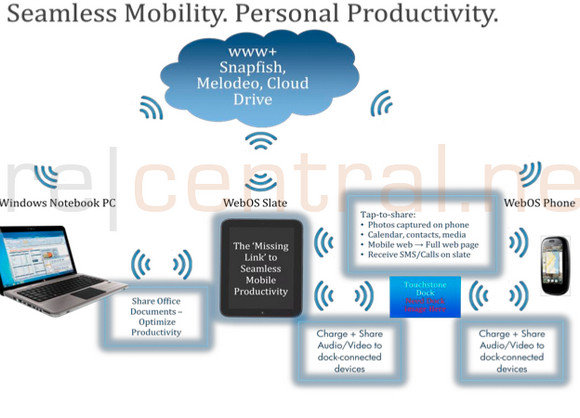 Touchstone-enabled
It looks like HP wil be using the next-generation Touchstone technology, offering cordless charging, as well as image and file sharing, multimedia streaming, wireless printing, integrated cloud services and the intriguing sounding prospect of "wireless video game playing via Touchstone video dock."
Specs:
Processor Dual-core Qualcomm MSM8660 at 1.2GHz
Graphics Integrated Adreno 220 GPU
Screen 9.7″ XGA 1024 x 768
Dimensions 190mm x 240mm x 13.7mm
Weight 700g / 1.5lb (estimated)
RAM 512MB DDR2
Storage 16g / 32g / 64g eMMC
Camera Front-facing 1.3mp camera for Video Chat
Bluetooth 2.1 + EDR
WiFi Dual-band 802.11 b/g/n
Other Radios Optional WWAN for HSPA, LTE, perhaps CDMA later
Sensors Accelerometer, eCompass, Gyro, Light Sensor, Microphone
Speakers 2 integrated speakers with Beats Audio, 3.5mm audio jack
Battery 24WHr for >8hrs, using two 3150mAh cells