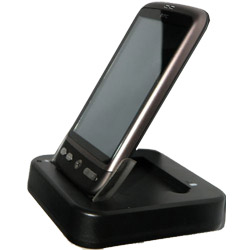 With modern smartphones chewing up battery juice faster than Oliver Reed downing whisky at the bar, it's always a good idea to pop a second battery in your bag, just in case.
Problem is, to keep the things topped up you have to keep taking the back off your phone and swapping batteries, so here's where HamDis's neat combo dock/charger comes up trumps for HTC Desire owners.
Dock'n'lock
Their HTC Desire USB desk cradle serves firstly as a handy desktop cradle for charging up your handset and syncing with your desktop over USB (cable supplied), but there's also a nifty tray for charging up a second battery.
The dock holds the handset firmly and securely in place with little movement, so it's also possible to use the phone in the dock without fear of the thing snapping off.
Mains and USB power
The dock can be either plugged directly into a USB port (you'll need to do this if you want to sync with your desktop) or you can use the bundled UK 3 pin mains charger plug for faster charging.
The phone sits snugly in the dock, and with the second battery lurking behind, it helps keep your desk looking tidy too. Unlike some docks, we were happy to note that the second battery charged over USB  as well as main power when the phone was in place.
There's a reasonably discreet blue LED on the front to indicate whether the dock is plugged in, with another LED at the back to show the charging status of the second battery (red for charging/green for charged).
A slight annoyance is that when there's no battery in place, the rear LED goes a bit bananas and pulsates between the two colours, but a bit of electrical tape can soon cure that. It's a bit of a tight fit for the second battery too.
Conclusion
Priced at just £14.50, the HTC Desire USB desk cradle is an absolute bargain.
With the package including a solid dock, a handy second battery charging slot, a USB cable and bundled mains/USB adapter it's pretty hard to come up with a reason why a heavy HTC Desire owner shouldn't shell out for this along with a couple of cheapo batteries.
With the festival season already started, we'll certainly be using this puppy to get a pocketful of batteries charged up and ready for the long days and nights of drunken blogging.
Buy the HTC Desire USB Cradle Desk Sync Charger + 2nd battery charging slot on Amazon
Ratings

– Build


– Features


– Value for money


– Overall