HTC has unveiled its new Rhyme Android smartphone, sporting a design apparently designed to appeal to the fairer sex with a metallic plum finish and an optional light-up "charm."
The specs certainly won't be eliciting any "phwooars" from tech fiends, with the Rhyme serving up a modest single-core 1GHz Qualcomm CPU with a 5-megapixel camera/VGA front facing camera,  3.7-inch WVGA display, HSDPA, WiFi,  Bluetooth and GPS.
The Android 2.3 Gingerbread powered handset sports HTC Sense 3.5 and HTC Watch streaming video support.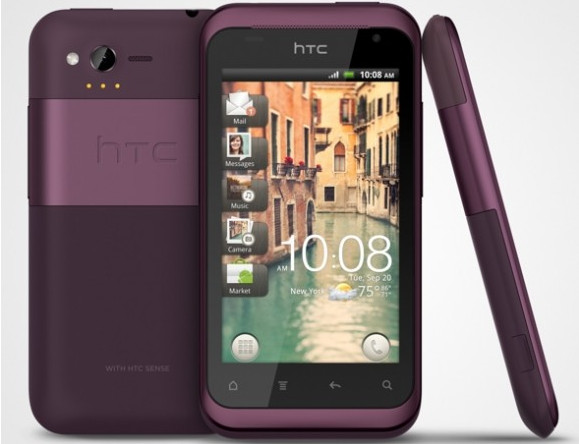 The glowing charm
The novel light-up "charm" glows to notify owners of incoming calls and messages, and is presumably there to help ladies find their phone amongst the almighty pile of 'lady stuff' that seems to fill up their voluminous handbags.
The handset also comes with accessories in the shape of a "sports armband," desktop dock and a matching plum-coloured Bluetooth headset and wired stereo headset.
The HTC Rhyme (bundled with all the accessories) will go on sale on the Verizon US network on September 22, priced at $199 with a new, two-year agreement , while a silver version is set to flirt its way into Asia and Europe next month, although HTC are yet to confirm pricing or availability.
Here's the full rundown of the of accessories and options on offer for the HTC Rhyme:
HTC Rhyme Docking Station – The Docking Station simultaneously recharges the phone while turning the Rhyme into an alarm clock and music center so you can wake to your favorite songs played directly from the built-in Bluetooth capable speakers.
HTC Rhyme Charm – The Charm is an innovative approach for discretely alerting you to incoming calls or messages while the HTC Rhyme is deep in your bag.  The Charm is a small light-emitting cube that attaches to the phone by a cord that can dangle from your bag and also be used to quickly pull the phone out of your bag.  It also makes it easy to find your phone buried in your cluttered purse or backpack.
HTC Rhyme Sports Armband – The Sports Armband allows you to work out in style while keeping your apps and music close to you.
HTC Rhyme Tangle Free Headphones – The Tangle Free Headphones take the hassle out of listening to your favorite music.
HTC Rhyme Bluetooth® Headset – The wireless headset follows the same design cues as the phone itself and enables for easy hands free use.
HTC Rhyme Bluetooth® Car Speaker – The wireless speaker clips onto sun visor in your car for easy and safe driving.
[Via]