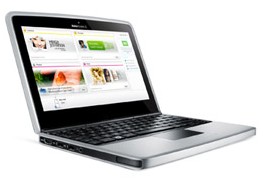 There's no denying that the Nokia Booklet 3G is a mighty purdy thing, with its aircraft-grade aluminium clad lines and shiny looks garnering warm praise from  The Independent who frothily declared it, "a triumph of style and industrial design."
Nokia's first ever laptop certainly packs in a decent spec sheet too, offering Windows 7, 1 GB RAM, 120 GB hard drive, built-in A-GPS, 3G, and Wi-Fi, plus a 10.1″ HD-ready display.

Promising up to 12 hours of battery life, Ovi Maps, direct access to Nokia's Ovi Suite, video calls and the ability to receive and send SMSs on your desktop, there's a lot to like about this little fella until you get to the price: £649.
We're not sure if the marketing department at Nokia were puffing on a crack price when they dreamt up that price, but you'd have to be equally off your rocker to fork out such a ludicrous sum of money for a glorified netbook.
Take off £300 and you might have a winner, Nokia.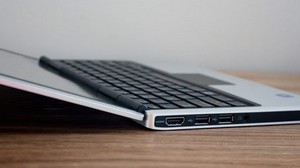 Specs:
Operating system
Genuine Windows 7
Windows®. Life without Walls™. Nokia recommends Windows 7.
Applications
MS Office Small Business (60-day trial)
MS Internet Explorer 8
Ovi Suite (must be downloaded separately)
Social Hub (must be downloaded separately)
F-Secure Internet Security 2010 (30-day trial)
Body
Aircraft-grade aluminium slim body with super chassis construction
Dimensions: 264 x 185 (with hinge) x 19.9 mm
Weight: 1250 g
Memory and hard drive
RAM: 1 GB DDR2
Hard drive: 120 GB
Wireless
WiFi: 802.11 b/g/n
Bluetooth 2.1 + EDR
Built-in 3G modem (data calls only): WCDMA 900/2100 or 800-850/900/2100
Audio and video
1.3 megapixel FF camera
HDMI port for HD video out
Built-in stereo speakers, and microphone
Analog audio output / headphone out (with OMTP headsets also functions as audio-in)
CPU and chipset
Intel® Atom™ Z530, 1.6 GHz
Intel® Poulsbo US15W
Display and keyboard
10.1″, 1280 x 720 pixel display
Glass window
Frame keyboard
Battery
56.8 Wh
I/O ports and slots
HDMI 1.2 out for HD video
3 x USB 2.0
3.5 mm headphone out (OMTP: with OMTP headsets also functions as audio in)
DC-in
SD card reader
SIM / USIM slot
GPS
Integrated GPS and A-GPS
Ovi Maps application*
*The availability and accuracy of GPS location services are dependent on wireless networks, satellite systems. It may not function in all areas or at all times. You should never rely solely on GPS products for essential communications like emergencies. A-GPS is a network dependant feature that may require a data plan. Additional charges may apply.
Camera
1.3 megapixel FF camera
[Nokia]