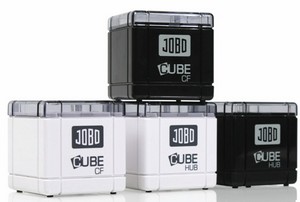 For photographers used to juggling several memory cards around, JOBO's new Cube CF and Cube HUB High Storage Boxes could prove a handy desktop addition.
Available in a choice of black or white, both feature an internal space capable of storing several media cards in one location.
The Cube CF is compatible with Memory Stick (MS), Secure Digital (SD), Compact Flash (CF) and Smart Media cards and can hold up to six CF cards or 10 SD cards at once.
The Cube HUB features 2 USB HUB ports instead of the CF card slot, and can fit up to eight SD cards.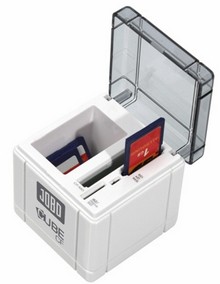 "With the introduction of these uniquely-styled and very affordable new combination media card readers, writers and storage boxes, the JOBO Cubes provide consumers with convenient media card storage right where they need it," purred Johannes Bockemuehl-Simon, JOBO's CEO.
We would be a bit more enthusiastic if – as we first thought – the Cubes let you read multiple cards at once, but in fact they're nothing more than a standard reader with a box attached.
Still, they're priced cheaply enough with the JOBO Cube CF and Cube HUB available for €19.99, and that might be worth paying just to have a tidier desk.
JOBO Cube CF (68-in-1) and Cube HUB (57-in-1) Specifications
| | |
| --- | --- |
| Hot-Swapping | Supported |
| Plug and Play | Supported |
| Max Speed | Up to 480 Mbps with USB 2.0 |
| Power | No external power required |
| Interface | USB 1.1 and 2.0 compliant |
| Operating System Support | Windows 98, 98SE, 2000, ME, XP, 7, Mac OS 9.0 or later |
| Mass storage Driver support | Windows ME, XP, 7, Mac OS 10 or later |
| Driver | Driver free in Windows 7/ XP/ ME, Mac OS 10 or later |
| Dimensions of integrated media card storage space (W/L/H) | |
| Cube CF | 25 x 40 x 34 mm; space for 6 CF or 10 SD cards |
| Cube Hub | 22 x 40 x 34 mm; space for 8 SD cards |
| Dimensions (W/L/H) | 6 x 6 x 6 cm |
| Unit Weight | 102 g |
| Package Content | Cube Reader, external USB cable |