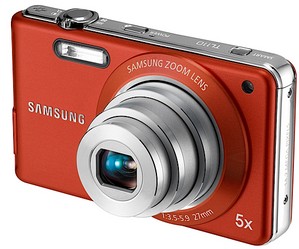 Clearly deciding to save a few bob on individual press releases, Samsung have rammed in news of no less than five new point'n'shooters in one big bumper announcement.
Take a deep breath and read on…
Samsung TL105 and TL110
First off, we've two ultra-slim numbers: the 12.2 megapixel TL105 and 14.2 megapixel TL110, both squeezing their gubbons into an 0.65-inch frame.
On the back, there' s a 2.7-inch LCD, video recording at 720p 30fps H.264 video and 4x / 5x optical zooms, respectively.
"Consumers want portability in a point and shoot, and we think our ultra-slim TL110 and TL105 address that desire," insisted Mr. SJ Park, CEO of Samsung Digital Imaging Company.
"Despite their size, both the TL110 and TL105 are feature-packed and ideal for beginner and advanced photographers who want a well-equipped but easy‑to‑use, compact camera."
Both cameras come with a slew of presets and effects for every occasion, including Fisheye, Lomo, Normal, Soft, Vivid, Forest, Retro, Cool, Calm, Classic, Negative, Custom RGB and two new options: Sketch and DeFog Clear/Fog Lifting, which Samsung claim will cut through the haze like Superman's X Ray eyes. Or something.
Availability is pegged for next month, but there's ne'er a whisper about pricing yet.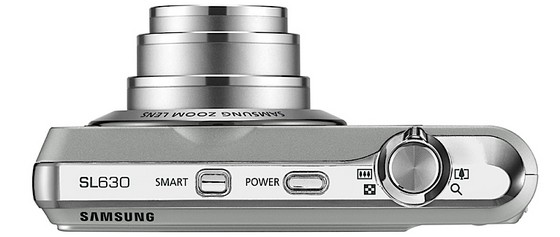 Samsung SL630
Next up on the rapidly moving new product conveyor belt is the 12.2 megapixel SL630, which comes with the added advantage of a wide-angle zoom lens (28mm-140mm / 35mm equivalent) and Dual Image Stabilisation, but the video drops down to 640 x 480 AVI recording.
Filled to the brim with user-friendly auto controls, fumbling amateurs can relax as the Samsung's 'Smart Auto' advanced scene recognition technology tries to make sense of this crazy, crazy world.
Object tracking auto focusing is on hand, and for capturing your dreamboat pals, Samsung's Perfect Portrait System comes with Face Detection, Samsung's Smile Shot and Blink Detection technologies, Red‑Eye Fix mode, and Beauty Shot.
"Samsung is elevating the stature of its SL-Series with models such as the new SL630," whooped Samsung's Parkie.
"With Samsung's SL-Series, consumers can now enjoy features such as wider-angle lenses with longer zooms, as well as technologies such as Smart Auto, which brings incredible value to the consumer while at the same time, giving them the ability to take their creativity to new levels and take great photos."
Delivery is set for March.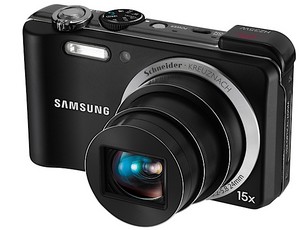 Samsung HZ30W and HZ35W
Also expected to be dropping onto shop shelves in March are the 12-megapixel HZ30W and HZ35W cameras, updating the HZ10W / HZ15W models respectively.
These get us a bit more excited seeing as they improve on their predecessors by packing a whopping 15x optical wide-angle 24mm Schneider lens backed by 720p 30fps H.264 video recording and Dual Image Stabilisation.
The pricier HZ35W also comes with a 3-inch AMOLED screen and GPS geo-tagging, but we can't leave you without another quote from the terminally excited Mr Park from Samsung.
"These cameras represent what consumers can expect from Samsung," boomed Mr Park, intoxicated from several hours of hyperbole-powered speech.
"From their powerful optics to the exceptional combination of features which make snapping perfect pictures every time effortless, Samsung's new HZ-Series goes above and beyond what's expected from a point-and-shoot and raises the bar even higher for this class of high zoom compacts."