If you're in the market for a bijou video recorder, JVC is hoping to set your wallet into paroxysms of delight with its new Picsio GC-WP10 and GC-FM2 1080p pocket camcorders.
Entering a congested market already full of attractive offerings from the likes of Sony, Kodak, Sanyo and Samsung, the diminutive duo can record clips at four different recording resolutions: Full HD 1080 (1920 x 1080/30p), HD 720 (1280 x 720/60p), iFrame (960 x 540/30p) and Quarter High Definition (960 x 540/30p).
There's a 3″ inch touchscreen at the back for reviewing your cinematic masterpiece, with onboard image stabilisation keeping the wobblies at bay.
There's also a time-lapse recording feature, a pop-out USB plug (which charges the units too) and an SD /SDHC/SDXC card slot and both recorders are compatible with EyeFi's WiFi-enabled SD cards.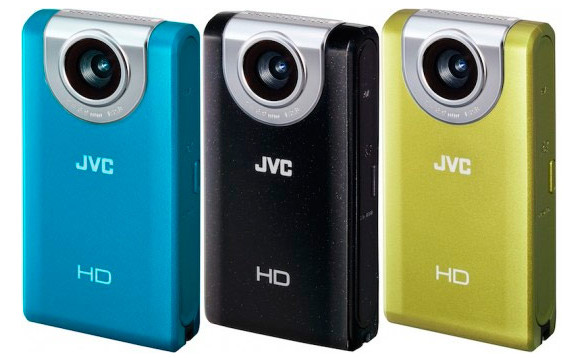 JVC bundles in LoiLoScope EX for Windows software for video tweaks and nippy uploading to YouTube and Facebook, and comes with a "full array of special effects is available for creative editing, supported by simplified icon-based access and intuitive drag-and-drop operation."
Looking for crabs
The WP10 justifies its bigger price tag with a waterproof enclosure for capturing your seaside antics down to 3m in the briny and a built in MP3 audio recorder, with both camcorders coming with a HDMI output for hooking up your big tellie.
The only bummer – and it's a rather large one – is the lack of a optical zoom.
The JVC Picsio GC-FM2 1080p pocket camcorder should be surfing its way onto shop shelves early September for $179.95, with the
GC-WP10 following in late September for $199.95 more.   UK pricing is yet to be announced.
[Via]