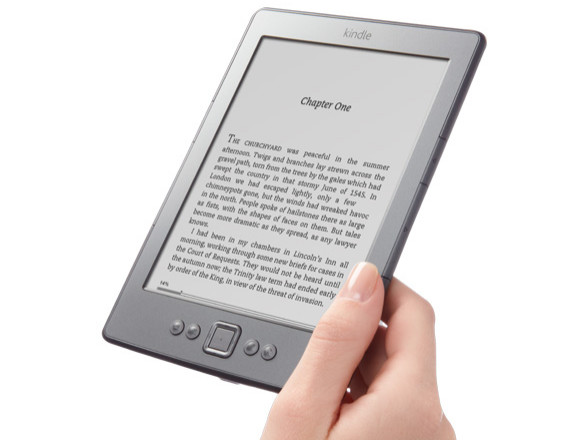 Last year, Amazon's Kindle eReader was the runaway must-have Christmas gift, and Amazon look to have scored another hit with its cheaper successor, first announced in October 2011.
Released in time for the festive rush, the new Kindle shaves £60 off the price of the original and makes up a much smaller and lighter package.
No QWERTY keypad
Amazon have helped bring the price down by replacing the physical QWERTY keyboard with an onscreen version, brought up via a dedicated key.
This means that characters have to be inputted by moving the cursor around, which is a lot less speedy than using a proper keyboard.
That said, once you've registered the Kindle, you shouldn't need to use the keyboard for much else apart from quick book searches. This is, after all, a device created for storing and reading books, not for typing out your life story.
Improved screen
The new 6inch e-ink screen is superbly clear and sharp, and pages flick through at a noticeably faster speed.
Unlike iPads and other tablets, there's no glare when trying to read in direct sunlight, so reading off a Kindle is like reading conventional paper. For that same reason, you'll need the light on at night as the screen isn't backlit like a computer screen.
There's no touchscreen, so all page navigation is through the matching forward and back buttons on either side of the screen, with the familiar D controller at the bottom, accompanied by the back, keyboard, menu and home keys.
Smaller and lighter
Measuring 116mm by 114mm by 8.7mm, the new Kindle is 24mm shorter than its predecessor and weighs 77g less, which does make it feel a little less substantial in the hand.
Content galore
Amazon now offer over 750,000 books and magazine subscriptions to Kindle users.
Best sellers can be made available for as little as £3.99, while there's thousands of out of copyright books available for free, all accessible through a simple to use interface. There's no 3g option so users can only connect over Wi-Fi to download new content.
Five star rated
With a rated battery life of one month (three weeks with Wi-Fi on), and the ability to store up to 1,400 ebooks, the new £89 Kindle is a fantastically affordable device with superb screen.
It's light, small, easy-to-read, relatively cheap and offers near-infinite content, making this the best ebook reader available. We love it!
Buy the Kindle, Wi-Fi, 6″ E Ink Display here
| | |
| --- | --- |
| Display | Amazon's 6″ diagonal electronic paper display, optimised with proprietary waveform and font technology, 600 x 800 pixel resolution at 167 ppi, 16-level grey scale. |
| Size | 166 mm x 114 mm x 8.7 mm |
| Weight | 170 grams |
| System Requirements | None, because it's wireless and doesn't require a computer to download content. |
| Storage | Up to 1,400 books or 2GB internal (approximately 1.25GB available for user content). |
| Cloud Storage | Free cloud storage for all Amazon content. |
| Battery Life | A single charge lasts up to one month with wireless off based upon a half-hour of daily reading time. Keep wireless always on and it lasts for up to three weeks. Battery life will vary based on wireless usage, such as shopping the Kindle Store, web browsing, and downloading content. |
| Charge Time | Fully charges in approximately 3 hours via the included USB 2.0 cable. UK power adapter sold separately. |
| Wi-Fi Connectivity | Supports public and private Wi-Fi networks or hotspots that use the 802.11b, 802.11g, or 802.11n (in b or g compatibility mode) standard with support for WEP, WPA and WPA2 security using password authentication; does not connect to WPA and WPA2 secured networks using 802.1X authentication methods; does not support connecting to ad-hoc (or peer-to-peer) Wi-Fi networks. |
| USB Port | USB 2.0 (micro-B connector) |
| Content Formats Supported | Kindle (AZW), TXT, PDF, unprotected MOBI, PRC natively; HTML, DOC, JPEG, GIF, PNG, BMP through conversion. |
| Documentation | Quick Start Guide (included in box) [PDF]; Kindle User's Guide (pre-installed on device) [PDF]. |
| Warranty and Service | 1-year limited warranty and service included. Optional 2-year Extended Warranty available for UK customers sold separately. Use of Kindle is subject to the Kindle License Agreement and Terms of Use. |
| Included in the Box | |