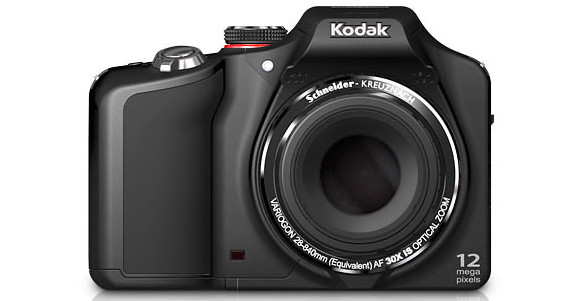 Like a big box of Quaity Street chocs, Kodak's new Easyshare Max Camera is made for sharing, with the company insisting that their 'exclusive' Share Button "makes sharing your pictures and videos as simple as 1, 2, 3."
Beefy lens
The Kodak Easyshare Max Camera comes with Kodak's new 12 MP BSI (back side illuminated) CMOS sensor for improved low light performance, and a hefty 30X wide-angle SCHNEIDER-KREUZNACH VARIOGON 28mm-676mm (equiv) optical zoom lens, packing optical image stabilisation.
There's also full 1080p HD video with stereo onboard, with the Kodak Easyshare Max Camera Automatic panorama modes letting you capture 360 views with a Generation Game-like twirl.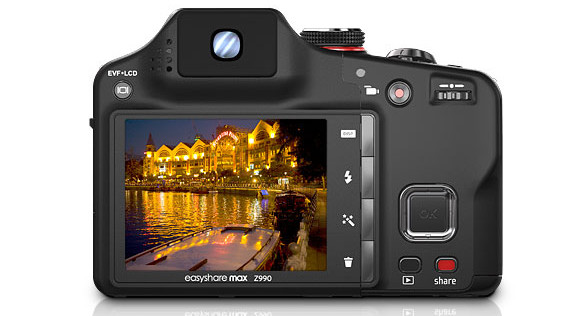 Bordering on novelty is the the 'Photo booth' capture mode which stylises a group of four consecutive photos to present them in the stye of Ye Olde Photo Booths.
There's also Program auto, aperture priority, shutter priority and manual modes onboard, plus face recognition.
The camera comes with 128 MB of internal memory, takes SD/SDHC cards and is powered by Ni-MH Rechargeable Digital Camera Batteries AA.
The camera is listed on Kodak's website as arriving on March 9th, 2011, with a fairly modest price tag of $329.95.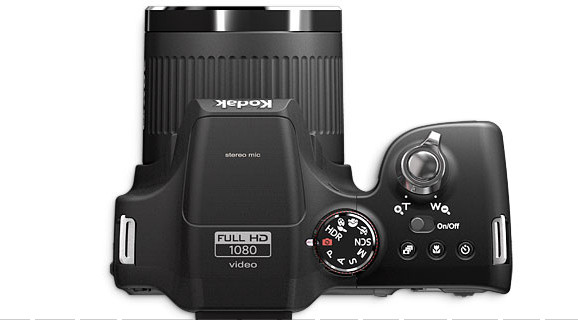 If you want to know more – much more – here's the full guff on the camera, direct from the Kodak crew:
Just press to impress

The world's only cameras with 3-step sharing!

Kodak's Share button makes sharing your pictures and videos as simple as 1, 2, 3.

Step 1—Just press Share when in review mode
Step 2—Choose your favorite sharing destination, e-mail address, or KODAK PULSE Display
Step 3—Connect your camera to your computer or insert your memory card and your videos or pictures are automatically uploaded to the destination(s)
Only KODAK Cameras:

Let you simultaneously share to multiple social networks, e-mail and PULSE Display
Automatically share when you connect to a PC
Tag to the largest number of social networks

Capture the low-light ambience—fast and sharp

CMOS sensors deliver higher quality pixels—better pixels are better than more pixels
Kodak's first BSI CMOS sensor delivers stunning low-light picture quality with less noise and less blur—no flash needed

Powerful 30X optical zoom lens

The 30X SCHNEIDER-KREUZNACH VARIOGON Optical Zoom Lens (35 mm equivalent: 28–676 mm) zooms in faster and closer than ever to deliver crisp, steady shots for extraordinary creative performance.

Fast f/2.8 28 mm wide-angle lens

Capture dramatic shots in tight quarters or in front of spectacular landscapes.

Optical image stabilization

Capture sharp, steady shots when shooting at long zoom ranges
Image stabilization automatically minimizes camera shake to deliver crisp pictures
Get in on the action without delay

Capture that challenging action shot with fast, click-to-capture speed and auto focus.

High ISO mode

Capture the details in low-light conditions and fast-action situations with a powerful, high ISO (up to 12,800[11])
Faster shutter speeds mean you can capture scenes in low light and fast action

Get creative with advanced camera features—PASM, RAW, creative modes, and film effects

Program auto, aperture priority, shutter priority, and manual modes

Program auto mode (P)—camera sets optimal shutter speed and aperture combination
Aperture priority mode (A)—you choose aperture, the camera sets shutter speed
Shutter priority mode (S)—you choose shutter speed, the camera sets aperture
Manual mode (M)—you choose both the aperture and shutter speed
Manual controls

Exposure compensation: ± 2.0 EV in ± 1/3 EV step increments
Aperture: f/2.8 wide (f/5.6 tele)
Shutter speed: ½–½000 sec. (auto), 16–1/2000 sec. (manual)
ISO equivalents: 64, 100, 200, 400, 800, 1600, 3200, 6400, 12800[12]
Auto focus: TTL imager AF system
Exposure metering: multi-pattern, center-weighted, center-spot
White balance: auto, daylight, tungsten, fluorescent, open shade
Flash mode: auto, off, fill, red-eye reduction
High-speed burst mode: capture up to 120 fps @ 1 MP (max 40)
Multiple scene modes

Portrait modes: portrait, night portrait, backlight, self
Landscape modes: landscape, night landscape, fireworks
Bright scene modes: sport, beach, snow
Action modes: sport, children
Text/documents mode: ensures sharp text when photographing documents
Manner/museum mode: use when sound or flash are not desired
Artistic effects

HDR (high dynamic range)
Dramatic
Sequential
Panning
Night scene long exposure
Intelligent portrait
Film effects

KODACHROME
KODACOLOR
EKTACHROME
TRI-X
T-MAX
Sepia

Automatic panorama and photobooth

Automatic panorama mode captures a full 360 view or just the horizon—pan horizontally or vertically in a continuous burst until the shutter is released

Photobooth capture mode stylizes a group of four consecutive photos as if taken inside a photobooth

Beautiful pictures, more often—automatically

Kodak's Smart Capture feature

Become a better photographer with a smarter camera. Kodak's innovative Smart Capture feature automatically identifies the scene and adjusts camera settings for a great picture in just about any environment.

Intelligent scene detection—analyzes the scene to give you better pictures under various conditions
Intelligent capture control—automatically sets camera settings for clear, sharp pictures even in low light and challenging situations
Intelligent image processing—reduces noise and clears up dark shadows for vibrant, crisp details and true-to-life colors
Experience Smart Capture

Losing track of your favorite faces is a thing of the past

Kodak's Face Recognition feature

Find, organize, and share your pictures easily
Camera automatically recognizes up to 20 pre-tagged faces so you can easily locate and share them later
Recognizes up to five faces in a single image
Name tags carry over to your favorite photo management software for easy searching

Relive moments and share pictures on the back of your camera

The 3.0 in. HGVA bright LCD features two times more resolution than standard displays
KODAK Color Science Technology for brighter, more vibrant details
High-resolution electronic viewfinder (EVF)

Be the director of your own movie

Taking great pictures is just the beginning

Record full 1080 HD video with stereo sound
Edit your pictures and add creative borders
Make a picture from video and create action prints (1- and 9-up)
Don't miss that shot

Kodak's powerful, high-capacity pre-charged Ni-MH rechargeable batteries and charger included
Enjoy SD/SDHC card compatibility and 128 MB of internal memory

KODAK EASYSHARE Software

The complete solution for transferring, online sharing, e-mailing, organizing, editing, and creative printing of your pictures.

Organize your pictures with your own tags, star ratings, and date and time stamps, then use the search feature to quickly find any picture in your collection
Edit your pictures with ease—select from a variety of simple tools that reduce red-eye, improve lighting, remove wrinkles and blemishes, and add text
Create photo projects online or at home—choose from hundreds of templates and designs to create album pages, cards, invitations and much more
Manually upload to KODAK Gallery, YouTube, FACEBOOK, FLICKR, TWITTER, ORKUT, YANDEX, and KAIXIN001 sites, plus e-mail and KODAK PULSE Display

Everything you need to share is right in the box

KODAK EASYSHARE MAX Camera
KODAK Ni-MH Pre-charged Rechargeable Digital Camera Batteries AA
Charging solution
USB cable
Lens cap with strap
Neck strap
User Guide