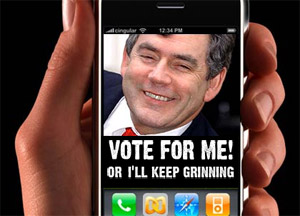 The UK Labour Party is set to launch its first ever iPhone app to help party canvassers whip up support for the party in the run-up to the general election.
Set to launch in February, the app will list local Labour Party events, searchable by the user's postcode, and a mobile version of the party's Virtual Phone Bank.
This lets hard-core Labourites call up potential voters and enter their details into an online database which is also integrated into the app.
And if that wasn't enough Web 2.0 japery for you, those crazy high-tech Labour cats are even including party-related feeds from Facebook and Twitter, backed by contact details for local MPs and local Labour news, making this a must-have app!
With toff Tory Boy Cameron dishing out the wedge to bag expensive outdoor billboard adverts, Labour are hoping that a bit of Barack Obama-style cut-price online hustling could be just the ticket.
Frankly, we think they might need a bit more than that, but anything that helps keep Cameron & Co out of Downing Street is jus' dandy with us.
[Via]