Set to be available in "key markets" during the fourth quarter of the year is LG's new G Pad 8.3 tablet, which struts on to an already cramped Android tablet stage hoping to gain catcalls for its high res screen, hefty battery and bespoke usability features.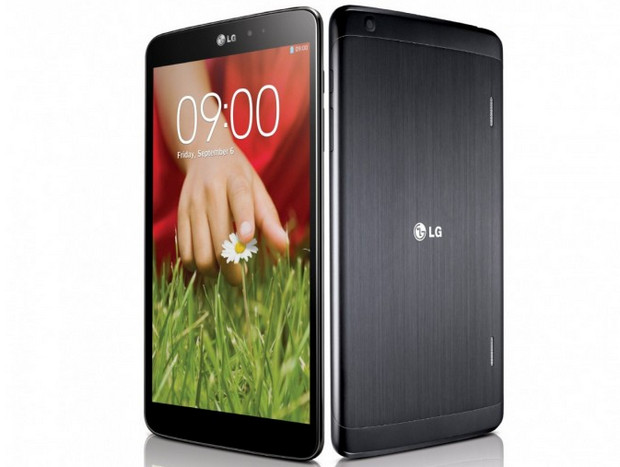 The G Pad comes with an 8.3-inch display supporting a 1920 x 1200 (273 ppi) resolution, backed by a quad-core 1.7GHz Qualcomm Snapdragon 600 processor.
Inside can be found 2GB of RAM, 16GB of internal storage space and a sizeable 4600 mAh battery, with the tablet running on Android 4.2.2 Jelly Bean.
Camera-wise, there's a 1.3 megapixel front-facing snapper and 5 megapixel one around the back, with the device measuring up at 216.8 x 126.5 x 8.3mm with a weight of 338 grams.
Key Specifications:

Processor: 1.7GHz Quad-Core Qualcomm? Snapdragon™ 600 Processor
Display: 8.3-inch WUXGA (1920 x 1200 pixels / 273 ppi)
Memory: 16GB eMMC
RAM: 2GB LPDDR2
Camera: Rear 5.0MP / Front 1.3MP
Battery: 4,600mAh
Operating System: Android Jelly Bean 4.2.2
Size: 216.8 x 126.5 x 8.3mm
Weight: 338g
Colours: Black / White
There's some novel features onboard, including the KnockON feature which turns the tablet on by tapping the display two times, QSlide  – which allows the user to control up to three apps in one window – and Slide Aside which lets users slide open apps to the side with a three-finger swipe gesture.
There's no news on pricing yet.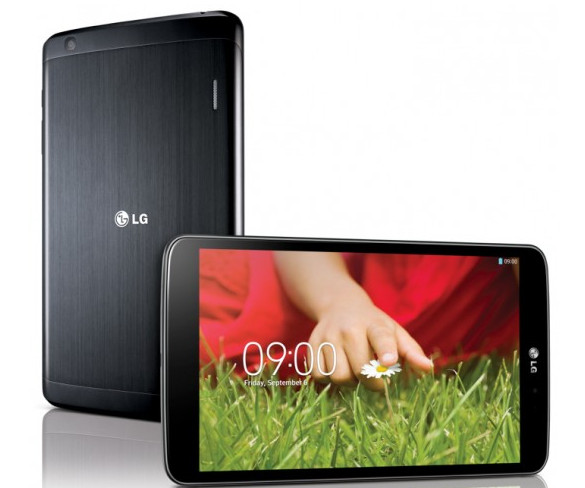 Here's the full press blurb:
SEOUL, Sep. 1, 2013 — LG Electronics (LG) today announced the LG G Pad 8.3 tablet, the latest addition to its G Series lineup of premium mobile devices. The all-new LG G Pad 8.3 boasts the first Full HD display on an 8-inch class tablet, a unique user-experience and wide range of connectivity features. Set to officially debut next week at the IFA 2013 trade show in Berlin, the LG G Pad 8.3 builds on the recent launch of the LG G2 superphone, reinforcing LG's commitment to leadership in advanced mobile devices through its premium G Series products.

"Complementing our G Series smartphones, the introduction of the LG G Pad 8.3 further strengthens LG's premium lineup consisting of our most cutting-edge devices," said Dr. Jong-seok Park, president and CEO of the LG Electronics Mobile Communications Company. "Our G Pad is just another example of LG delivering devices with the unique selling points consumers around the world will appreciate."

Pocket-Sized Portability with Powerful Battery

Despite its large display, the LG G Pad 8.3 features a slim and sleek form factor that is comfortable enough to hold in one hand. Such compact portability is based on LG's learning from consumers regarding the optimum size of a tablet. While maintaining its portability, the LG G Pad 8.3 squeezes in a powerful 4600mAh battery for long-lasting usage time but is still as light as a newspaper at just 338g.

First Full HD Display Tablet in 8-inch Class

Incorporating a key attribute of other premium G Series devices including the G Pro and G2 smartphones, the LG G Pad 8.3 is the first 8-inch class tablet to offer a Full HD display. The G Pad is equipped with a 1920 x 1200 WUXGA (Widescreen Ultra Extended Graphics Array) display capable of delivering picture quality with even higher resolution than a standard Full HD display. In addition, the Qualcomm? Snapdragon™ 600 Processor with 1.7GHz Quad-Core CPU enhances the viewing experience with powerful performance as users will be able to enjoy Full HD content without any compromise.

True Convergence Experience with QPair

The LG G Pad 8.3 meets the demanding requirements of the convergence age by improving connectivity between multiple devices. With the unique QPair app, every call and message received on a smartphone will appear on the G Pad for a true convergence experience. Users can then send simple replies through the LG G Pad 8.3. QPair also allows the G Pad to easily connect to other manufacturers' smartphone and tablets (Jelly Bean OS recommended). Notes created on the G Pad's QMemo can be seamlessly saved into users' smartphones and shared from either device.

User Experience Maximized for a Tablet

The LG G Pad 8.3 offers practical features that provide real-life benefits, such as enhanced multitasking. Thanks to its 8.3-inch Full HD Display, user experience (UX) features unique to the LG G Pad 8.3 are maximized for the large screen:

Slide Aside enables seamless multitasking by simply "sliding" currently open apps off to the side using a three-finger swipe
QSlide controls up to three different apps in one window with no interruption, especially convenient on a large screen
KnockON turns the device on and off by tapping the display twice

The LG G Pad 8.3 will be rolled out globally in key markets including North America, Europe and Asia as well as other regions starting in the fourth quarter of 2013. Prices will be announced at launch time.